Here's Where You Can Stream 2012's Silent Hill Online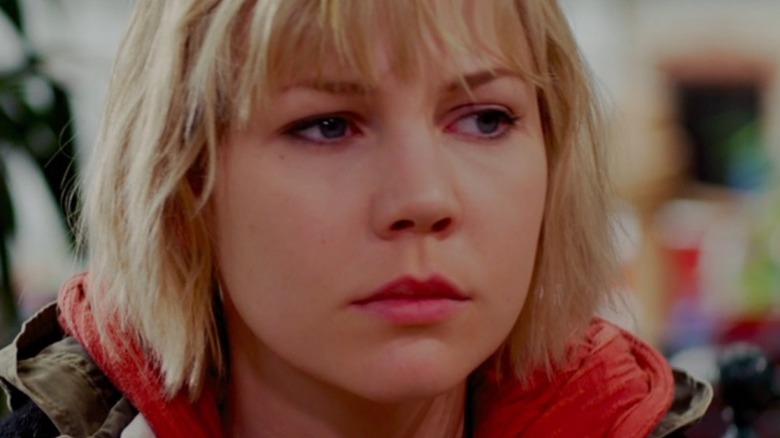 Alliance Films
"Silent Hill" remains one of the most well-known and popular horror video game franchises; its sequel alone ranks as one of IGN's top 100 games of all time (via IGN). Of course, it was only a matter of time before that popularity would translate to a cinematic adaptation. Hopes for "Silent Hill: Revelation" was high after the success of 2006's "Silent Hill." The sequel underwent its own set of drama — something that would weaken much of its potential and leave many fans underwhelmed (via Bloody Disgusting).
The film picks up years after the first's mysterious ending. This time, Christopher Da Silva and his adopted daughter Sharon are attempting to pursue a new life as Harry and Hannah Morgan. A major milestone birthday reveals what Sharon thinks about her past is far from true, taking them — along with a few new characters — on a journey back to Silent Hill itself. The film would go on to gross $55.9 million worldwide and make over $8 million in DVD and Blu-ray sales (via The Numbers). Reviews were less than kind, with many critics noting its inability to match the quality of "Silent Hill" (via Rotten Tomatoes). Find out where you can watch "Silent Hill: Revelation" right now.
Silent Hill: Revelation is available through a variety of services
There are a variety of ways to watch "Silent Hill: Revelation" as of October 2022. Major streaming services have it as part of their basic subscription packages; there is no extra charge to view the film beyond the monthly subscription fee. HBO Max, Hulu, and fuboTV all list the film as available to subscribers. On-demand options are also available for viewers interested in rentals and purchase options. Fees may vary based on the service and can change without notice. YouTube, Google Play Movies & TV, Apple TV, Redbox, Vudu, and Amazon Prime Video all list the film as available for rental as well as purchase.
Viewers in search of physical media can also find the title on DVD and Blu-ray. In most cases, used media is also on offer. Some versions have also paired "Silent Hill: Revelation" with the original 2006 film; those collections are not currently available, only found on various auction sites or through third-party sellers.