12 Best Movies Like Father Stu To Watch Next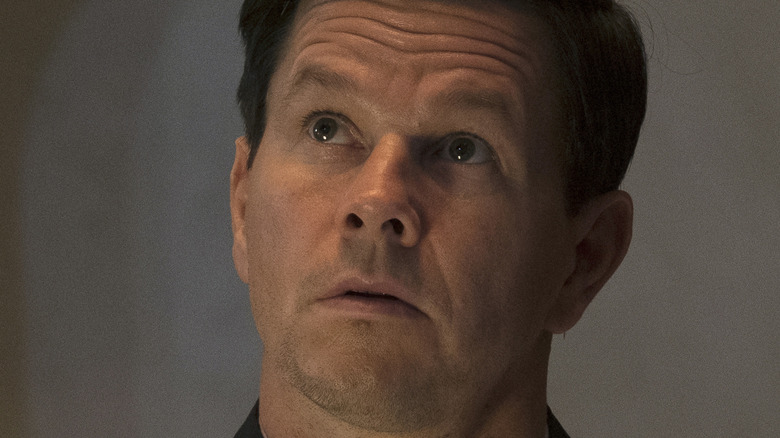 Sony Pictures
In 2022 Mark Wahlberg took a chance on a role decidedly outside his typical fare with "Father Stu," telling the real life story of Stuart Long, an amateur boxer who becomes a Catholic priest. It's the story of Stuart's journey from someone both aimless and immature to someone with a clearer vision of himself and the world around him. Powerful and at times quite serious, "Father Stu" nevertheless has a sense of humor, resulting in a rare religious-based flick that appeals to both the devoted and the agnostic in equal measure.  
It is also a film that dramatically underlines the difference between critics and audiences for a movie like this. "Father Stu" received mixed reviews from critics upon release and currently resides at about 40 percent on Rotten Tomatoes; its audience score, however, is more than double. For Wahlberg, a devoted Catholic, it was a passion project.  
"[It's the] most important movie I've ever done," he said upon the film's release.  "[And] the best movie I've ever been a part of." 
No matter how someone feels about "Father Stu," all can agree that Hollywood certainly doesn't release many films like it. With that said, below are a handful of additional films floating in the same orbit, thematically, tonally and spiritually.
Creed (2015)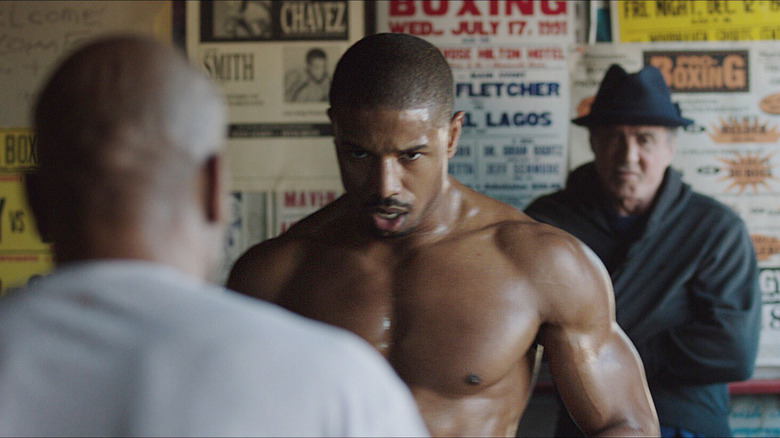 Warner Bros. Pictures
For Adonis Creed (Michael B. Jordan), the son of late fighter Apollo Creed, he's never been able to live up to the success of his father, the Carl Weathers-personified rival of Rocky Balboa in the early "Rocky" films. Orphaned and forgotten at a young age, he has managed to leave behind the detention centers he spent time in as a youth, only to wind up in an unfulfilling desk job as an adult. On the side, however, he's secretly following in his father's footsteps, cultivating hidden natural skills as a boxer.
In his quest to be the best, Adonis puts everything on the line, quitting his comfy job and dedicating himself entirely to the sweet science. But when a humiliating defeat, coupled with pressure from his mother to leave the sport behind, threaten to derail his boxing career Adonis seeks out Balboa (Sylvester Stallone). Together, the two train to take down the boxer's newfound rival, world light heavyweight champion Ricky Conlan (Tony Bellew).
One of the top-tier entries in Stallone's iconic "Rocky" franchise, "Creed" is both an incredible sports movie, and an inspiring story of redemption. While it doesn't have any overtly religious themes, it would make a solid double feature with "Father Stu," another film that finds faith in the most unlikely of places: a boxing ring. 
The Keys of the Kingdom (1944)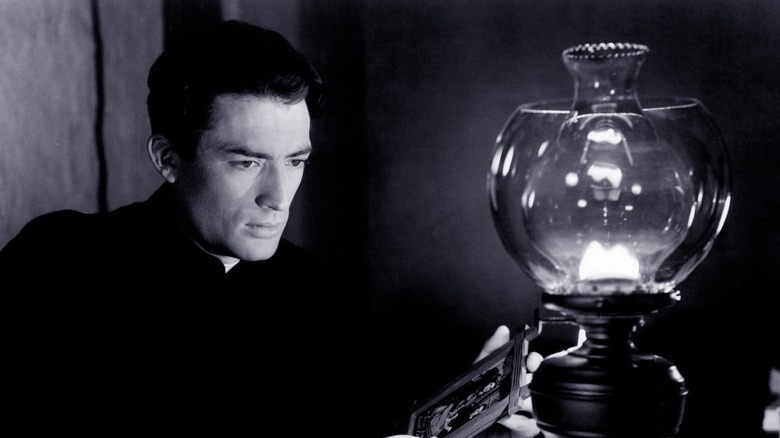 20th Century Studios
For Francis Chisholm (Gregory Peck), life has been nothing short of constant struggle. Born into a Catholic family in Scotland, he endured regular ridicule for his family's faith from a young age. To make matters worse, he was forced to confront even further hardship after a tragic accident took his parents' lives, making him an orphan. With nowhere to turn but the church, Francis would dedicate himself fully to its teachings, eventually becoming a priest and starting a family of his own. A new chapter in his life would begin shortly thereafter, taking on a mission to faraway China.
Leaving behind his home and family, Francis is shocked to discover that his mission to China will be far more difficult than he imagined. The Catholic movement there has been wracked by both natural disasters and waning interest among locals, and the church itself is in ruins. Despite the clear challenges, Francis presses on, enlisting the help of locals to rebuild the battered community.
Adapted from the novel of the same name, "The Keys of the Kingdom" is just as relevant to audiences today as it was back in 1944. An early film role for Peck, one that even resulted in an Academy Award nomination, it remains one of the actor's most profound entries for all audiences, faithful or otherwise.
Soul Surfer (2011)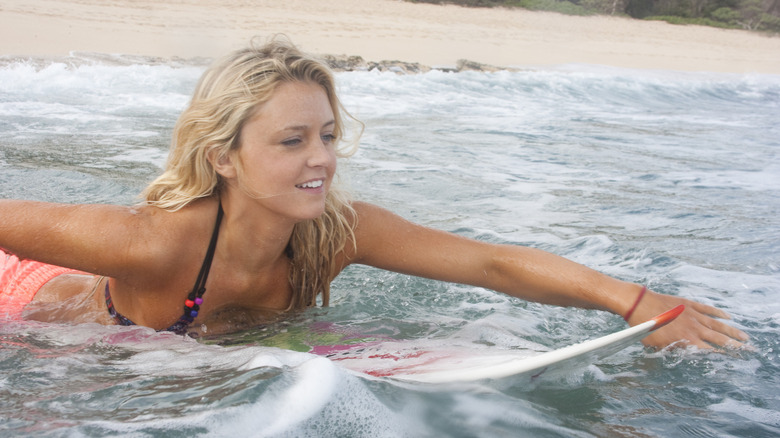 Sony Pictures
Underneath the steely exterior of skilled surfer Bethany Hamilton (AnnaSophia Robb) is a tragic, tumultuous past. Born to ride the waves, she spent most of her childhood training to become a professional surfer. But the course of her life was forever changed when a run in with a tiger shark nearly left her dead. Though she survived, the freak accident wouldn't leave Bethany unscathed, with the shark claiming her left arm and leaving her with little hope to ever surf competitively again, if at all. 
Based on a true story, this uplifting film (which co-stars Dennis Quaid, Carrie Underwood, Craig T. Nelson and Helen Hunt) tells the tale of a young woman given a second chance and a new perspective on life, channeling it into a force for good.
Adapted from an autobiography written by the real Bethany Hamilton, the film is a loyal depiction of her journey of self-discovery against the odds. While it doesn't explore religious themes similar ton those at the center of "Father Stu," viewers might find the tale of an athlete robbed of their potential, only to rediscover themselves as strikingly similar.
Silence (2016)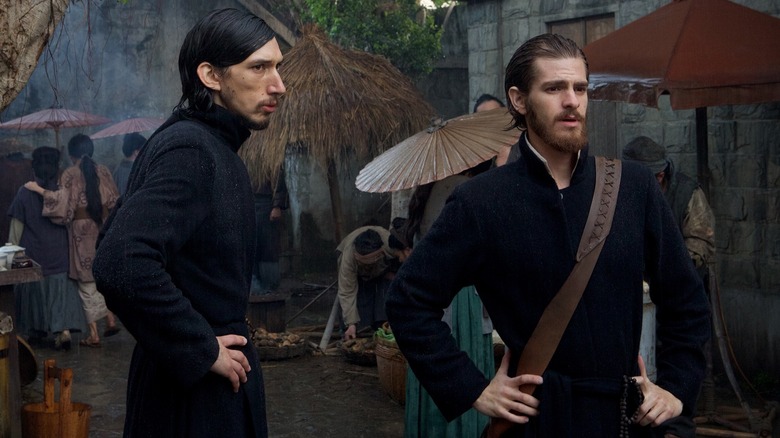 Paramount Pictures
It's the mid 17th century, and Jesuit priests from Portugal are attempting to spread their faith around the world. One such mission has seemingly ended in catastrophe for an experienced priest named Cristóvão Ferreira (Liam Neeson), who has supposedly renounced his faith while away in Japan. In response to this shocking turn of events, former students Sebastião Rodrigues (Andrew Garfield) and Francisco Garupe (Adam Driver in one of his best roles) set off to find their old teacher and uncover the truth.
When they reach the isolated nation, the two missionaries are met with incredible resistance. Christianity has been outlawed by the government, forcing its few followers into hiding. Those who resist are forced to make a difficult choice between renouncing their faith or death. In the face of adversity, the pair press on to complete their mission, even though the pages of history are working against them.
Despite showing the persecution endured by Jesuit priests and their followers during this critical period in Japanese history, "Silence" respects its subject matter enough to not present either side as good or bad. Instead, the film is an unbiased, brutal look into the conflict as both sides struggle against the other's beliefs. With central themes of questioning one's own faith and convictions against seemingly insurmountable odds, it's a fitting pick for anyone who just finished "Father Stu" and is looking to be riveted by a similar film. Plus, with a talented cast and director Martin Scorsese at the helm, it's a must watch for any film buff.
The Two Popes (2019)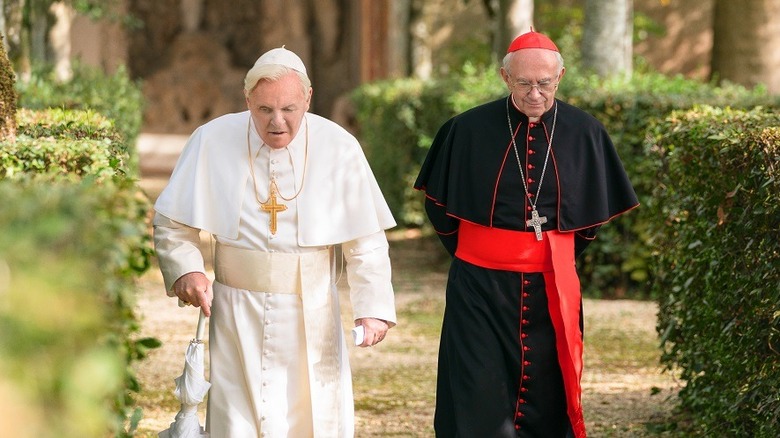 Netflix
In 2012, the uppermost echelons of the Catholic church were consumed in controversy, as allegations of corruption amidst their ranks had been exposed by the infamous Vatican Leaks scandal. This caused many loyalists to suffer a crisis of faith — among them, Cardinal Jorge Bergoglio.
Inspired by true events, this Netflix drama has Jonathan Pryce portraying Bergoglio, meeting with Pope Benedict XVI (Anthony Hopkins) to discuss his intention to resign his position after becoming disillusioned with the current direction of the church. But the Cardinal finds that the Pope isn't so ready to let him leave, and what follows is the opportunity for viewers to serve as a fly on the wall for an illuminating, rank, extensive conversation on the complexities of modern faith — and those who would abuse it.
Though it's not afraid to explore some hard-hitting topics, including the conflict between progressive and traditional followers of the Catholic Church, "The Two Popes" does balance its heavier themes with occasional humor. 
Calvary (2014)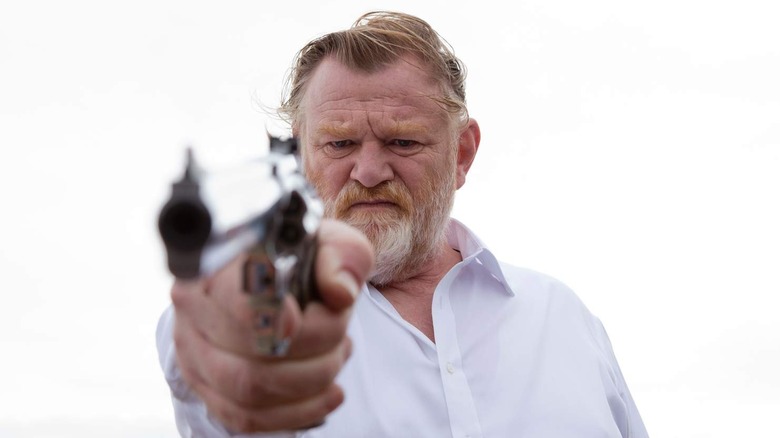 Entertainment One
A grittier film, the John Michael McDonagh written and directed "Calvary" doesn't pull any punches when it comes to looking at the more regrettable aspects of organized religion. 
The story's conflict is set into motion when, during a routine confession, Father James (Brendan Gleeson) is threatened by an unknown parishioner. He's told that years ago his would-be killer was the victim of abuse at the hands of a fellow priest, leaving Father James caught up between the church and the unknown man's resentment. Despite this danger to his life, James continues on as the town's priest, at a time when its people need him most. Beset by all manner of problems, the unsavory characters in his orbit have their own issues, not all of which are easily fixable. But with just a week remaining before his attacker is due to make good on his threat, Father James does all he can to help, on what may be his last days alive.
Besides the obvious commonality of religion, both "Father Stu" and "Calvary" explore complicated family relationships through the eyes of its protagonists. In the latter, this is presented in the strained relationship between Father James and his daughter, as both work with the limited time they have to achieve mutual forgiveness for past actions.
Woodlawn (2015)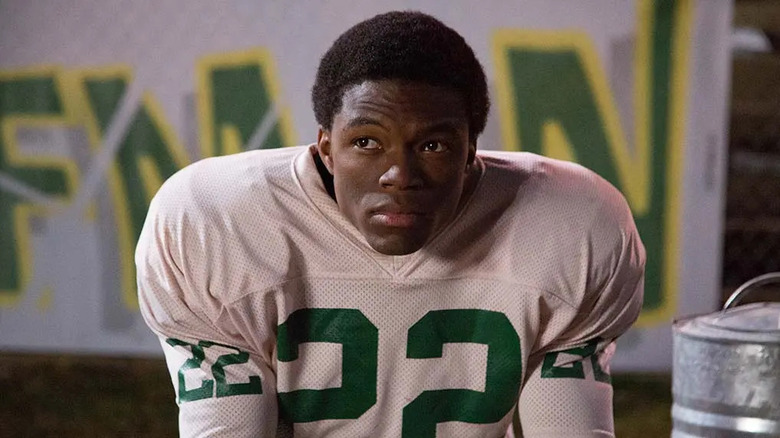 Universal Pictures
In the wake of widespread, early '70s American desegregation, tensions are simmering on the playing fields of Woodlawn High School in Birmingham, Alabama. The newly unified football team has multiple players who aren't keen on playing alongside each other, with the underlying anger having disastrous effects on both the team and the school at large. Everything changes for the better, however, when chaplain Hank Erwin (Sean Astin) makes his appearance. Speaking with the players, his message of faith inspires the students to unite and push themselves harder than before.
His rousing speech has the desired effect, inspiring the team to take the message to heart and translate it into performance on the field. All, that is, with the exception of coach Tandy Gerelds (Nic Bishop). Though a religious man, his skepticism about so deeply intertwining faith and sports is understandable, but is eventually put to rest by seeing his team's successes — even if it means, despite being led by star running back and future NFL athlete Tony Nathan (Caleb Castille), they will lead to the team facing off against its toughest rival yet.
While it doesn't have quite the same raw, unfiltered energy as "Father Stu," the same message of undying positivity and strength are at the core of "Woodlawn," making it worthy of a watch.
Chariots of Fire (1981)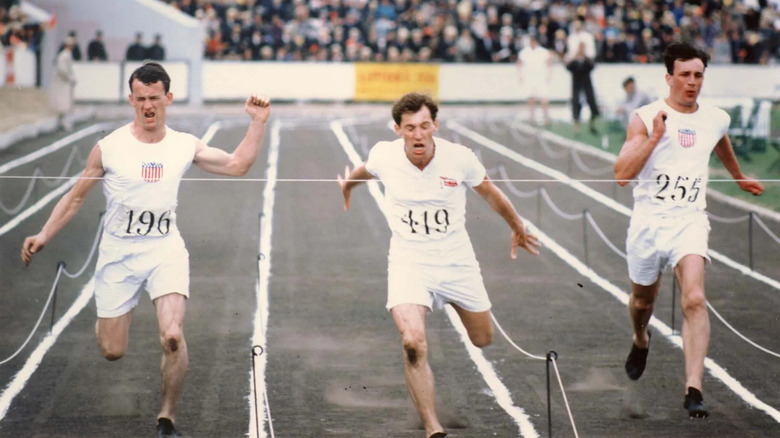 20th Century Studios
A best picture winner and a classic film, if reading the title "Chariots of Fire" didn't instantly implant its theme in your brain, you need to take it for a run.
The film picks up in the build up to the 1924 Olympics, as athletes from around the world train for their shot at gold. Among them are British runners Harold Abrahams (a Jewish student at Cambridge University) and Eric Liddell (the son of Scottish missionaries living abroad in China), and both men have faced their fair share of hardship, with Harold battling antisemitism throughout much of his life and Eric in the midst of a growing divide with his family. Despite their shared obstacles, both dedicate their body and soul to the sport of running. For Harold, it's a tool with which he can combat prejudice; for Eric, it's a way to show his devotion to God. As the big day approaches, their minds and bodies are put to the test when they're chosen to represent Great Britain at the 1924 Games.
One of the best films about the Olympics of all time, "Chariots of Fire" is an inspiration to many. It's not hard to see why, as it remains one of the most uplifting sports films out there, and one that perfectly balances the idea of personal faith and conviction in overcoming adversity. The heroes of "Chariots of Fire" were very real athletes, as are some of the best characters in these sorts of films.
Last Flag Flying (2017)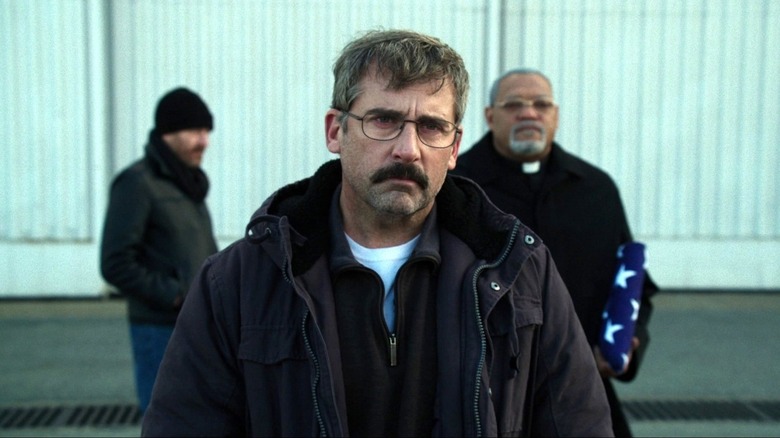 Amazon Studios
Always up for a challenge, writer/director Richard Linklater took on a unique one when he made a sequel to "The Last Detail," the beloved '70s Hal Ashby film that took powerful turns from Jack Nicholson, Randy Quaid and Otis Young and turned them into a foul-mouthed, irreverent, sometimes somber anti-Vietnam fulmination. 
With "Last Flag," Linklater catches up with what are essentially the same three characters (albeit with different names and played by Steve Carell, Bryan Cranston and Laurence Fishburne), now Vietnam vets who've lost touch with one another. When Carell's "Doc" Shepherd has his son killed while serving in Iraq, leaving him with the unenviable task of arranging the funeral, he seeks out old friends Sal Nealon (Cranston) and Richard Mueller (Fishburne) for support. Along the way, the trio revisit memories of their shared past, both good and bad, as well as the events that caused them to drift apart years ago.
While it may not seem like an obvious spiritual cousin at first glance, "Last Flag Flying" embodies similar themes to "Father Stu" by the time it is over. Nobody enjoys letting their characters ruminate on life's big questions more than Linklater ("Waking Life," "Boyhood"), and
the painful experiences that Larry, Sal, and Richard share are reminiscent of Stuart Long's life before finding faith.
Dead Man Walking (1995)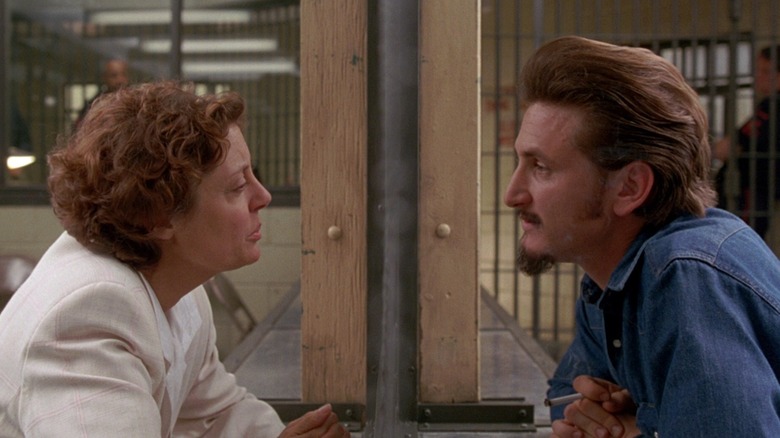 Gramercy Pictures
Following the brutal murder of a young couple, Matthew Poncelet (Sean Penn) was sentenced to death. With execution imminent, a last-ditch effort to try and get off death row has him reaching out to Sister Helen Prejean (Susan Sarandon), a most unusual confidant. Though not there to determine Poncelet's guilt or innocence, she pledges to help him any way she can. Along the way, Sister Helen gets to know Poncelet's true personality, as well as those of both his family and the parents of his alleged victims.
This somber story became both a critic and audience favorite, with reviewers praising the thought-provoking perspective the film offers on the issue of capital punishment. It earned Sarandon an Academy Award for her role, and nominations for both Penn and director Tim Robbins. "Dead Man Walking" has deep, driving themes of spirituality and humanity; if "Father Stu" left you wanting something a bit meatier, track down this classic.
Léon Morin, Priest (1961)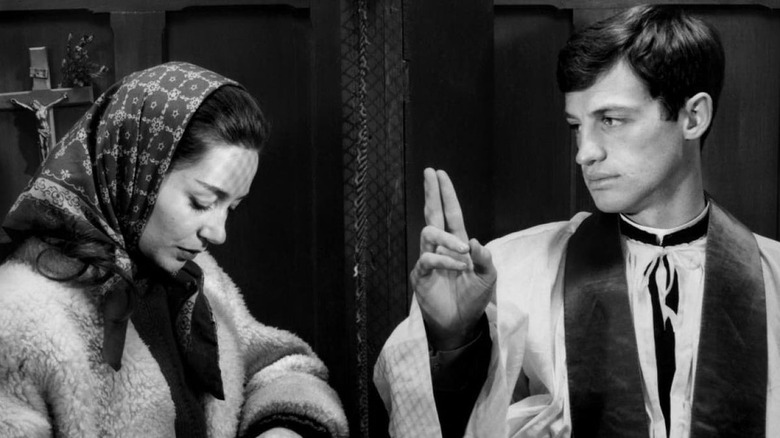 Compagnie Cinématographique de France
This Jean-Pierre Melville classic is set during the WWII Nazi occupation of France, where single mother Barny (Emmanuelle Riva) is struggling to raise her daughter under the worst of conditions. A former Catholic now turned staunch nonbeliever, Barny chooses one day to challenge the convictions of a local priest named Léon (Jean-Paul Belmondo). Unexpectedly, Léon's beliefs wind up withstanding the test against Barny's own, leaving her with little choice but to reconsider her prior doubts.
Similarly to "Father Stu," a complicated tale of romance is central to the plot of "Léon Morin, Priest." While initially platonic, the relationship founded on faith that Barny and Léon share is tested when Barny begins to develop romantic feelings for the priest. Still bound by a vow of celibacy, Léon must choose between his relationship to Barny and his word. 
One of the best received religious-themed picks in the genre, film critic Roger Ebert counted himself among its fans.
"Morin is a sincere priest who is prepared to accept a posting in a remote district where no one will be interested in his books. 'I will convert the nations,' he says, 'starting with this village'," Ebert wrote in his review. "[This] is a consistently intriguing film, because Melville so cleverly plays with our expectations. There is an undercurrent of sincere religiosity at work."
First Reformed (2017)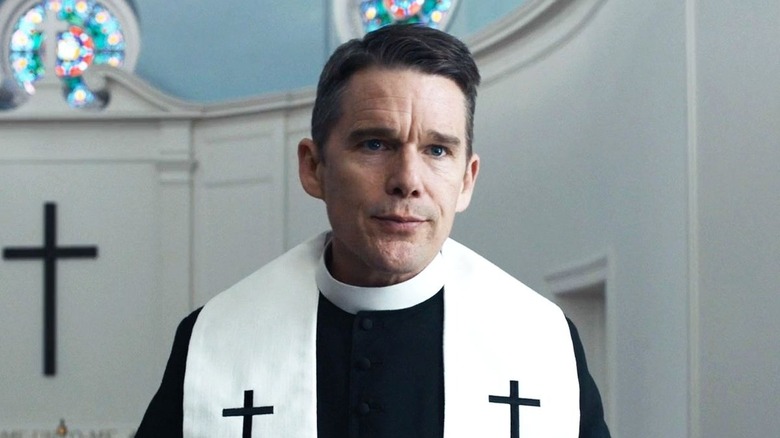 A24
Paul Schrader has always had a complicated, fascinating relationship with issues of faith and personal conviction (fueling such works as "The Last Temptation of Christ," "Affliction" and the recent "The Card Counter"), but it was this intense Ethan Hawke/Amanda Seyfried drama that signaled a return to form for the writer/director.
Set on the streets of fictional Snowbridge, New York, where a church has stood since before the Revolutionary War, it is home to Ernst Toller (Hawke), a pastor who, much like the church itself, has lost much over his life. His son's untimely passing and Toller's own subsequent divorce from his wife have left him with little when it comes to faith, often turning to the bottle to cope with his issues. In a desperate bid to revitalize the church and save the only thing he has left, he crosses paths with a woman named Mary (Amanda Seyfried), whose own complicated life threatens to change Toller's forever.
A recipient of near unanimous critical praise, "First Reformed" is far from your typical feel-good movie fare. Uncomfortable topics, some pertaining to faith, some the world at large, and still others more intimately human, are in its crosshairs. Like "Father Stu," "First Reformed" explores the relationship of religion with the modern era.