Why Jamie Lee Curtis Helped Choreograph Laurie's Brutal Fight With Michael Myers In Halloween Ends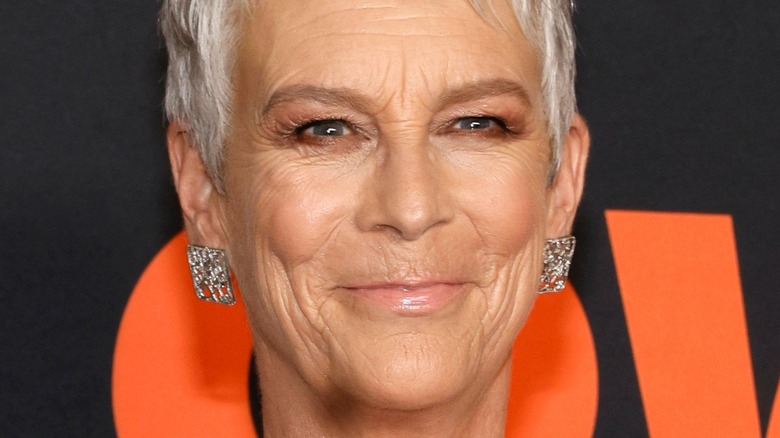 Ovidiu Hrubaru/Shutterstock
Warning: Light spoilers for "Halloween Ends."
"Halloween Ends," the conclusion of the rebooted "Halloween" trilogy that began in 2018, debuted in theaters this weekend. Variety reports that the slasher film is expected to have a $43.4 million opening from 3,901 theaters, which isn't too shabby considering it was also released simultaneously on Peacock as a limited-time streaming offering.
The new film is now part of the convoluted history that includes 13 different "Halloween" movies, including this one, though this trilogy is a direct follow-up to the original 1978 film. It brings back Jamie Lee Curtis as Laurie Strode, who survived Michael Myers' (Nick Castle, James Jude Courtney) very first attack in the '70s as a 17-year-old. Now with an adult granddaughter who has also experienced violence at the hands of the murderer, Strode is looking to end his reign of torment for good. In doing so, of course, she has to confront Myers. Without revealing any major spoilers, there's a brutal, climactic battle between Laurie and Michael Myers — one of many from throughout the two's decades-long conflict together.
In this installment of the "Halloween" franchise, though, Curtis was deeply involved in producing the fight scene.
Curtis didn't want the scene to look like just a movie fight
In an exclusive interview with Entertainment Tonight, Jamie Lee Curtis said about the fight scene, "I wanted it to look like this final conflict was real." As a result, the publication reports, she took the lead on the set and worked with her stunt double to determine how the choreography would play out on camera. However, there was one scene she insisted on doing herself. It's a scene in which Myers grabs her hair and pushes her face through a plate glass cabinet with dishes inside. "I said, 'What I really want is something so unexpected and brutal that people are going to be like, 'wait, what?'" she explained.
While director David Gordon Green protested that resetting the cabinet between takes would require too much time, Curtis insisted this would not be a problem. She said, "And I was like, 'David, they'll have the cabinet. It'll just be a door that comes on. By the time they wipe the blood off my face, the door will be on and we can do it again.'" Indeed, the scene ended up in the movie, and Curtis contends this type of reality is the "level of what you're not expecting to see." 
Additionally, the final showdown between these two characters is both emotional and intimate, according to Green, because it "has reflections of the fact that these are two people that, for years, for decades, have been surviving confrontation." He credits Curtis with taking the movie's physical aspects seriously and always wanting to push its limits. He said, "She's the one that when we're doing a big stunt piece or for this climatic battle in this movie, she's the one saying, 'I want to go the extra mile.'"