MCU Fans Are Less Than Impressed By This Major New Character's Design In She-Hulk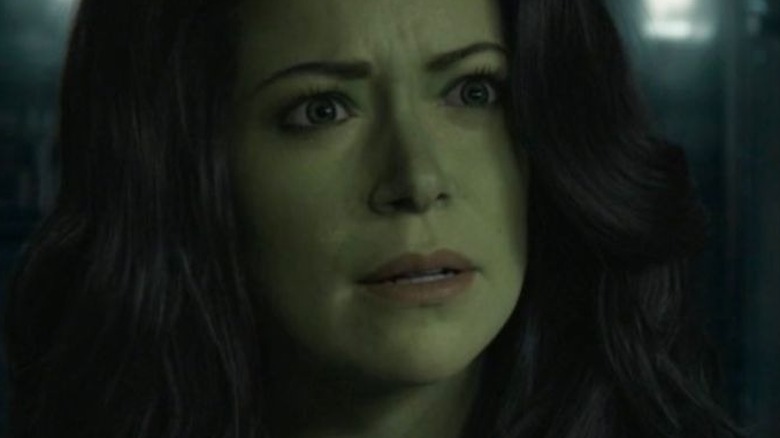 Disney+/Marvel Studios
The following contains spoilers for "She-Hulk: Attorney at Law" Episode 9.
For better and worse, the finale of Disney+ and Marvel Studios' "She-Hulk" left nothing on the table, taking its fourth wall-breaking style and uneven humor to the absolute max. The show's irreverence for the "standards" and preconceived notions of the Marvel Cinematic Universe has led to its best moments — like Jen's moving and hilarious stay at the Abomination's wellness retreat or Matt Murdock's in-costume "walk of shame." This episode sees Jen quite literally bust through the Disney+ streaming platform itself to solve her issues, which — like it or not — is even more creatively meta than a "Deadpool" film (your move, Reynolds).
It has also led to some stranger moments, like the somewhat weightless and narratively undermining resolution to the season's overarching plot, in favor of necessary subversion (if only such subversion had occurred sooner). This whiplash of tonal effectiveness and use has created a dramatic environment where viewers struggle to take anything seriously — or, worse, to understand what is a joke and what isn't. Even when the show introduces the long-awaited character Skaar, Hulk's biological son from another planet (first teased in Episode 1's car crash sequence).
Unable to tell if his surprising design is a punchline or the earnest appearance of Marvel's newest superhero, fans quickly took to Twitter to voice their disapproval of Skaar's first two seconds in the MCU — which seems pretty par for the course for this Marvel series.
Skaar needs a new barber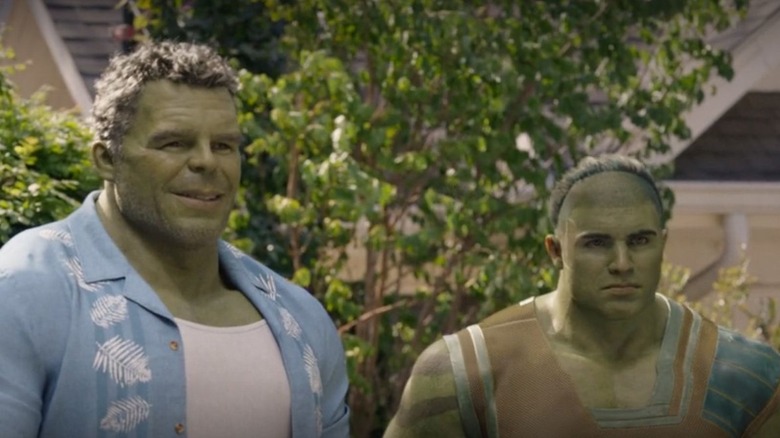 Disney+/Marvel Studios
Twitter account @shehulkupdates asked users what they thought of the MCU design, to which @crypticace014 responded, "No the design is horrible... but probably intentionally so." It seems as though they're inferring that Skaar is supposed to look bad, possibly as a joke. @PunishingBat tweeted, "Can't believe no one's talking about HOW BAD SKAAR'S DESIGN IS IN SHE HULK WTF IS THIS KEVIN COSPLAY BALD-HEADED GARBAGE" before tweeting out pictures of the character's long-haired comic book counterpart.
Some users weren't as harsh on the look, with @MaximilanMarvel smartly pointing out, "The hairline is definitely interesting, but the Shadow People from the comics (including Skaar's mother Caiera) also had rather unique hairlines. Shadow People from the comics were very spiritual & had a monk-like "Saka" priesthood, so maybe that's where they're going with Skaar." Meanwhile, @makethebatmovie stated, "he looks fine tbh, I like it! people need to be grateful."
However you feel about Skaar's new design, joke or not, perhaps we can all agree with this hilarious tweet from @Biglobo23.
All episodes of "She-Hulk: Attorney at Law" are now streaming on Disney+.