She-Hulk's Subtitles Accidentally Spoiled This Major Detail In The Finale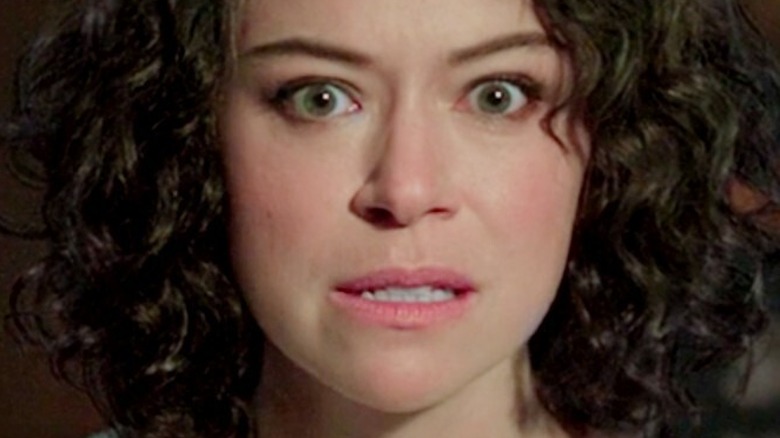 Marvel/Disney
The well-crafted first season of "She-Hulk: Attorney at Law" is Certified Fresh on Rotten Tomatoes, offering up Disney+ subscribers nine entertaining entries unlike anything else the Marvel Cinematic Universe has ever released. The final episode of the Phase Four show's first run was packed to the brim with all kinds of surprises, including some that didn't go over so well with fans.
The MCU's foray into the realm of TV has been an intriguing affair, to say the least, offering up a variety of fascinating properties, each executed in its own unique manner. From "WandaVision" to "Loki," Marvel is definitely looking to shake things up on the small screen, and it's safe to say many could arguably agree that the "She-Hulk" series is one of their boldest moves.
Instead of having Tatiana Maslany as a mean green fighting machine smashing her way through another cliched action narrative, head honcho Kevin Feige and series creator Jessica Gao decided to take the fourth-wall-breaking legal comedy series approach for the eighth MCU TV show. Every episode, including the season finale, was probably not what fans expected. One of the many unpredictable moments was the fun twist when She-Hulk busted out of Disney+ into Disney Studios to chat with the writers and then Kevin himself. But it turns out Kevin is not the man Kevin Feige but K.E.V.I.N., an artificial intelligence or A.I. that is the mind behind the MCU. Unfortunately, this fun twist was spoiled for some before it went down.
The K.E.V.I.N. twist was revealed a tad too early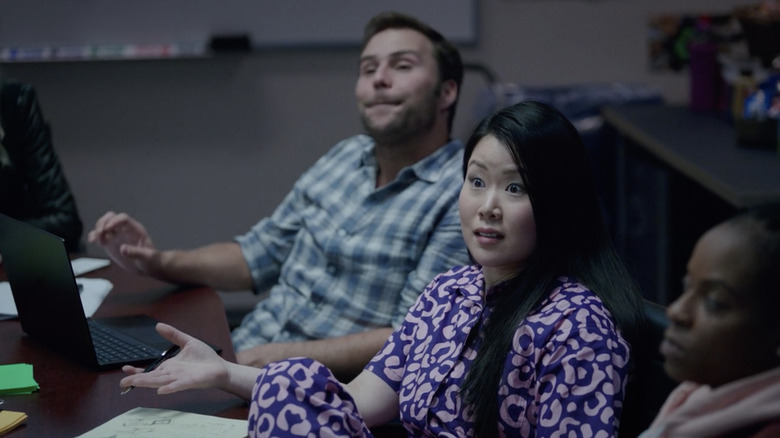 Marvel/Disney
In "Whose Show Is This?" at the 18:02 mark before the robotic reveal, Writer Jessica (Eden Lee) says, "This is the story that Kevin wants," except the subtitles spell out K.E.V.I.N. As the scene progresses, every time She-Hulk says his name, it's spelled the regular way, but when the writers say it, it's with periods and capital letters. It's possible this could have been a gag, but whatever the case was, certain fans aren't laughing, with some expressing their disappointment that the captions spoiled the Feige surprise.
Reddit Users on the "She-Hulk: Attorney At Law" Episode 9 discussion board posted that they could see what was coming, like u/IAMA_LongHorse, who wrote, "Yeah, that was disappointing. I realized what was going to happen as soon as I saw that," and u/mirrorreflex posted "I was so annoyed too. I didn't immediately think A.I. but I knew there was going to be a plot twist." 
While certain viewers were irked by the ordeal, the K.E.V.I.N. scene was pretty clever, given the show's tendencies to break the fourth wall and take jabs at the MCU. The show's creator Jessica Gao explained why she believed it made sense to put in the A.I. She-Hulk interaction (via Marvel), saying, "It just felt right that she would go and complain to the ultimate lord of Marvel, which is K.E.V.I.N." There is no denying that "She-Hulk: Attorney at Law" has proven that Marvel is not afraid to go in new directions, and it will be interesting to see what else K.E.V.I.N. has in store for fans moving forward.