Solo: A Star Wars Story Will Reveal How Han And Chewbacca Met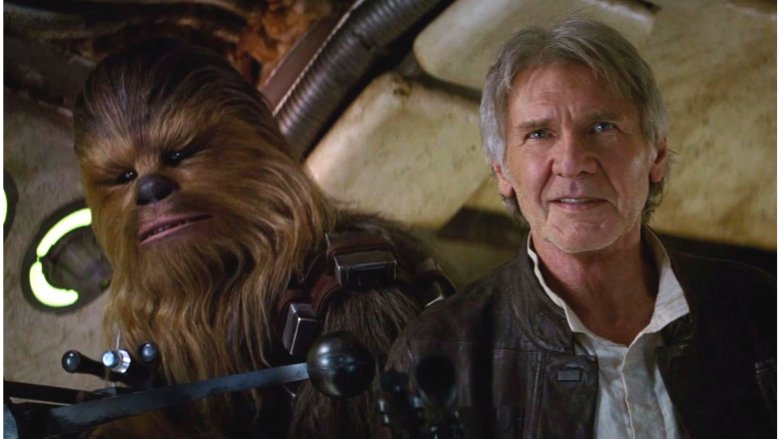 Lucasfilm
It wouldn't be a Han Solo origin story if we didn't get Chewbacca's origin, too.
According to a new Disney press kit about Solo: A Star Wars Story (via The Hollywood Reporter), the upcoming anthology flick will feature the first meeting between Solo and his future Wookiee co-pilot.
Although plot details are still hard to come by, the new synopsis offers up that tantalizing tidbit. "Through a series of daring escapades deep within a dark and dangerous criminal underworld, Han Solo (Alden Ehrenreich) meets his mighty future co-pilot Chewbacca (Joonas Suotamoand) encounters the notorious gambler Lando Calrissian (Donald Glover), in a journey that will set the course of one of the Star Wars saga's most unlikely heroes."
Although this will be the first time we see the original meeting between Han and Chewie in official Star Wars canon, it's not the first time a version of the story has been told. In the now-abandoned "expanded universe" of Star Wars, their first meeting was revealed in the 2000 comic book miniseries Star Wars: Chewbacca. In the comics, Solo was an Imperial officer who saved Chewie's life twice when he was interrupted in the middle of an attempt to free Wookiee slaves from the Empire. They formed a bond that grew when Solo left the Imperial service.
However, it's not clear if the new movie will use anything from that storyline. Lucasfilm had to start carefully monitoring the expanded universe when Disney bought Lucasfilm in 2012. As for what's official, Chewbacca showed up in 2005's Revenge of the Sith alongside Yoda on the Wookiee planet of Kashyyyk. But other than that, his backstory is wide open.
We'll certainly know more when Solo: A Star Wars Story hits theaters on May 25.