Chainsaw Man Fans Can't Get Over Denji's Highly-Anticipated Transformation Scene In Episode 1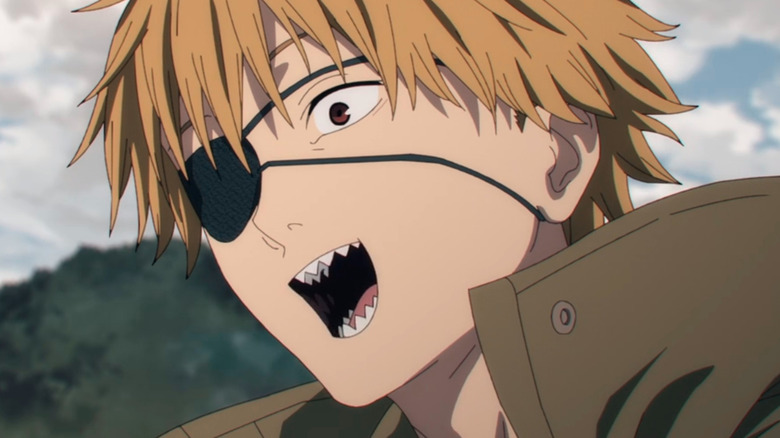 MAPPA
This article contains spoilers for "Chainsaw Man" Episode 1
"Chainsaw Man" released its first episode yesterday, and anime fans are in for a treat. MAPPA, whose previous work includes "Jujutsu Kaisen" and "Attack on Titan: The Final Season," is bringing Hiroshi Seko's award-winning manga to the anime world, and fans already love it.
The "Chainsaw Man" manga tells the story of Denji, a poor boy who is deeply in debt to the Yakuza after his father dies. He befriends an adorable dog-like devil, Pochita, and the two work together to make ends meet. Denji uses Pochita's chainsaw, which protrudes from his head, to cut trees and kill devils for money. He's eventually betrayed and killed by his debtors after the Yakuza strike a deal with the Zombie Devil, but Pochita saves them both by replacing Denji's heart. With his devil friend inside of him, Denji can pull the cord hanging out of his chest and become Chainsaw Man. After getting revenge on the Yakuza, the government agency known as the Public Safety Devil Hunters confronts Denji, persuading him to join their ranks to hunt down the infamous Gun Devil.
Following the premiere of Episode 1, "Chainsaw Man" fans took to Twitter to express their reactions to the show's incredible animation, specifically Denji's first transformation into the Chainsaw Man.
Manga readers agree that MAPPA executed Denji's transformation perfectly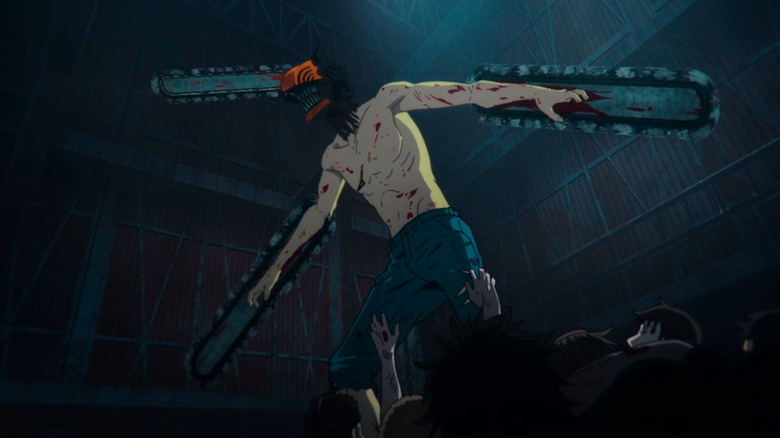 MAPPA
As fans have posited, "Chainsaw Man" Episode 1 does an incredible job setting up the story for the rest of the series. MAPPA nailed the pacing — although some fans are worried Season 1 might not cover all of the Public Safety Arc – and the show's animation is absolutely out of this world. "Chainsaw Man" seemingly has the potential to soon join the ranks of anime like "Demon Slayer" and "Attack on Titan," which receive copious amounts of praise for their animation.
The highlight of Episode 1's animation for many was Denji's first transformation into Chainsaw Man, and fans showed their appreciation for it on Twitter. @YoSpecc said, "Denji's first transformation had me in literal tears, the amount of hype I have had for this series has been unmatchable, from the masterpiece of a manga with the most insane storytelling, characters, and art, finally seeing that starting to be animated is unreal, I love CSM." Another manga reader, @Howlxiart, said that the anime's adaptation of the transformation was way better than the manga because of the flurry of emotions viewers felt during it. @Ttsukii0's opinion slightly differed, suggesting that the score was what made the moment special.
MAPPA CEO Manabu Otsuka recently sat down with Shogo Sato in Japan and discussed the anime industry at large. It was there that Otsuka revealed that MAPPA is all-in on "Chainsaw Man," saying, "On the other hand, we are 100% invested in 'Chainsaw Man' this time. Of course, there are risks. However, it is a matter of course in business, and if you aim for further growth, you will need to compete big and take risks."
New episodes of "Chainsaw Man" hit Crunchyroll and Hulu every Tuesday.