Why Gage Winchester From NCIS Looks So Familiar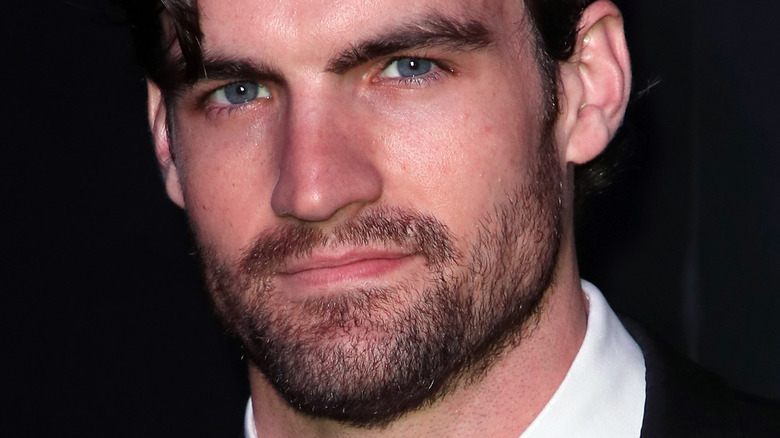 David Livingston/Getty Images
In 2003, CBS released "NCIS." The series is a spinoff of "JAG," a Navy-themed legal drama that "NCIS" has drastically outperformed in every conceivable metric. As of this writing, "NCIS" is one of the longest-running primetime productions ever to release (primetime means those precious, golden evening hours when most audiences are willing to tune in). 
In broad strokes, the story follows a fictional team of special agents as they investigate murders as they pertain to the U.S. Military's most aquatic branch. Over the years and across the 20-plus seasons, the main cast has included Mark Harmon, David McCallum, Sean Murray, Pauley Perrette, Michael Weatherly, and Cote de Pablo. In Season 20 Episode 4, entitled "Leave No Trace," Caleb Alexander Smith portrays Special Agent Gage Winchester, a charming but reckless old flame of Special Agent Katrina Law (Jessica Knight). Without spoiling too much, the episode ends in a way that suggests Gage will not be returning, but, hey, anything's possible. 
That being said, for those who want to know where to find a little bit more of Smith's work, here's a brief highlight reel of his credits. 
Caleb Alexander Smith is a member of Hydra in Agents of S.H.I.E.L.D.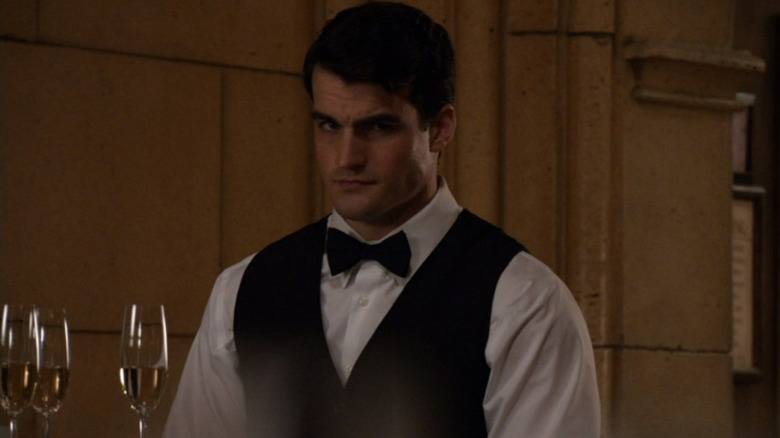 ABC/Disney+
In 2013, ABC released "Agents of S.H.I.E.L.D.," an American television series set loosely within the Marvel Cinematic Universe that ran for seven seasons and ended in 2020. The show predates both the Netflix Marvel productions — functionally known as "The Defenders Saga" — and the more firmly canonical Disney+ projects. "Agents of S.H.I.E.L.D." features an ensemble cast that includes Clark Gregg, Ming-Na Wen, Chloe Bennet, Ian De Caestecker, Elizabeth Henstridge, and Brett Dalton. In broad strokes, the story follows a resurrected Phil Coulson (he died in "The Avengers," remember?) and his continued efforts to save the world in the name of S.H.I.E.L.D. While often referencing the larger events within the MCU, the "Agents of S.H.I.E.L.D." timeline is peculiar, and its current status as official canon is frustratingly vague. 
In Season 2 Episode 5, entitled "A Hen in the Wolfe House," Caleb Alexander Smith portrays a nameless bartender. It's not quite a blink-and-you'll-miss-it situation, as the camera does linger on his ominous glare right before he poisons a room full of U.S. Navy officials, but it's admittedly a small role. That said, it earns a mention because "Agents of S.H.I.E.L.D." wields serious name recognition power, and it's listed as Smith's first official credit on IMDb. That feels pretty significant. 
He's an FBI agent in The Catch
In 2016, ABC released "The Catch," an American dramedy that received two seasons before ending in 2017. As far as legacies go, that's not altogether auspicious; not every production gets to be a crowning jewel. In broad strokes, the story follows Alice Vaughan (Mireille Enos), a private investigator chasing down her con artist fiancé, Benjamin Jones (Peter Krause), for defrauding her business. The show also features the performing talents of Sonya Walger, Jacky Ido, Rose Rollins, Elvy Yost, Jay Hayden, and Alimi Ballard.
For five episodes in the first season, Caleb Alexander Smith portrays Shawn Sullivan, an FBI agent who works alongside Alice on numerous cases — just not quite numerous enough to merit primary billing. He's a dedicated friend to Nia Brooks (Samira Wiley) and Sophie Novak (Yost), and that's pretty much it. After unsuccessfully asking Danny Yoon (Hayden) out on a date, he essentially disappears. If "The Catch" continued, it's possible that Shawn would have enjoyed more screen time to develop as a character. Still, it's hard to ignore that he did not return for the second season. It's even harder to ignore that "The Catch" drops Shawn immediately after revealing that he's gay. 
He's a friendly stripper in Modern Family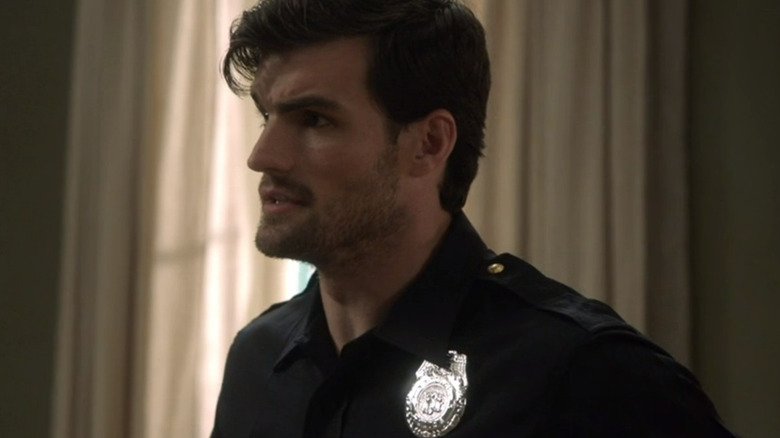 ABC/Hulu
In 2009, ABC released "Modern Family," an American mockumentary-style sitcom series that received 11 seasons and ended in 2020. The story follows three interconnected families in broad strokes as they live their daily lives, from which hilarity often ensues. The main cast includes Ed O'Neil, Sofía Vergara, Julie Bowen, Ty Burrell, Jesse Tyler Ferguson, and Eric Stonestreet. According to Rotten Tomatoes, the series was incredibly well-reviewed by both critics and audiences, with phrases like "eccentric but exceedingly likable" and "ingenious sitcom" being handily tossed around.
In Season 8 Episode 4, entitled "Weathering Heights," Caleb Alexander Smith portrays a nameless "police officer," a title that is only in quotation marks because he's a stripper. Mitchell (Ferguson) and Cameron (Stonestreet) call in a favor which leads to this "cop" pretending to arrest Dwight (Winston Duke) for underage drinking. The intent behind the favor is to guilt their daughter Lily (Aubrey Anderson-Emmons) into admitting that she had been unnaturally cruel to Dwight, who, at that time, was staying in their home.
He's kind of an idiot in Station 19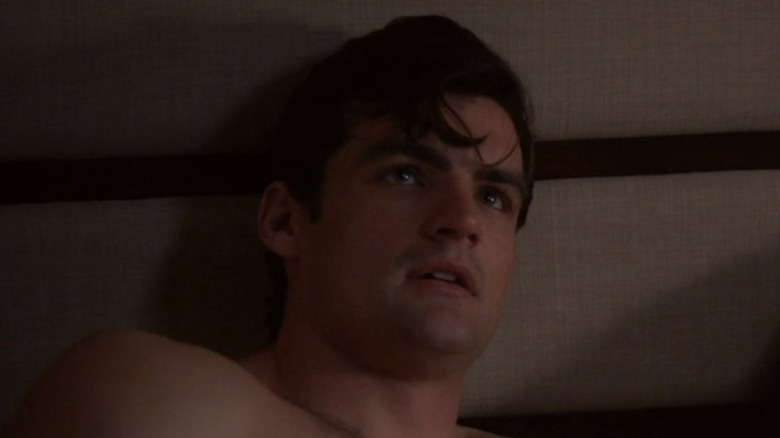 ABC/Hulu
In 2018, ABC released "Station 19," an ongoing American action drama series currently airing its sixth season. The series serves as the second spinoff of "Grey's Anatomy," which broadly follows a group of firefighters at the titular Station 19 as they save lives and manage their own. The ensemble cast includes Jaina Lee Ortiz, Jason George, Grey Damon, Barrett Doss, Jay Hayden, and Danielle Savre. "Station 19" seems to have mediocre reviews. 
For the second and third episodes of the first season, Caleb Alexander Smith portrays Seth, an on-again-off-again boyfriend to JJ Lau (Brenda Song). He's, uh, currently off-again ... because he's dead. Seth made the critical error of destroying JJ's smoke detector with a baseball bat so that it would stop beeping while they were having sex. As if spurred by some karmic deity, JJ's apartment building almost immediately caught fire while she was at work, and Seth was still in her apartment.  
He's one of the many, many Boyles in Brooklyn Nine-Nine
In 2013, Fox (then later NBC) released "Brooklyn Nine-Nine," an American police procedural comedy that received eight seasons and ended in 2021. In broad strokes, the story follows the fictional 99th precinct of the NYPD as they do anything besides handle actual crime. The main cast includes Andy Samberg, Andre Braugher, Stephanie Beatriz, Terry Crews, Melissa Fumero, and Joe Lo Truglio. "Brooklyn Nine-Nine" was beloved by essentially everyone. According to Rotten Tomatoes, critics and audiences adore the blend of humor and current topics. 
In Season 8 Episode 7, entitled "Game of Boyles," Caleb Alexander Smith portrays Andrea Boyle, a member of the extended Boyle family tree. As the episode primarily focuses on Charles Boyle (Truglio) and uses his large family as a comic prop to exemplify his oddities, Andrea isn't a developed individual. He's just kind of there. The extent of his presence, it seems, is to showcase Smith's conventionally attractive jawline amidst a family of actors intentionally playing "dorky."