Tom Cruise Is Shooting For An Otherworldly Record In An Upcoming Movie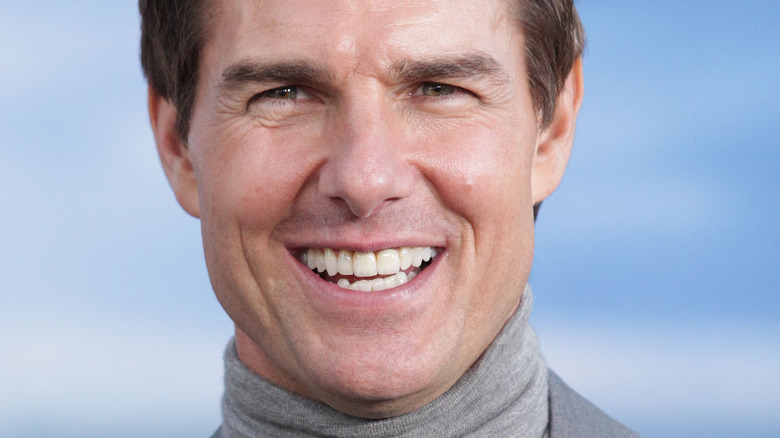 DFree/Shutterstock
After climbing the world's tallest building in "Mission: Impossible – Ghost Protocol," hanging off of a flying plane in "Rogue Nation," and conquering the air in "Top Gun: Maverick," Tom Cruise has a new mission on the docket: space. It was announced in 2020 that "Edge of Tomorrow" director Doug Liman would be reuniting with Cruise for a film partially shot in space (via Deadline).
Turns out, making cinematic history requires a serious chunk of change, as the epic adventure will reportedly cost at least $200 million. And an epic adventure it certainly will be, as Liman and Cruise have already started developing the film's various atmospheric sequences. "Things come out of our mouths like, we're going to shoot this scene on Earth, or this scene won't be shot on Earth," Liman revealed in a 2021 interview with Deadline. "That just gets uttered casually and often during prep meetings. That's not lost on me, and I don't think it's lost on Tom."
Word on the project has been quiet over the last few months, with Cruise directing his energy to promote the mega-hit "Top Gun: Maverick." With "Maverick" in the rearview mirror, an exec behind Cruise's space romp has shared a few key details surrounding the film, including a record that the star apparently has his sights set on breaking.
Tom Cruise will hopefully be the first civilian to do a spacewalk
In a recent BBC interview, Universal Pictures Chairwoman Donna Langley opened up about Tom Cruise's latest adventure, and how she hopes the star will be "the first civilian to do a spacewalk outside of the space station." 
"Tom Cruise is taking us to space. He's taking the world to space. That's the plan," the exec shared. "We have a great project in development with Tom, that does contemplate him doing just that." The yet-to-be-titled project will be the first narrative film to be shot in space from a Hollywood studio.
While there's a ton of excitement surrounding Cruise breaking the spacewalk record, Langley revealed that the film "actually [mostly] takes place on Earth, and then the character needs to go up to space to save the day." The Universal Pictures boss described Cruise's character as "a down-on-his-luck guy who finds himself in the position of being the only person who could save the Earth." Production on the film hasn't started yet. 
Although Cruise may end up being the first civilian to do a spacewalk, he won't be the first actor to head to space to film a movie. In 2021, following the announcement of his collaboration with Liman, the Russian film "Challenge" was shot in space, with a portion of the production taking place on the ISS (via BBC). "Challenge" will feature about 35-40 minutes of footage shot in space (via 1TV). Let's see if Cruise, Liman, and Langley can beat that.