The Walking Dead Renewed For Season 9 With New Showrunner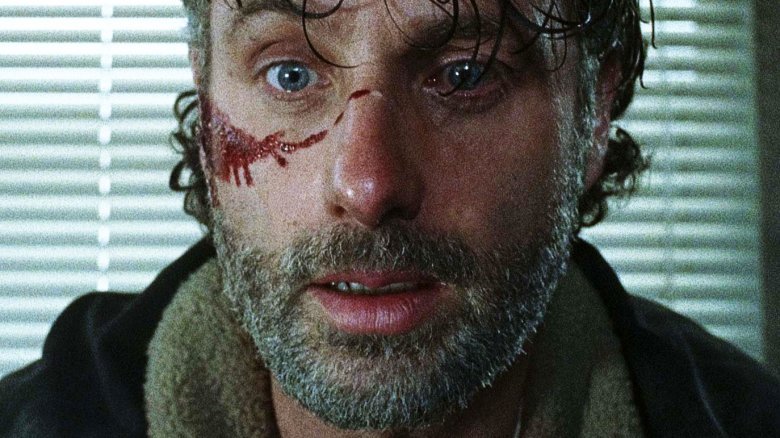 AMC
A different creative will bring The Walking Dead's next season to life. 
As detailed by The Hollywood Reporter, AMC has officially renewed the post-apocalyptic horror series for a ninth season and tapped Angela Kang, The Walking Dead writer and co-executive producer, as the new showrunner. 
Kang–who has written around 20 episodes of The Walking Dead, including critically acclaimed installments like "Coda" and "Still"–will replace Scott M. Gimple as showrunner. She has also been bumped up to executive producer status. And it isn't "bad news, Bears" for Gimple's part. The former series' head just entered a deal that sees him serving as the chief content officer of the entire Walking Dead franchise, which includes the flagship television series and its spinoff, Fear the Walking Dead, as well as a video games and various other projects in future brand extensions across a plethora of platforms. 
Charlie Collier, president of AMC, SundanceTV, and AMC Studios, spoke about the series' renewal, Kang's new leadership position, and Gimple's big promotion. "This is an enormously important day for the entire The Walking Dead television universe. We are proud to acknowledge Angela's significant contribution to the series and to set a clear path forward for a ninth season under her direction. Further, with gratitude and admiration, we also recognize Scott's broad impact on, and leadership of, the content that fuels our TWD universe. Together, we will dream bigger and more broadly than ever before," he stated. "I know I speak for Angela, Scott, and everyone at AMC when I say thanks most of all to the fans and the many talented people who have helped AMC play Dead."
Now the fourth Walking Dead showrunner (following after Frank Darabont, Glen Mazzara, and Gimple), Kang also reveled in the exciting news, stating, "I am beyond thrilled to be stepping into this new role with The Walking Dead. Working on this series and having the opportunity to adapt Robert Kirkman's amazing comic has been a fangirl dream come true for me. I'm excited to continue working with Scott and the wonderfully supportive folks at AMC, and can't wait to share the next chapter of the story with our fans next fall."
Gimple expressed similar glee at the future of the franchise. "The Walking Dead is a special show which started in an entirely different era of TV, and continues, in this new era, to confidently take chances to tell compelling stories that excite audiences and make them deeply connect with its characters, adapting Robert Kirkman's brilliant comic book," he said. "As the show closes in on its 10th year, I'm honored to keep working with the talented, dedicated people behind and in front of the camera to make it all it can be, while expanding the world of The Walking Dead with new narratives like Fear the Walking Dead and a whole host of truly cool stories ahead. Angela is a big part of the heart and soul of The Walking Dead, and I'm thrilled to help facilitate her vision of the show's next era."
The Walking Dead is currently in its eighth season, and will return for the midseason premiere on February 25. Season nine is due out in the fall of 2019.