The Ellen DeGeneres Bit On Family Guy Season 21 Episode 3 Explained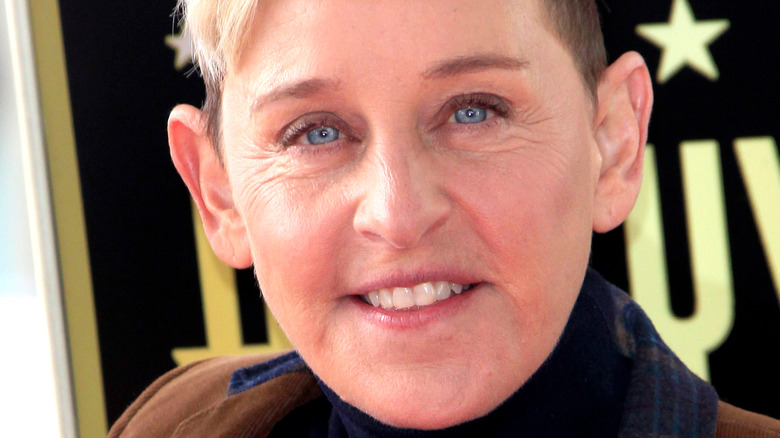 Kathy Hutchins/Shutterstock
Though much of this week's "Family Guy" episode concerned the ailing sex life and subsequent sexual re-awakenings of Lois and Peter Griffin, one of its throwaway gags contained a blatant jab at the disgraced comedian and talk-show host, Ellen DeGeneres.
While Griffin's children Meg and Chris are mindlessly listening to the television, an ad for a "charity" campaign comes on. Styled after the infamous Sarah McLachlan "In the Arms of an Angel" SPCA commercials, the advert pleads with its viewers to donate just one dollar a day to save the "abused and terrified" crew of the Ellen Degeneres show. The farcical ad ends with "McLachlan" stating that "no one should have to spend Thanksgiving watching a millionaire try on sweaters."
It's not the first time the show has targeted DeGeneres. As seen in this NSFW clip on YouTube, the Griffins once sat down to watch her show on a TV with such high definition that they could see her bad breath. This instance, however, bears the full venom of a long and public reckoning for the talk show host, specifically referencing her now-notorious on-set behavior.
DeGeneres has faced many allegations of misconduct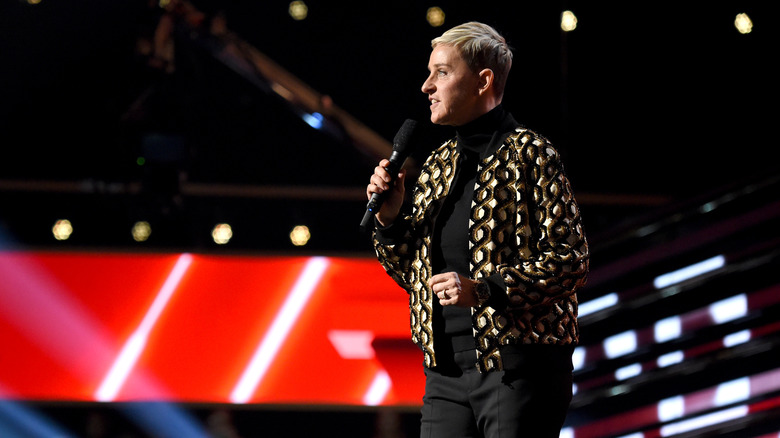 John Shearer/Getty Images
In 2020, a Twitter thread from comedian Kevin T. Porter — wherein he asked for people to share stories of DeGeneres' mistreatment on set — unwittingly spiraled into a viral national story that would ultimately bring down her show and tarnish her reputation. Variety would later report that at the start of the COVID-19 pandemic, the show neglected to inform crew members about the status of their employment, pay, and benefits, leaving the staff feeling anxious and abandoned. Meanwhile, the show hired a non-union production house to produce The Ellen Show from DeGeneres' residence (an act that was viewed as an insult to the show's union staff). 
In response to the thread, hundreds of fans and employees shared stories of the once-beloved comedian mistreating others and creating a toxic workplace environment. One user wrote that they had seen a PA panicking in a Starbucks because DeGeneres' coffee wasn't the right temperature, seemingly crying in fear of retaliation. Another user described almost being fired from their job because DeGeneres was offended by their chipped nail polish. Finally, a fan heartbreakingly recounted spending hours sculpting a bust of the comedian only for her to give it away on air as a joke. 
More serious accusations against the comedian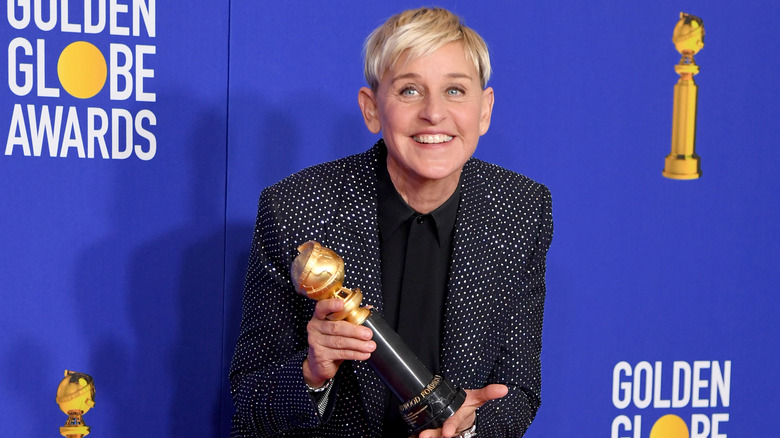 Kevin Winter/Getty Images
One of the most infamous allegations that came from this thread was that the host would retaliate against anyone who looked her in the eyes – a claim that is directly referenced in the "Family Guy" bit. A cameraman is seen agonizing over a disheveled sandwich, which a voice-over explains was smacked out of his hands for looking DeGeneres in the eyes. This claim was reported on by many, including Entertainment Weekly, though DeGeneres has fiercely denied that this was ever a reality on her set (via InStyle). However, her distaste for eye contact is among the tamer accusations being thrown her way.
As reported by BuzzFeed News, the allegations against The Ellen Show extended to racial discrimination. A former employee — a black woman who worked on the show for over a year — told BuzzFeed that a senior employee joked that they were worried about confusing her for another black employee because they both wore box braids. At a workplace function, when a coworker forgot her name, they told her they only learned the names of the white employees. BuzzFeed also reported that over a dozen employees had experienced some kind of sexual harassment from some of the show's executive producers, including Kevin Leman. Leman is alleged to have committed offenses ranging from lewd jokes and comments at work to requesting sexual favors from an employee at a workplace function.
Allegations are still coming out about DeGeneres' treatment of others, with Greyson Chance — a singer-songwriter discovered by the comedian — describing her bullying him before being abandoned by her label (via Decider). These allegations have been echoed recently by singer Charlie Puth as well, who said the label disappeared after his first EP (via People).
If you or anyone you know has been a victim of sexual assault, help is available. Visit the Rape, Abuse & Incest National Network website or contact RAINN's National Helpline at 1-800-656-HOPE (4673).