12 Awesome Movies Like Karate Kid Everyone Needs To See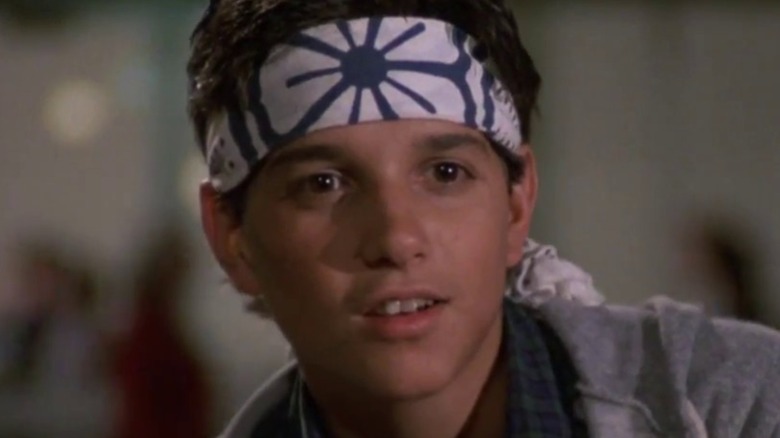 Columbia Pictures
1984's "The Karate Kid" has become an enduring movie classic that remains popular to this day. It introduced the world to Ralph Macchio as teenager Daniel LaRusso, a New Jersey native who suddenly finds himself deep in Los Angeles' San Fernando Valley. He's bullied by Cobra Kai's top martial arts student Johnny Lawrence (William Zabka), and to settle the score, Daniel enters a karate championship to fight Johnny fair and square. One problem: Daniel doesn't know karate. In comes Daniel's unassuming apartment handyman Mr. Miyagi (Pat Morita), who mentors Daniel on the road to a rousing victory.
The enduring legacy of "The Karate Kid" is a testament to its abiding themes of triumph in the face of adversity, the reward of hard work, and of course, the magical chemistry between Daniel and Mr. Miyagi. While "The Karate Kid" has been followed by multiple movie sequels and a successful television series, "Cobra Kai," there are plenty of equally awesome movies like it that will have you rooting for the heroes. From martial arts fantasies to cult sports classics, here are 12 movies like "The Karate Kid," that might just be "the best around."
Sidekicks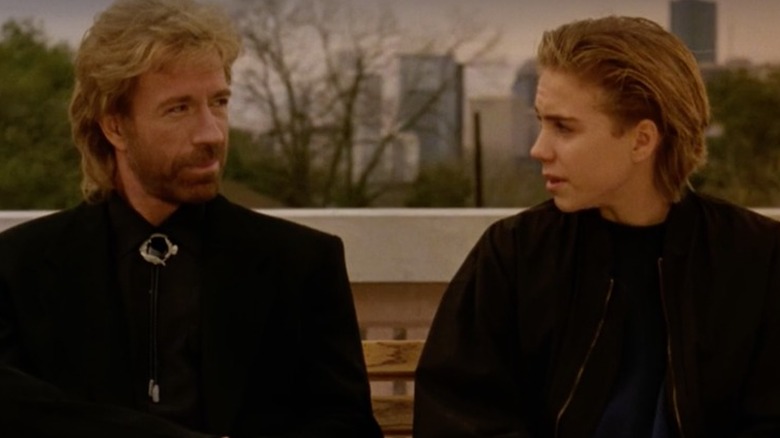 Triumph Films
"Sidekicks" is an awesome slice of escapism that delivers a roundhouse kick of nostalgia. Asthmatic Barry Gabrewski (Jonathan Brandis) escapes his bullies' torments by daydreaming about being Chuck Norris' sidekick. In his fantasies, Barry and Chuck are a dynamic duo that take on agile ninjas, raucous cowboys, and torturous war criminals. In the real world, Barry learns martial arts under the tutelage of Mr. Lee (Mako). Barry's training not only helps him gain physical strength and stamina, but also teaches him some intrepid tactics to defend himself from his schoolyard adversaries.
In order to compete in the local karate tournament, Barry's team needs a fourth member, and as luck would have it, Chuck Norris himself volunteers to round out the team, much to the chagrin of the cartoonishly aggressive dojo owner and sworn Norris-hater Kelly Stone (Joe Piscopo). Fans of "The Karate Kid" will delight in "Sidekicks," which shares many of the same triumphant story elements. Just like Daniel, Barry finds self-esteem through martial arts under the watchful eye of a mentor. If the ending of "The Karate Kid" made you stand up and cheer, tension-filled tournament finale of "Sidekicks" will have you equally enthused.
3 Ninjas
In the fun-filled 1992 action romp "3 Ninjas," it's time for kids to take on the adults. Summers spent learning ninjutsu from their grandfather Mori Tanaka (Victor Wong) have made the Douglas brothers Samuel (Michael Treanor), Jeffery (Max Elliot Slade), and Michael (Chad Power) skilled in martial arts. When Mori refuses to help his former pupil and super criminal Hugo Snyder (Rand Kingsley), the Douglas brothers become a kidnapping target for the maniacal Snyder. The brothers thwart Snyder's henchman with their well-honed fighting skills, and they help save the day by coming to their grandfather's defense. For their efforts, their parents take them out for a pizza feast. What '90s kid wouldn't want that?
"3 Ninjas" takes the action out of the dojo and into the streets, with the Douglas brothers kicking and punching their way out of some serious trouble. More cartoonish and outlandish than "The Karate Kid," "3 Ninjas" might appeal to a younger crowd, but it still has a mature take on martial arts. The impressive fighting skills of the movie's child stars certainly dazzled '90s filmgoers, as "3 Ninjas" spawned three sequels.
Magic Kid
Another family-friendly, martial arts-focused film like "The Karate Kid," "Magic Kid" makes kids' action fantasies come alive through its star's adept fighting skills. In the film, midwestern martial arts wunderkind Kevin Ryan (Ted Jan Roberts) visits his debt-riddled uncle Bob (Stephen Furst) in Los Angeles, and hopes to meet his idol Don "The Dragon" Wilson. When mafioso Tony (Joseph Campanella) sends men to Bob's house to collect on some gambling debts, Kevin nimbly kicks their butts. With his talents revealed, Kevin pledges to help his uncle out of his predicament. Kevin brawls with an assortment of Tony's baddies, but when a final enemy proves too formidable for him to defeat, in comes Don Wilson himself to help Kevin win the battle. Not only does Kevin get to fight alongside his hero, they become on-screen partners in the movies, too.
"Magic Kid" is thoroughly entrenched in its wish-fulfillment narrative. Kevin is already awesome, and he knows it. Having proved his skills as a martial artist, Kevin's more invested in meeting his hero and his own fantasy becoming reality, and when he teams up with Don Wilson, it's a win for everyone. For those who dream of not only winning, but of being the champion, "Magic Kid" should make it onto your watch list.
Little Giants
The football comedy "Little Giants" is a story ready-made for those who love to see an underdog triumph. Dueling brothers Danny (Rick Moranis) and Kevin (Ed O'Neill) are from small-town Ohio, where Danny has spent most of life living in the shadow of Heisman Trophy-winning football superstar Kevin. Danny, whose talented daughter Becky (Shawna Waldron) was cut from Kevin's elite pee-wee football team because she's a girl, decides to coach a football team of his own, providing an opportunity for not only Becky, but other rag-tag kids who weren't chosen for Kevin's team. Scrappy and resourceful, Danny's team takes on their powerful rivals with hard work, perseverance, and a little help from NFL stars like legendary commentator John Madden and Super Bowl MVP Emmitt Smith.
"Little Giants," like "The Karate Kid," is all about celebrating unexpected victories. Just like Danny surprises his competitors by succeeding in the karate tournament, the pee-wee players of "Little Giants" shock their adversaries with their winning plays. For those who have ever felt left out of the game, "Little Giants" will give you an uplifting boost. With delightful star turns by Rick Moranis and Ed O'Neill — not to mention fun cameos by some of the '90s brightest NFL talent — this movie scores a touchdown in family fun.
The Sandlot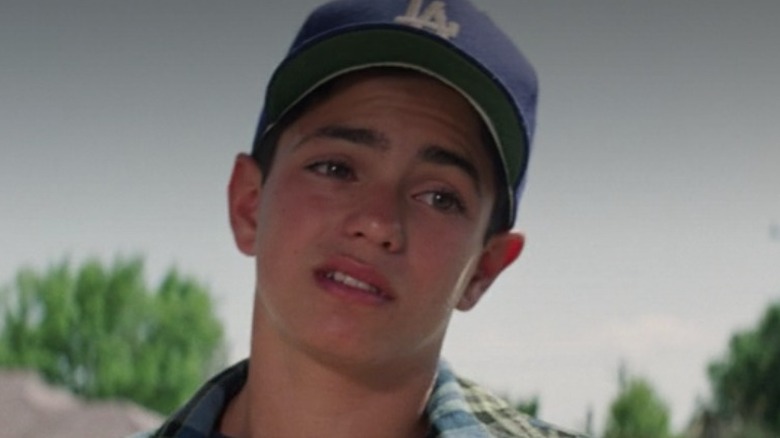 20th Century Studios
A movie whose fan base has only grown since its 1993 release (via The Wrap), the cult classic "The Sandlot" has become, like "The Karate Kid," a beloved sports favorite. A coming-of-age tale set in the 1960s, "The Sandlot" follows suburban Los Angeles transplant Scott Smalls (Tom Guiry) as he makes friends with a group of local baseball-loving kids who play pick-up games at the neighborhood sandlot. Trouble ensues when the kids inadvertently hit a valuable baseball signed by Babe Ruth into the backyard of the reclusive Mr. Mertle (James Earl Jones). With the ball fiercely by Mr. Mertle's dog, "The Beast," Smalls and his crew must outwit their formidable canine foe in order to retrieve the lost piece of baseball history.
A minor hit when it debuted in 1993, "The Sandlot" has become highly esteemed in subsequent decades, thanks in part to robust DVD sales and two straight-to-video sequels (per USA Today). Just like "The Karate Kid," quotes from "The Sandlot" have become part of the pop culture lexicon. Even if you don't know the context for the quote, "Wax on, wax off," you likely know it's from "The Karate Kid." And similarly, "You're killin' me, Smalls!" from "The Sandlot" has taken on a life of its own (via CBR). Awesomely fun and endearingly quotable, "The Sandlot" is a sentimental home run of a movie.
Cool Runnings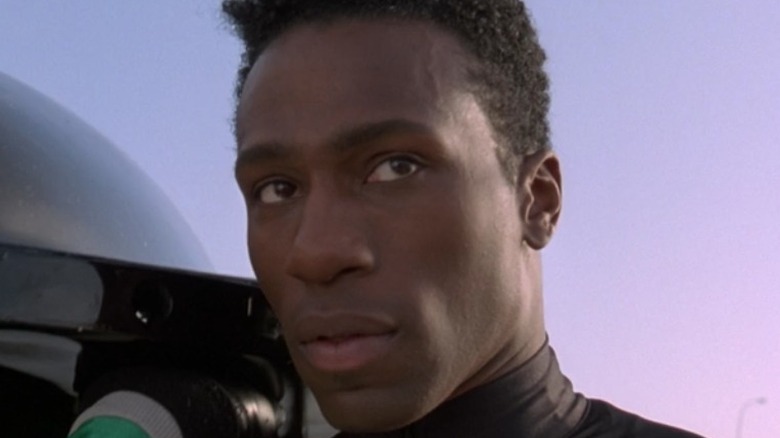 Disney
Loosely based on the true story of the Jamaican bobsled team's 1988 Olympic debut (via CNN), "Cool Runnings" is an inspiring tale about one team's drive to compete. In the film, Olympic sprinting hopeful Derice Bannock (Leon Robinson) fails to qualify for the games after an accident on the track involving fellow runners Junior Bevil (Rawle D. Lewis) and Yul Brenner (Malik Yoba). Still dreaming of glory, Derice forms a bobsled team in hopes of competing at the 1988 Winter Olympic games. He recruits his champion pushcart derby friend, Sanka Coffie (Doug E. Doug), Junior, and Yul to form a bobsled team. Coached by disgraced former Olympic bobsled medalist Irv Blitzer (John Candy), the financially strapped and woefully inexperienced team miraculously makes it to Calgary to compete, but not without some potentially dream-shattering complications.
"Cool Runnings" is a movie for anyone who desires to courageously follow their dreams. A feel-good triumph in the vein of "The Karate Kid," "Cool Runnings" is loaded with heart, laughs, and a few tears. While Irv Blitzer might not have the same stoic resolve as Mr. Miyagi, he still believes in his mentees — and like Danny, by the end of the movie you'll believe in them, too. The next time you need an awesome dose of movie inspiration, "Cool Runnings" will have you feeling like it's bobsled time in seconds flat.
Bend It Like Beckham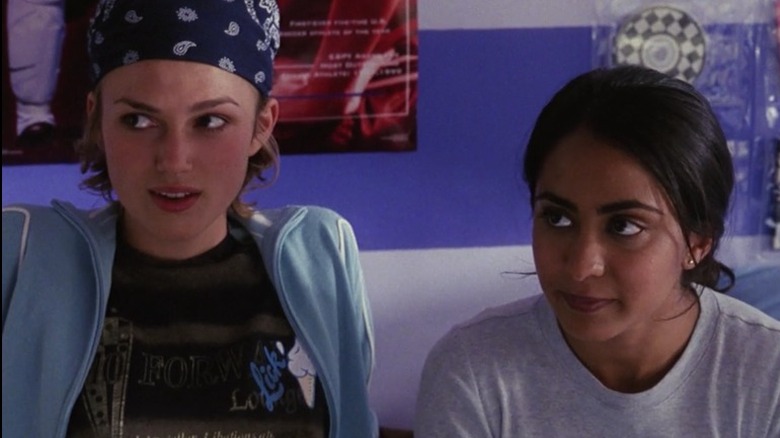 Searchlight Pictures
From across the pond comes the uplifting girl-power sports dramedy "Bend It Like Beckham." Parminder Nagra stars as Jess Bhamra, a talented soccer player whose traditional Sikh family discourages her interest in The Beautiful Game. With her talent spotted by local player Jules Paxton (Keira Knightly), Jess joins the team behind her family's back. Naturally, this causes rifts between Jess and her family, who must balance her athletic gifts and drive while not trying to ostracize herself from her loved ones. Jess must also navigate friendship drama and a budding romance with her coach, Joe (Jonathan Rhys Myers), all while pursuing her dreams of sports excellence.
The protagonists of "Bend It Like Beckham" and "The Karate Kid" take journeys of self-discovery through sports, Jess with soccer and Danny with karate. Jess finds empowerment through her imposing soccer prowess. She overcomes social prejudices and the doubts of her family to become a star soccer player. A sports film that reliably combines friendship, family drama, and light romance, "Bend It Like Beckham" is an awesomely rousing movie where everyone can find something to cheer for.
The Mighty Ducks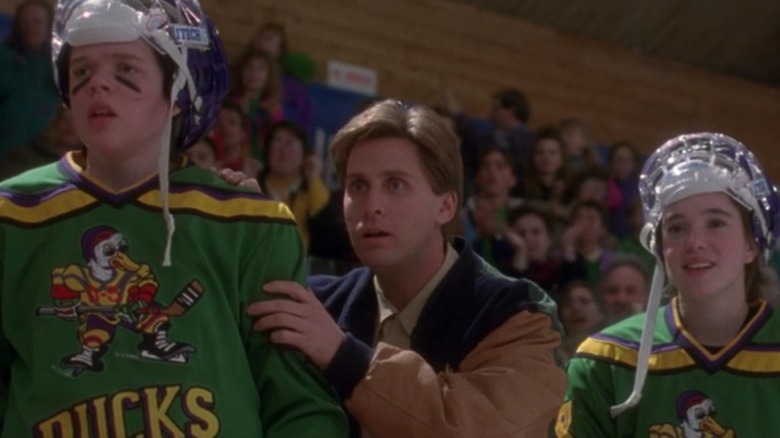 Buena Vista Pictures
Much like "The Karate Kid," the 1992 ice hockey comedy "The Mighty Ducks" kicked off an astonishing legacy that still resonates with fans decades after its initial release. It stars Brat Pack mainstay Emilio Estevez as slick defense attorney Gordon Bombay, who is sentenced to community service after a drunk driving arrest. At first, Gordon resists serving as a hockey coach to the scruffy "District 5" team, but soon he becomes invested in their success, mentoring the newly-christened Ducks all the way to the Pee-Wee Championship. But on the road to victory, Gordon must face an old foe, his former hockey coach Jack Reily (Lane Smith), who still leads Gordon's old team, the Hawks.
The "Mighty Ducks" franchise spawned two film sequels, an animated cartoon, a television series, and an actual NHL team. Fans keep flocking to "The Mighty Ducks" and its enduring story of the little hockey team that could. "The Karate Kid" franchise has an equally dedicated fan base, with the original 1984 film spawning three sequel films, a reboot movie, and the wildly successful sequel series, "Cobra Kai." Whether it's a crane or a duck, birds of a cinematic feather can flock together to appreciate both "The Karate Kid" and "The Mighty Ducks" in equal measure.
Little Big League
Turns out being the owner and manager of a major league baseball team is not all it's cracked up to be for 12-year-old Billy Haywood (Luke Edwards) in "Little Big League." When Billy inherits the Minnesota Twins from his grandfather (Jason Robards), he takes on a leadership role in the club. Not only does he own the team, but he becomes their manager as well, taking the Twins from last place to post-season contender. Billy might be surprisingly savvy as a manager, but the emotional demands of running a professional sports team wear out the pre-teen out. Sometimes it's nice just to be a kid, free of all the pressures of professional sports.
Praised by critic Roger Ebert for taking baseball seriously, "Little Big League" is an unexpectedly mature take on a childhood fantasy. As in "The Karate Kid," hard lessons are learned and maturity is gained through tough circumstances. Both Billy and Daniel grow through adversity and are respected for their efforts. "Little Big League" might be light on action, but it's big in heart and will find an audience with fans who love "The Karate Kid" and its uplifting essence.
Rookie of the Year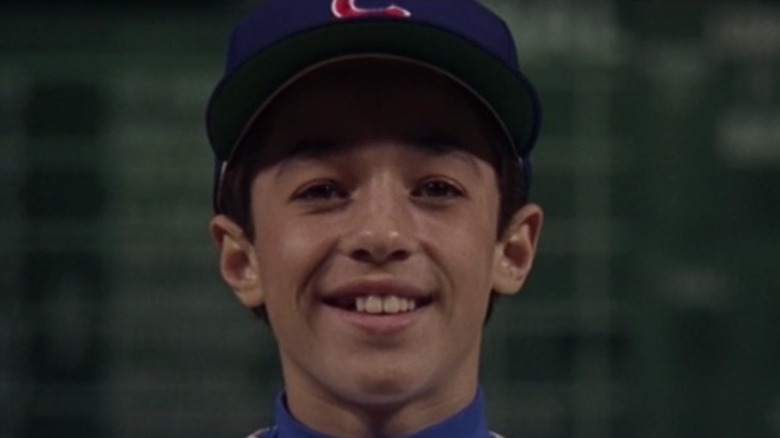 20th Century Studios
In the 1993 baseball comedy "Rookie of the Year," Thomas Ian Nicholas stars as inept little leaguer Henry Rowengartner, whose arm injury heals in a way that gives him incredible pitching strength that lets him throw a ball at some seriously high speeds. Grabbing the attention of the owner of the flailing Chicago Cubs, Henry is recruited to the team. Although he has a rocky start, Henry — with the help of his hero, veteran pitcher Chet Stedman (Gary Busey) — becomes a star-player on the team. He might be leading the Cubs to victory, but Henry also has to deal with his mom's nefarious boyfriend, his resentful friends, and a possible trade to the New York Yankees.
A novice taken under the wings of an elder? An unanticipated ascent to success? A nail-biting final act battle? Yes, both "Rookie of the Year" and "The Karate Kid" deliver on all these fronts. Devotees of the storied martial arts classic will find plenty to love about this outsider sports story.
Angels in the Outfield
A reminaging of the 1951 comedy film of the same name, the Disney-produced 1994 version of "Angels in the Outfield" changes the team from the Pittsburgh Pirates to the conveniently named California Angels. Young Joseph Gordon-Levitt is foster kid Roger Bowman, who prays for the Angels to win in order to reunite with his dad, who said they'd be a family again "when the Angels win the pennant." His prayers are answered in the form of angel Al (Christopher Lloyd) and his celestial cohorts, who help the baseball team out of their slump. Only Roger can see his new friends, so he acts as an intermediary between the real angels and the team's leery manager George Knox (Danny Glover). With a little divine intervention and some old-fashioned gumption, both the California Angels and Roger find what they've been looking for.
"Angels in the Outfield" inspires with its heartfelt story about a kid who needs to believe. Through his friendship with Al and the other angels, Roger not only finds faith in his favorite baseball team, but the family he so desperately wanted. In "The Karate Kid," Mr. Miagyi acts as a wise mentor to Daniel, watching over him throughout his training and during his climactic battle against Johnny. The awesomely inspiring "Angels in the Outfield" is a spirited entry in the sports movie genre.
The Big Green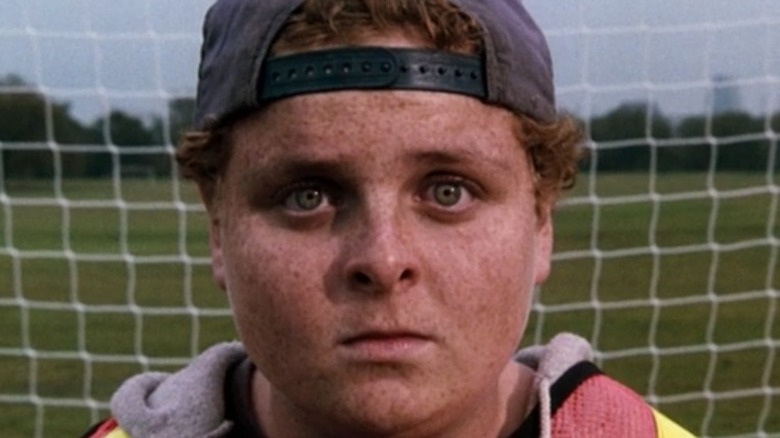 Buena Vista Pictures
Another family-friendly romp about a small-town sports team with big-city dreams, "The Big Green" kicks up some frenetic fun that fans of "The Karate Kid" are sure to love. British teacher Anna Montgomery (Olivia d'Abo) finds herself working in a tiny Texas town and struggling to connect with her underachieving students. Soccer soon becomes a connection between Anna and the kids. Despite their lack of skills, she soon enters them into a big-city soccer league. With the help of their talented new classmate Juan (Anthony Esquivel), the team, now dubbed The Big Green, rises through the ranks and earns a shot at the championship.
It's easy to cheer on the disorganized group of soccer misfits in "The Big Green" as they band together to take on their more seasoned competition. A light-hearted, zany take on the tried-and-true formula of underdog sports teams with a heart of gold, this movie scores with its satisfyingly victorious ending. Just like Anna took a chance on her students, don't miss an opportunity to score a movie goal by watching "The Big Green."