Who Voices Bonnie On Family Guy?
After 21 seasons on the air, the voices heard on "Family Guy" — from Chris Griffin's nasally tone to Stewie's British accent — have become ingrained in pop culture. Therefore, it might be easy to forget about the line-up of well-known stars who bring these beloved animations to life each week on Fox.
Show creator Seth MacFarlane holds the "Family Guy" record for voicing the most characters, including patriarch Peter Griffin, sex-crazed neighbor Glenn Quagmire, baby Stewie, dog Brian, and news reporter Tom Tucker.
Alongside MacFarlane, "Austin Powers" actor Seth Green is the man behind Chris. Meanwhile, Mila Kunis, known for her comedic work in "That '70s Show" and "Friends with Benefits," portrays Meg Griffin (via IMDB), the butt of many jokes.
But what about Peter's neighbors, Joe and Bonnie Swanson? The pair make their Season 21 debut during the recently-aired Episode 3 ("A Wife-Changing Experience"), which sees Lois Griffin (Alex Borstein) unintentionally reinvigorate the intimacy between the two after Joe walks in on her naked. Joe, a paraplegic police officer in Quahog, is voiced by Patrick Warburton, who plays David Puddy, the boyfriend of Elaine Benes (Julia Louis-Dreyfus) on "Seinfeld." He also makes a surprising appearance on "The Bachelorette" Season 19 as the uncle of finalist Zach Shallcross.
As for Joe's wife Bonnie, the eternally-pregnant, purple dress-wearing friend of Lois has been played by the same popular actress for over two decades.
Jennifer Tilly has been voicing Bonnie since 1999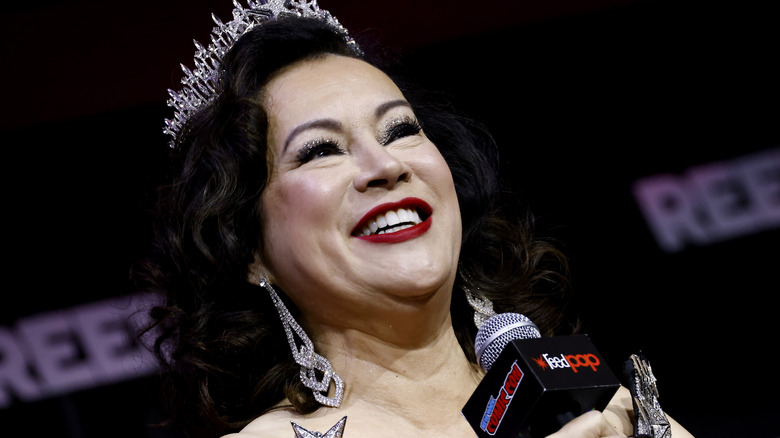 Paul Morigi/Getty Images
Since the premiere of "Family Guy" in 1999 (via IMDB), Bonnie Swanson has been voiced by horror icon and poker legend Jennifer Tilly. Despite having one of the most unique voices in the industry, Tilly fans sometimes forget that she's been a staple of Quahog for so long.
In 2021, @MollyWHOAFTW tweeted, "Why did I just realize that Jennifer Tilly is Bonnie on Family Guy." @headlikahole said, "I sometimes remember Jennifer Tilly plays Bonnie in Family Guy and I just giggle." @ReyaSunnn added, "It still blows my mind that Jennifer Tilly is in Family Guy."
Most Tilly fans associate the actress with her role of Tiffany Valentine in Don Mancini's "Child's Play" franchise. Another huge claim to fame is her portrayal of Violet in the 1996 romance-meets-mob flick "Bound."
Despite Bonnie occasionally slipping from her fans' minds, the animated character holds a special place in Tilly's heart. Though Bonnie isn't a leading lady like Tiffany or Violet, Tilly explained how she actually serves as an inspiration — something most wouldn't associate with characters from "Family Guy." Tilly revealed in an interview, "I did a benefit once for this kid that needed a new wheelchair and he said, 'You're my heroine because you're married to Joe.'" She added, "I don't know if Seth [MacFarlane] realized that he's creating role models."
Additionally, after Bonnie carries her and Joe's child for seven years, Tilly thinks she's a "role model for pregnant women everywhere."