Here's The Delightfully Creepy New Trailer For Jordan Peele's Wendell & Wild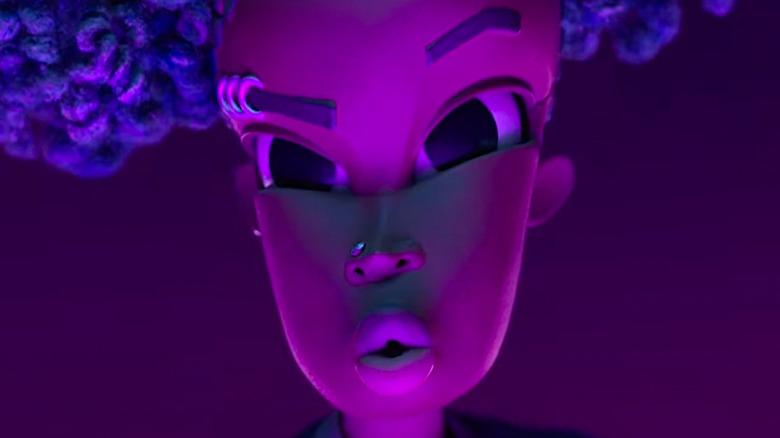 Netflix
A new trailer for "Wendell & Wild" is here, and it's every bit as weird and wonderful as fans could hope. Starting its life as a scrapped story crafted by stop-motion-horror master Henry Selick and writer Clay McLeod Chapman (author of numerous horror stories, including 2022's lauded "Ghost Eaters" and several comic books as well), the story was resurrected by Selick and fellow horror auteur Jordan Peele as an animated fright fest for younger audiences (via Mashable).
According to a review on RogerEbert.com, the film follows a young girl named Kat (voiced by Lyric Ross from "This Is Us") who finds herself stuck at a Catholic boarding school after her parents are killed in a car accident. Torturing herself over their deaths, she soon encounters two professional torturers in demons Wendell and Wild, who choose her to be their "Hellmaiden." Tackling grief, greed, and for-profit torment with a punk-rock grimace, "Wendell & Wild" already has the makings of a subversive horror-comedy classic, which isn't at all surprising when you dig into the creative team behind it.
A resurrection of talent
In addition to the story itself, "Wendell & Wild" sees many resurrections within its cast and creative team. Director Henry Selick may not be instantly recognizable in name only (especially to younger fans), but his work certainly is — Selick directed such classics as Neil Gaiman's "Coraline" and "The Nightmare Before Christmas." Fans of young adult stop-motion horror owe him a lot. This is Selick's first film since "Coraline," which was released in 2009. 
Playing the titular demonic duo are comedians Keegan-Michael Key ("The Prom," "Schmigadoon!") and Jordan Peele (the mind behind "Get Out," "Us," and 2022's "Nope"). Though the pair worked together for years on their eponymous Comedy Central sketch show "Key & Peele," their post-series careers have taken them on mostly diverging paths. "Wendell & Wild" will be their first feature film together since 2016's "Keanu."
In an interview with Screen Rant, Selick gushed about their work on "Key & Peele" and how it led to their collaboration in this film. He praised how quickly the two were able to get back in rhythm with each other as performers, "It's magic. I mean, I've got hours of material of them just riffing. And they hadn't worked together in a while, and they got right in tune in 20 minutes." When asked if the film would be scarier than "Coraline," Selick said this feature would lean more into the comedic side of creepy, making this a decent choice for horror fans of all ages. 
Netflix's "Wendell & Wild" debuts on October 21, 2022.