Suicide Squad: Hell To Pay Voice Cast Revealed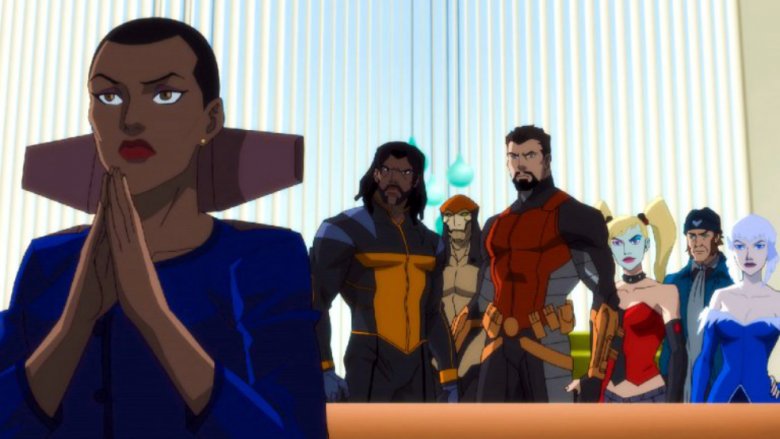 DC Entertainment
Just when you were getting used to the big-screen version of the Suicide Squad, there's a another batch of actors set to play the characters in an animated movie for Warner Bros. and DC Entertainment.
Suicide Squad: Hell to Pay will be released on DVD, Blu-ray, and digital this spring, and The Hollywood Reporter has details about the voice cast. 
Christian Slater will take over for Will Smith as Deadshot, Vanessa Williams will voice Amanda Waller, and Tara Strong will return as Harley Quinn. Strong previously voiced the character on Justice League Action and DC Super Hero Girls. 
The movie will see Amanda Waller's Task Force X sent to bring back a powerful mystical object. However, there are other villains who want to find it first, and it's a race to see who can get to it and who can stay alive.
The rest of the cast includes C. Thomas Howell as Zoom, Greg Grunberg as Maxum Steel, Billy Brown as Bronze Tiger, Liam McIntyre as Captain Boomerang, Kristin Bauer van Straten as Killer Frost, Gideon Emery as Copperhead, Dania Ramirez as Scandal Savage, James Urbaniak as Professor Pyg, Julie Nathanson as Silver Banshee, Dave Fennoy as Blockbuster and Tobias Whale, Cissy Jones as Knockout, Natalie Lander as Darma, Trevor Devall as Punch, Dave Boat as Harvey Dent/Two-Face, and Matthew Mercer as Savage Gunman.
The creative team behind Hell to Pay is still under wraps, but we'll let you know when we hear more.