The Glaring Subtitle Flaw That Cyberpunk: Edgerunners Creators Had To Quickly Correct
Netflix
"Cyberpunk: Edgerunners," one of the latest original anime shows from Netflix, has proven to be a major hit with audiences and critics. It currently sits at a tremendous 100% critical score on Rotten Tomatoes, as well as a perhaps-more-impressive audience score of 96% with over 1,800 ratings calculated. In fact, the show has been such a hit that it's been credited with reigniting interest in the game it serves as a prequel for, "Cyberpunk 2077," with sales skyrocketing on Steam (per Kotaku) after the show's release.
Like most anime, "Cyberpunk: Edgerunners" was originally filmed with Japanese actors taking up voice acting duties before being dubbed for an English-speaking audience. Naturally, Netflix provides both versions (as well as other language options) along with subtitles. However, with this latest anime, there was apparently a pretty major subtitle flaw that the creators of the show had to work fast to fix.
Cyberpunk: Edgerunners featured incorrect subtitles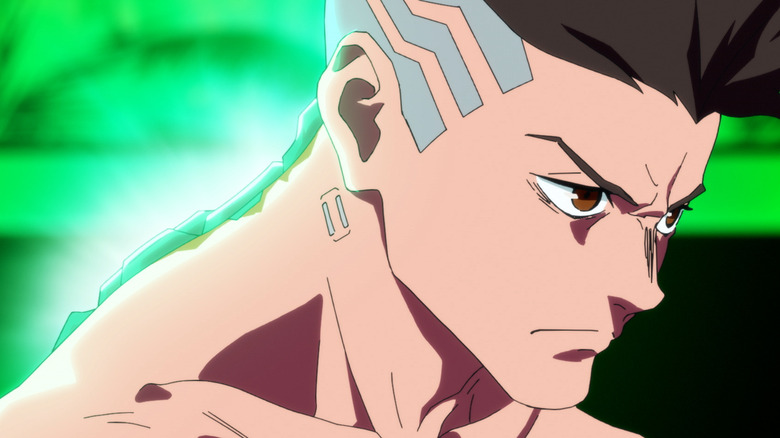 Netflix
As pointed out by GameSpot, when "Cyberpunk: Edgerunners" was first released on Netflix, the anime had some very noticeable errors when it came to its subtitles. Specifically, the focus was on the misspelling of the show's original slang terms, like "choom," "IC," and even "edgerunner" itself. These words were often misspelled or misinterpreted, respectively, as "chume," "eyes," and "headrunner." According to the article, CD Projekt Red quickly fixed these mistakes, and now the show is presumably mostly free of these errors.
Naturally, mistakes are going to happen when the show is available in so many languages, and the person or persons transcribing the show and crafting the subtitles many not have English as their primary language. However, it likely did make it a confusing watch at times for those watching it in its original Japanese language form with inconsistent English subtitles, likely more so for those viewers who are unfamiliar with the slang terms present in "Cyberpunk: Edgerunners." The fact that CD Projekt Red fixed the issues so quickly is an encouraging sign from the company, but it's still more than a little strange that Netflix didn't perform more quality control tests before releasing the anime to the public.