Insidious And Sinister Crossover Under Consideration At Blumhouse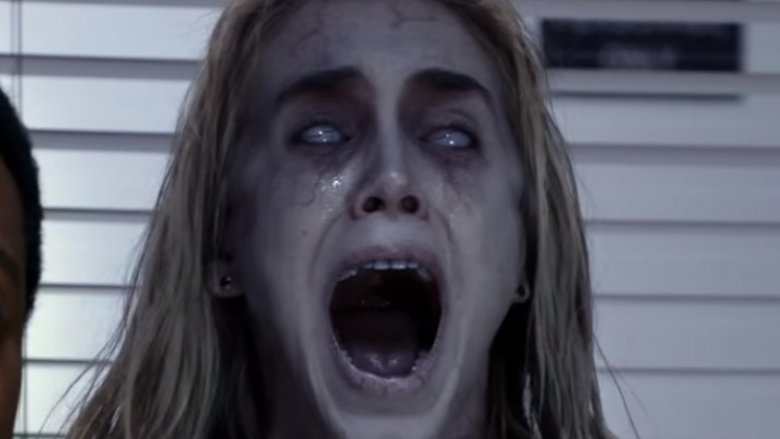 The most generic titles in the history of horror cinema are on a collision course.
Blumhouse Productions, which holds the keys to both the Insidious and Sinister franchises, is apparently eyeing a crossover for the two series, according to Jason Blum, the producer who helped turn both movies into franchises to begin with.
Blum shared the news in an interview with Cinema Pop, revealing that the company had attempted to bring the two franchises together previously, but didn't manage to pull the project off on their first try. 
Blum brought up the plan in response to a general query about Insidious' crossover potential, answering the question of whether the company would ever consider colliding some of their worlds together.
"I want to. We almost did Insidious and Sinister, and I still feel like we might do that," Blum said. "So I think so. I think we're going to cross our worlds at some point. I don't know how yet, but we're going to try."
Over the last decade, Blumhouse has built itself a reputation for financing original ideas in the horror genre, and its model shows a great track record of success. In other words, this seems like exactly the sort of "what have we got to lose" low-risk, high-reward move the studio would do. 
Obviously, the idea is still one in the very early going, but it's telling that it's an idea Blum is returning to after failing to get it off the ground the first time. In the interview, he also mentioned that there are no plans, currently, for a fifth Insidious movie, so this could be a way to keep the property going in an outside-the-box, non-traditional manner.
While the Insidious franchise has made it to film number four with its latest entry, The Last Key, Sinister stalled after its second installment, with Blumhouse making a conscious decision to put the property on hold after Sinister 2 disappointed. So this could be a way to get that flagging franchise, which really does have an alright central concept, back on its feet, while also breathing some extra life into Insidious as it enters a relatively old age.
Blumhouse already has three horror movies lined up for 2018, including a Staten Island-set Purge prequel called The Purge: The Island, a reimagined Halloween from David Gordon Green and Danny McBride, and Truth or Dare, based on the party game of the same name. With that many projects to fall back on, why not take a risk on something weird?
Insidious: The Last Key is out in theaters now.