Law & Order: Organized Crime Season 3 Episode 3 Just Trolled Bensler Fans So Hard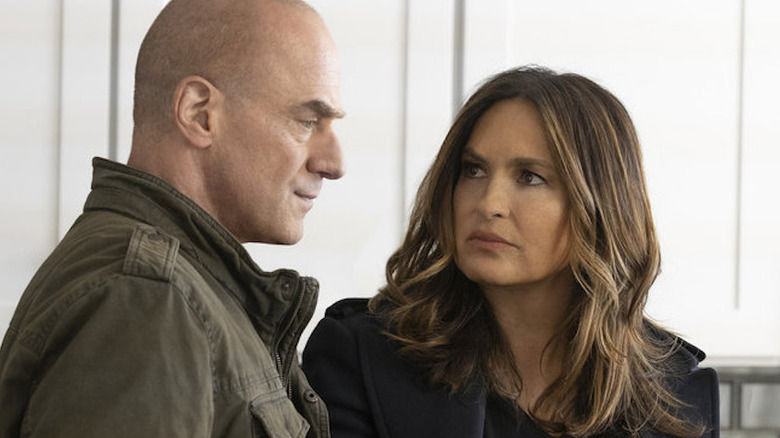 Eric Liebowitz/NBC
Bensler — perhaps the most will they, won't they couple that's ever existed on television. While we thought there was never a chance for Elliot Stabler (Christopher Meloni) and Olivia Benson (Mariska Hargitay), after the former walked away from "Law & Order: SVU" over a decade ago, hope was reignited when "Law & Order: Organized Crime" was announced. Things got serious when the infamous letter was thrown into the mix, but unfortunately, nothing romantic has happened between Elliot and Liv.
They shared the screen in the Fall 2022 crossover event, but Bensler hasn't seen each other since. That doesn't mean the showrunners of "Organized Crime" and "SVU" won't dangle the duo in front of our eyes like a carrot in front of a mule. In Season 3, Episode 3 of "Organized Crime," they did just that, and fans absolutely loved it. Any mention we can get of Elliot and Olivia as a unit, we'll take it. Especially if it comes to them hooking up.
Stabler alludes to his relationship with Benson in Season 3, Episode 3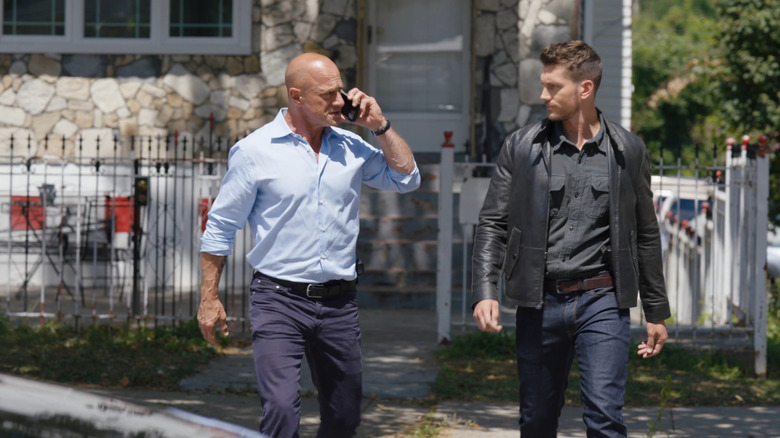 NBC
In Season 3, Episode 3 of "Law & Order: Organized Crime," Stabler and his new partner Detective Whelan (Brent Antonello) question a woman who's connected to rat-bite Kenny (Michael Drayer). After they exit the house, Whelan tells Stabler he thinks the woman is lying about her relationship to their suspect. "No way two people are that close for that long and don't sleep with each other," Whelan says. Without skipping a beat, Stabler comes back with, "You sure about that?" This throwaway line is anything but, as it's obvious to longtime fans that Stabler is referring to his platonic relationship with Benson.
"This line killed me," @yocuayyaj tweeted. "Literally the best line of the night!! And that smile and little shrug from Elliot when Jamie said 'what's that mean?' I'm dead," added. It was just enough of a Bensler tease to keep shippers of the non-existent couple going until they can see them on screen together again. "Oh Elliot. Always thinking about Liv," @WendyLynHall1 wrote of the moment. Other Bensler fans continued to suggest we'll see a coupling soon, hopefully by the end of each show's current season. To bring Stabler back to the "Law & Order" universe and not have him and Benson get together would be a real letdown.