Why Trevor From 2022's Hellraiser Looks So Familiar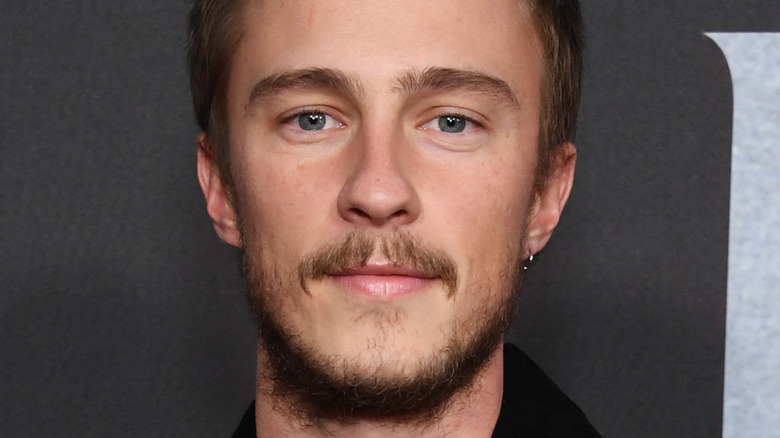 Jon Kopaloff/Getty Images
2022's much anticipated "Hellraiser" reboot has finally arrived, and critics seem impressed so far. Currently sitting at a "fresh" 77% on online review aggregator Rotten Tomatoes, fans can go into the release tomorrow feeling confident about this most recent venture into the chilling world of the Cenobites.
Directed by David Bruckner and based on the works of novelist Clive Barker, this film follows Riley (Odessa A'Zion), a young woman struggling with addiction who fatefully encounters the demonic puzzle box known as The Lament Configuration. Her attraction to it ultimately gives way to a whole host of bloody horrors, as well as Jamie Clayton's "Hell Priest" Pinhead. Pinhead comes from a race of demonic entities addicted to causing and experiencing pain.
Riley's struggle ultimately ends up impacting the lives of those around her, including her enabling boyfriend Trevor. Trevor is played by Drew Starkey, a 28-year-old whose career has begun to pick up steam as of late. If he seems a bit familiar, you may recognize him from one of these well-known projects.
Starkey played Garrett in Love, Simon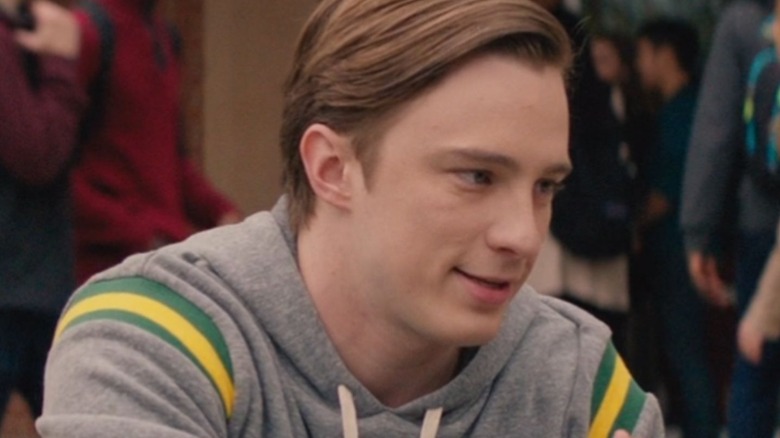 20th Century Studios
One of Drew Starkey's first large roles was that of Garrett Laughlin in the film "Love, Simon." Released in 2018, "Love, Simon" is a romantic-comedy feature that plays out like a more lighthearted and queer-themed version of "You've Got Mail." The movie follows Simon (Nick Robinson), a high school student who — though passing as straight — is secretly struggling with potentially coming out of the closet as gay. While trying to navigate his supportive but ultimately untruthful relationships with his family and classmates, Simon falls in love with an online messaging partner whose identity is unknown. In trying to hide his true self and find true love at the same time, Simon's life becomes incredibly complicated. It was based on the book "Simon vs. the Homosapien Agenda" by Becky Albertalli.
Garrett is one of Simon's classmates, a jock who pushes against the mold throughout the film but never fully breaks it. A soccer player, Garrett bears many of the stereotypical traits attributed to the "jock" archetype — he's portrayed as less intelligent, socially overbearing, and more than a little obnoxious. At the Halloween party, Garrett seemingly goes as Michael Phelps and sings the song "My Name Is No" dressed in a Speedo. In the end, he's proud of Simon for coming out and finding love, perhaps even inspired by his bravery.
He was a dirty cop in The Hate U Give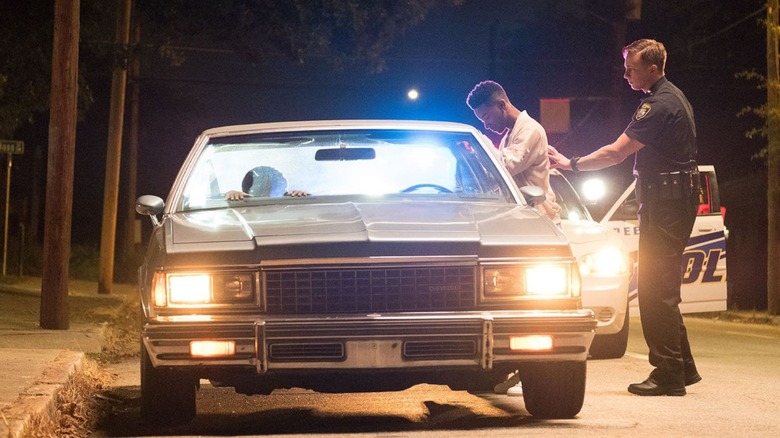 20th Century Studios
The same year as his supporting role in "Love, Simon," Drew Starkey had a key role in the drama film "The Hate U Give," which was based on the book of the same name by Angie Thomas. Starkey played the police officer that murders 17-year-old Khalil Harris (Algee Smith).
The killing shocks Khalil's community, the country at large, and his childhood best friend Starr (Amandla Stenberg) — she is traumatized after witnessing Khalil's death firsthand. Making matters more difficult is Starr's attempt to separate the two worlds that matter to her — the predominately white private school she attends and Garden Heights, her predominately black neighborhood. Of her neighborhood, she says "Momma and Daddy says our life is here, cause our people are here." Yet when her privileged classmates begin discussing Khalil's murder, Starr feels even more pressure to hide where she comes from. 
Mirroring an all-too-common reality that many U.S. citizens — especially people of color — experience, Khalil is murdered during a traffic stop. Because he did not signal a lane change, Starkey's Officer 115 pulls over Khalil and gives him a series of commands, including asking him to step out of the vehicle. When Khalil reaches into the car for a hairbrush, the officer assumes it's a gun and opens fire. However, he is not charged with Khalil's murder, and this triggers a series of protests from the Black community that drive the key events in the latter half of the film.
He plays Rafe Cameron on Netflix's Outer Banks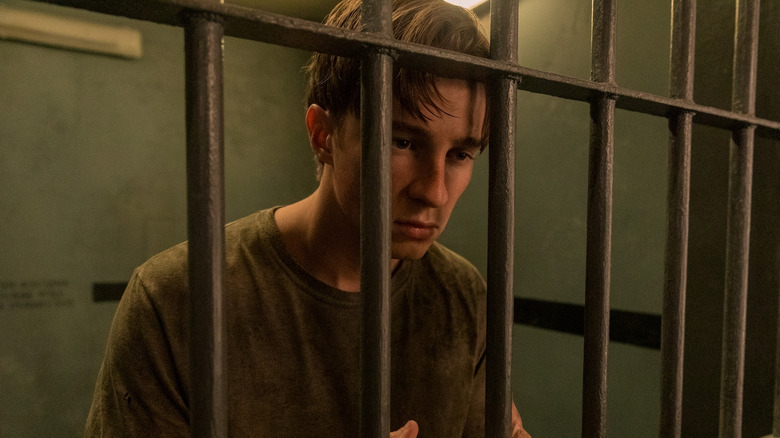 Netflix
Drew Starkey is arguably best known for his role on the hit Netflix series "Outer Banks," where he plays Rafe Cameron. Set in the titular coastal region located in North Carolina, the series follows a group of working-class kids called "Pogues" (derived from the slang acronym "POG," a derogatory term for Military personal meaning "Persons Other than Grunts"). In an attempt to explore the mystery of his missing father, "Pogue" John B. (Chase Stokes) leads his friends from "The Cut" on an adventure that involves treasure, conspiracy, and death.
Rafe Cameron is a wealthy resident of the Outer Banks who seeks the attention and approval of his father, Ward (Charles Esten). This desperation reaches such heights that when Ward is arrested by the town sheriff for killing John B.'s father, Rafe in turn kills the sheriff. Though his father eventually takes credit for the killing, John B. knows the truth, placing Rafe at his mercy.
In an interview with Entertainment Weekly, Starkey commented on whether he considers his "Outer Banks" character to be as villainous as he outwardly seems. "This is not a good person overall," he said after earlier stressing that he hopes his portrayal of Rafe had enough nuance to it. "I think the only maybe empathetic part about him is that he's trying — he's truly and honestly trying — to be good. He just doesn't know how."