Kate Micucci's Hilarious Encounter With A Scooby-Doo Fan Makes Too Much Sense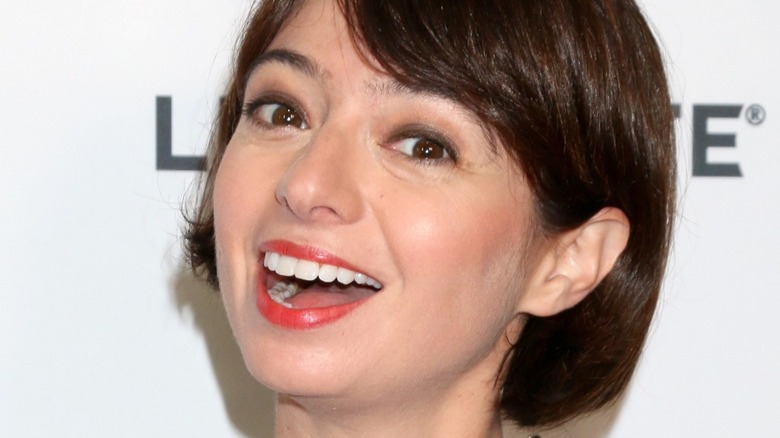 Kathy Hutchins/Shutterstock
There are very, very few media franchises out there that can flaunt the kind of longevity and capacity for reinvention of the "Scooby-Doo" gang. Ever since the very first episodes of "Scooby-Doo, Where Are You!" aired on CBS in 1969, the Hanna-Barbera cartoons about a crew of tight-knit young mystery solvers have yielded so many iterations, renovations, rip-offs, derivative works, intermedia adaptations, reimaginings, parodies, and homages that the market cap of Mystery Inc. would surely be in the high billions by now if it were a real company.
More than anything, "Scooby-Doo" manages to stay fresh after more than five decades because it boasts an incredible core cast of characters. The balance in personalities, temperaments, and team roles between Fred Jones, Daphne Blake, Velma Dinkley, Shaggy Rogers, and the titular Great Dane himself is just about perfect; they're just defined and iconic enough to remain reliable, comforting TV companions, while also maintaining enough room to keep evolving.
There's no one that applies to more than Velma, who, in 50 years, has gone from a mostly supporting player to a center of gravity in pop culture powerful enough to inspire Google search Easter eggs. The newest Velma, from the just-released "Trick or Treat Scooby-Doo!," looks all set to become one of the characters' most momentous and memorable iterations yet, with a lot of help from her longtime voice actor Kate Micucci. And fans of Velma who enjoy Micucci's performance will be pleased to know that her connection to the character goes beyond the recording booth.
Kate Micucci's similarity to Velma has been noted by Scooby-Doo fans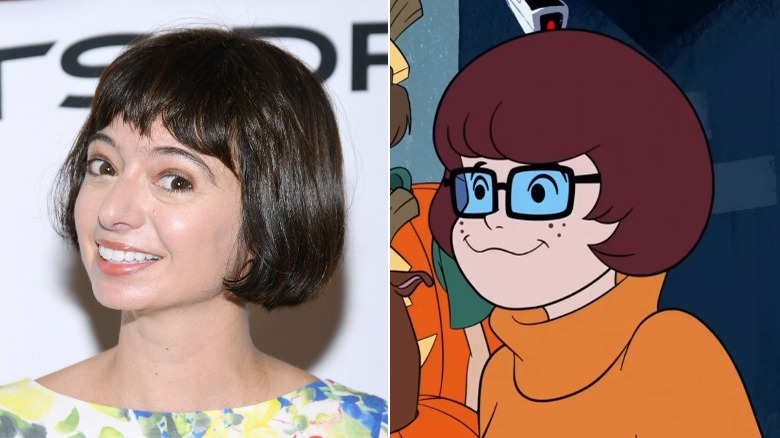 Michael Tullberg/Getty, Warner Bros. Home Entertainment
American actor, comedian, and musician Kate Micucci has been playing Velma Dinkley for the better part of a decade. She first took up the role on "Be Cool, Scooby-Doo!," between 2015 and 2018, and her casting proved such a perfect choice that she continued to voice Velma on projects such as "Lego Scooby-Doo," "Scooby-Doo and Guess Who?," the "Cartoon Feud" episode of "Teen Titans Go!," the notorious "Scooby-Doo"-"Supernatural" crossover event, and a vast number of direct-to-video films, of which "Trick or Treat Scooby Doo!" is the latest. This already makes her the second longest-running Velma voice actor ever, bested only by Mindy Cohn.
In November 2021, Micucci was interviewed about her experience with the role for the Reel Talker YouTube channel. After host Jim Alexander noted that she bore enough of a physical resemblance to Velma to feasibly play her in a live-action version, the actor recalled a fan interaction that bore that out.
"I've actually ... I have been called Velma," Micucci said. "One time I had my glasses on and I had kind of bellbottom pants, and these high school kids [said,] 'Hey, look, it's Velma.' And I wanted to be like, 'Actually, I am,' but I didn't say anything 'cause I was in a rush." It's certainly very easy to picture Micucci doing a mean Velma with the help of an orange turtleneck — after all, she's already got the hair, the voice, and the charisma.