The Terrifying Will Byers Twist That Nearly Happened In Stranger Things Season 2
When "Stranger Things" Season 2 premiered in October 2017, a plethora of new characters joined the group in Hawkins, Indiana. There was Eleven's long-lost sister Kali, aka Eight (Linnea Berthelsen), as well as the introduction of both Max (Sadie Sink) and her brother Billy (Dacre Montgomery). After the success of the first season the previous summer, adding new characters and new dynamics to the group of players everyone had come to love in "Stranger Things" helped expand the unique story arc of the series. Kali was one of the most powerful characters in "Stranger Things" along with her sister, and Max and Billy's very different personalities made for compelling storytelling. Sean Aston also joined the fantasy drama as Bob Newby in a role that becomes a mysterious but eventually lovable addition to the Byers clan.
The second installment also included tense, world-building plots that helped build the wider narrative of the show. One thread addressed the possession of Will Byers (Noah Schnapp) by the Mind Flayer, one of the primary villains of the series. With Season 4 now concluded, we now know that Vecna is, or is strongly connected to, the long-running antagonist (per Entertainment Weekly). This is but one twist in a show that has had its fair share of revelations, with one terrifying potential turn that involved Will in the second season.
Stranger Things writers revealed that a possessed Will was originally going to kill Bob in Season 2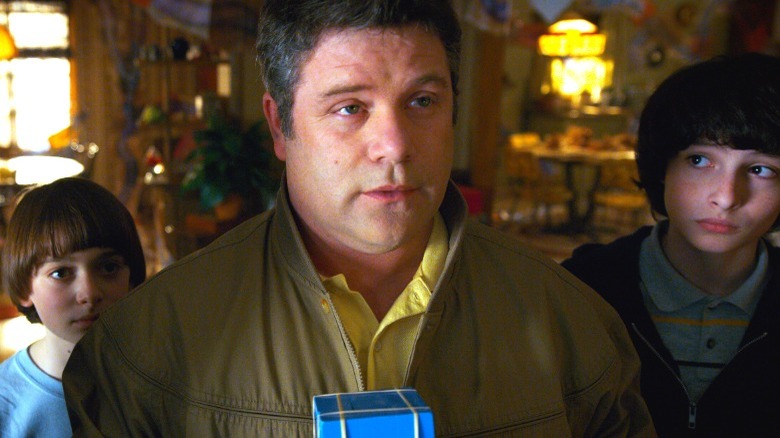 Netflix
In "Stranger Things 2," the original plan for Sean Astin's Bob was very different from what eventually transpired late in the second installment. In Season 2, Episode 8, "The Mind Flayer," Joyce (Winona Ryder), Hopper (David Harbour), Dr. Owens (Paul Reiser), Will, Mike (Finn Wolfhard), and Bob are all trapped inside the lab with the Demodogs on the loose. After Bob devises a plan for escape, that requires he and Owens to reset the building's breakers. Everyone escapes, but he is attacked and killed by one of the creatures suddenly. His death was one of the most heartbreaking moments of the show, but despite the painful rollercoaster of what happens, his demise was initially set to be much darker.
On the official Twitter account for the show's writers, they reiterated one of their original plans for both Will and Bob. The scribes tweeted, "Crazy s*** that almost happened #1: In season 2, a possessed Will was going to kill Bob." A plethora of replies came pouring in, registering shock at the dropped story arc, with @iheartbylerr replying, "Would have been wild." Granted, this was revealed back in 2017 on the Netflix recap show "Beyond Stranger Things" by co-showrunner Matt Duffer who stated, "He [Will] was going to kill Bob" (via IndieWire). Needless to say, it is a plot point that would have provided a very different response from the eventual reaction to the character's passing.