Christopher Knight's Hilarious Comment On Why The Brady Bunch Women Weren't On The Masked Singer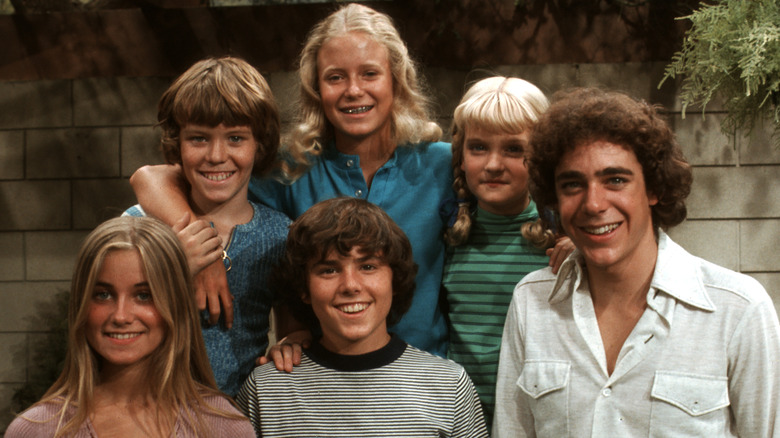 Michael Ochs Archives/Getty Images
We may receive a commission on purchases made from links.
For more than 50 years, fans of "The Brady Bunch" have been entertained by the sitcom clan's side gig as singers. From the iconic theme song, which was performed by the young cast members after the first season, to the gang's attempts to find fame on TV talent shows decades before "American Idol," viewers sang along to Brady songs like "Sunshine Day" and "Keep On." Heck, early on the Bradys even recorded a Christmas album. They went on to have a short-lived ABC variety show, but one thing was crystal clear: they were a package deal. Just ask Greg Brady (Barry Williams), who was temporarily tempted to go solo with the name Johnny Bravo — all because he fit in the suit that record producers wanted their superstar to wear.
In an interview with Outsider, Williams revealed that all of his TV siblings sang in the episodes, but they weren't all heard in the recordings. "Yes, we all sang, (and) some of the microphones were turned on when we recorded, others were off," he dished. The Brady brother who hated to sing the most was Peter (Christopher Knight). "He would be the first to tell you singing is not his, uh, his greatest skill. He hated that," Williams revealed.
Marcia Brady (Maureen McCormick), on the other hand, was a real crooner. In 1995, 20 years after "The Brady Bunch" ended its five-season run, McCormick released her first album, "When You Get a Little Lonely," per AllMusic. So why was it that when the Bradys reunited for a 2022 cameo on the TV singing competition "The Masked Singer," the girls were nowhere in sight?
Christopher Knight blamed the snub on Cindy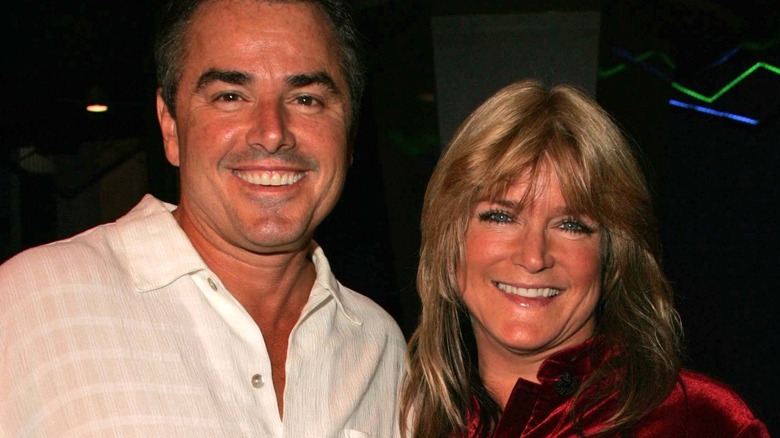 s_bukley/Shutterstock
The Brady bunch kids –- Greg, Marcia, Peter, Jan (Eve Plumb), Bobby (Mike Lookinland), and Cindy (Susan Olsen) –- may have been a solid team as teen singers, but as adults, it is every Brady for themself. When the Brady brothers Barry Williams, Christopher Knight, and Lookinland masked up as mummies to fool fans on "The Masked Singer," fans wondered where their female counterparts were.
In an interview with Entertainment Weekly, Williams said it would have been a joy to include Maureen McCormick, Plumb, and Olsen. But because the identities of "Masked Singers" must be kept top secret, Knight noted that there was no way they could have filled in their TV sisters on their secret mission due to one notorious blabbermouth. "Of course, if we had told Cindy [Olsen] the whole world would know by now. That might be why they didn't ask the girls," he cracked to EW.
"Brady Bunch" fans know that Cindy Brady's telltale trait, besides her golden pigtails, was her penchant for blabbing. There was even a 1970 episode devoted to her big mouth, titled "The Tattle-Tale," per IMDb. In a 2019 interview with Fox News, Olsen said she didn't like being on "The Brady Bunch" as a kid. And in his tell-all book, "Growing up Brady" I Was a Teenage Greg," Williams revealed that Olsen's least favorite episode was "The Tattle-Tale." "I thought Cindy was the single biggest geek in the world," Olsen told Williams. "She was an idiot!"