Chicago Fire Star Hanako Greensmith Has Twitter Raving After Season 11 Episode 3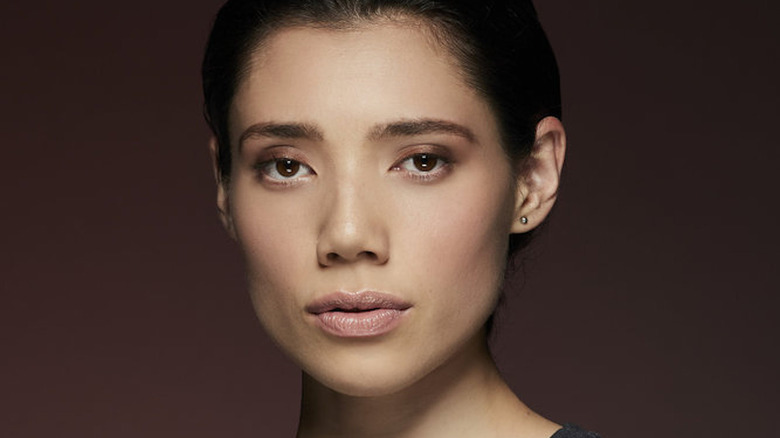 Art Streiber/NBC
Warning: This article contains spoilers for "Chicago Fire" Season 11, Episode 3
It's not often that "One Chicago" gives us back-to-back blows in one night, but that was very much the case the night of October 5. Jesse Lee Soffer departed "Chicago P.D.," which was preceded by the gut punch no one saw coming — the death of Evan Hawkins (Jimmy Nicholas) in "Chicago Fire." The Episode 3 promo hinted that someone wasn't going to make it out of the movie theater fire alive, and they had us in the first half when it seemed like it would be Gallo (Alberto Rosende).
Some viewers knew who it would be from the fire's beginning, though, as Twitter exploded when Hawkins arrived on the scene. It was just one of those feelings that came over fans; unfortunately, their premonition came true. Tempers were flying on social last media during "Chicago P.D." and "Chicago Fire," and viewers were really in their feels. Some weren't that upset to see the end of Hawkami while the couple's stans were in shambles. Many were angry at Jay Halstead's (Soffer) departure story, while some looked forward to the future. No matter where you landed by 11 p.m., there's something every fan in the "One Chicago" universe could agree on: Hanako Greensmith gave the performance of a lifetime during Episode 3 of "Chicago Fire."
Hanako Greensmith absolutely smashed Season 10, Episode 3 of Chicago Fire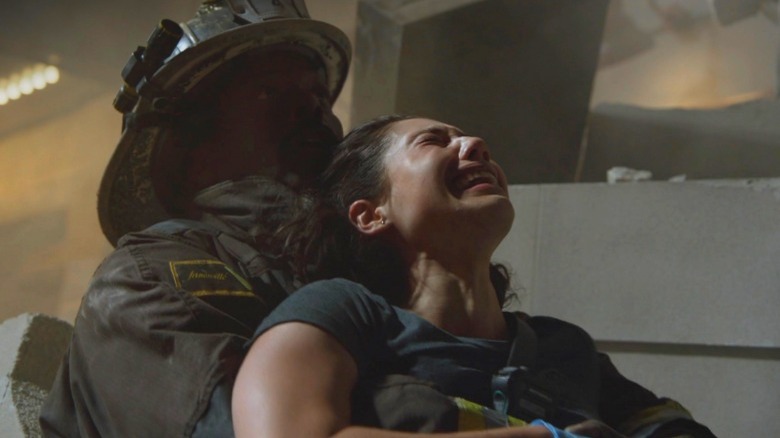 NBC
Give her all the Emmys. Give them to her right now. Hanako Greensmith's portrayal of Violet in Season 11, Episode 3 of "Chicago Fire" was absolutely stunning. From Violet's stone-cold face when the theater collapsed on Hawkins in front of her to her trying to beat the life back into him when he was finally uncovered, it was an absolute masterclass in acting. Violet went through so many emotions in the span of a few minutes, and fans couldn't stop applauding her performance online.
"Hanako greensmith the queen the legend you deserve every award for your performance tonight," @hailsgrimes tweeted. "Hanako Greensmith gave the performance of her career tonight. That scream will forever be embedded in my brain. Bravo, girl!" @TVAddict71 added. Violet's scream was as authentic as it gets, piercing viewers as if they were on the scene.
"Gotta talk about this for a second. because i was in shock when the collapse happened (🫢😧) but didn't go into full on tears😭 until hanako gave this much emotion as violet. WOW. haunting & heartbreaking 💔" @KariHighman wrote of the actress's stellar performance. Their thoughts are right on the money, as the devastating scene in Episode 3 was only amplified by Greensmith's performance. "Hanako, the emotion and utter anguish that poured out of you in that last scene had me in tears. Good God My heart shattered for Violet. You were magic tonight. We are so lucky to have you on #ChicagoFire. Thank you for sharing your unbelievable talent with us. Love you," @ItsMissEmmaL tweeted. If that doesn't wrap it up nicely with a bow, nothing will. For your consideration — Hanako Greensmith, ladies and gentlemen.
Watching the fallout of Hawkins' death will not be easy for "Chicago Fire" fans, as we now have two significantly hurt women in the ambo. Greensmith and Kara Killmer are sure to continue to deliver fantastic performances throughout Season 11.