How Long It Really Took To Create Jesse's Arm Tattoos On Breaking Bad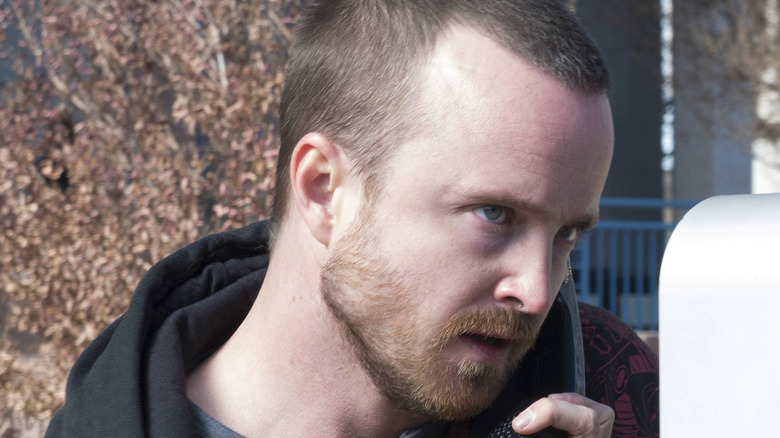 Ursula Coyote/AMC
Actors go through all sorts of temporary physical transformations in order to portray characters who look somewhat different from them. Depending on the role, actors may need to gain or lose weight, grow or cut their hair or beard, or endure grueling makeup transformations like Mark Margolis (Hector Salamanca) did for "Breaking Bad" and "Better Call Saul."  At times, actors may also need to either cover up their real tattoos to play a character who has none or allow the makeup team to apply fake tattoos to play a character who has them. 
Jesse Pinkman (played by Aaron Paul) on "Breaking Bad" has a unique style, often wearing clothing adorned with dollar signs, skulls, or other funny designs. However, luckily for Aaron Paul, Jesse's general get-up is fairly low-maintenance and does not require a lot work in terms of hair styling and the like. The one thing about Jesse that required a bit more involvement in terms of makeup was his tattoos.
Jesse's fake tattoos only took ten minutes to apply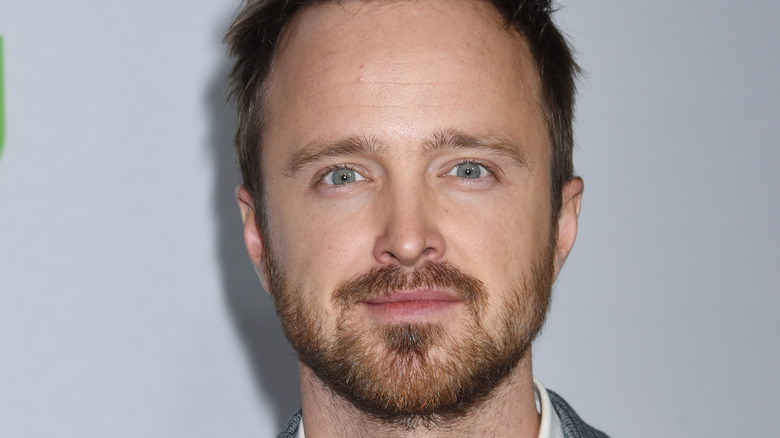 Ga Fullner/Shutterstock
On the show, Jesse has a large arm tattoo of a Celtic scorpion, as well as a clown and a snake. However, Aaron Paul does not have any of these tattoos in real life. In an interview with Vulture, Aaron Paul shared that the tattoos are all "Fake. Thank God. I mean, it's so aggressive." He added that the "Breaking Bad" crew asked him if he thought Jesse would have tattoos, and when he said "probably," they started flipping through random tattoo books to select the images for Jesse. 
The tattoos are fairly intricate, so viewers might assume that it takes a long time to apply the fake tattoo for each filming session. On a Reddit "Ask Me Anything," Aaron Paul responded to fan questions about his role as Jesse Pinkman on "Breaking Bad," where he revealed how long it takes the makeup team to draw the tattoos on him for each episode. Paul wrote, "Appliance actually only takes about ten minutes." He also explained why the process goes so fast, "It's just a transfer so they don't have to draw it. It's like a really nice version of that tattoos you'd get in a Cracker Jack box." 
In addition to the super-fast application, Aaron Paul also shared that each tattoo usually lasts about two to three days. This would certainly be convenient, since Jesse's tattoos definitely need to appear in every scene. Thankfully, the process wasn't a grueling one.