Jennifer Lawrence And Brian Tyree Henry Find Each Other In The New Causeway Trailer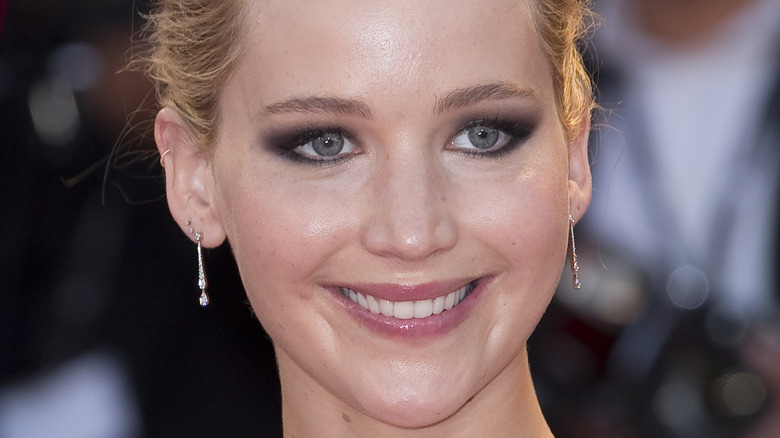 BAKOUNINE/Shutterstock
Viewers at the Toronto International Film Festival in September have already had the chance to see "Causeway" (TIFF), starring Jennifer Lawrence and Brian Tyree Henry (who may be familiar as Lemon from "Bullet Train") as two grief-stricken individuals who seek solace in each other, forming a strong but tumultuous bond.
Lawrence's character is Lynsey, who suffers a serious injury in Afghanistan while working with the US Army Corps of Engineers, and the film depicts her struggles with adapting to everyday civilian life. Henry plays a "good-natured mechanic" named James, who has trauma of his own in his past to recover from. "Each finds solace in the other but, as their friendship develops, Lynsey is forced to question whether she has it in her to give and accept love," as the official TIFF synopsis puts it.
In other words, this is a serious adult drama with two of the best actors working today. And now, a trailer for the movie has hit the internet in advance of its release on Apple TV+ in November.
The trailer showcases the film's New Orleans locations
"Causeway" is set and was filmed in New Orleans, helmed by director Lila Neugebauer, who's making her feature film directorial debut with the project. New Orleans is a gift to any filmmaker, and the trailer demonstrates some of the dreamy visuals that will hopefully define the movie.
Film buffs might be interested to know that the movie features the work of famous production designer Jack Fisk, who's known for his work with such acclaimed filmmakers as Terrence Malick, Brian De Palma, and David Lynch. A quick look at his body of work on IMDb shows that his participation in this movie is definitely something to get excited about.
But, the real marquee value of "Causeway" comes from Jennifer Lawrence, last seen in the global warming satire "Don't Look Up" with Leonardo DiCaprio. This film promises to be a smaller, more intimate affair that lets her really flex her dramatic acting muscles along with co-star Brian Tyree Henry.
You can check out the trailer for "Causeway" above. And the film itself is scheduled to hit Apple TV+ on November 4, 2022.