Dakota Johnson And Russell Crowe Reportedly Join Bad Times At The El Royale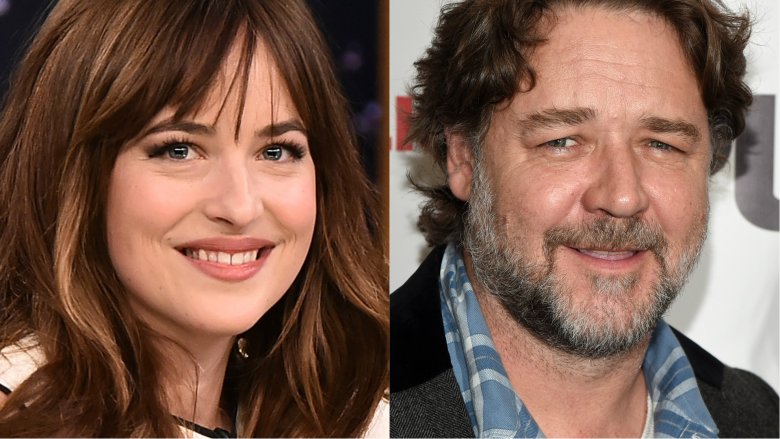 Getty Images
If you've ever wanted to see Thor and Superman's dad in the same movie, you're in luck.
According to The Tracking Board, Dakota Johnson and Russell Crowe (who played Jor-El in Man of Steel) have signed on to star opposite Chris Hemsworth in the upcoming thriller Bad Times at the El Royale. 
Directed by Drew Goddard (The Cabin in the Woods), the movie is reportedly set in the '60s at a rundown motel near Lake Tahoe, California. Plot details are still firmly under wraps, but Jeff Bridges, Tony winner Cynthia Erivo, and Pacific Rim Uprising actress Cailee Spaeny are all attached to the project for 20th Century Fox.
Goddard, who earned an Oscar nomination for writing the screenplay for The Martian, will direct based on his own script. Goddard is also a significant player in the Marvel universe, producing Daredevil and The Defenders, and he's set to direct X-Force starring Ryan Reynolds as Deadpool and Josh Brolin as Cable.
Hemsworth previously worked with Goddard on The Cabin in the Woods and he told CinemaBlend he jumped at the opportunity to team with Goddard again. "I was desperately wanting to work with him again after [The Cabin in the Woods] and almost didn't even read the script," Hemsworth said. "I was like, 'I'm in. Whatever it is! Let's go, buddy!'"
Crowe recently played Henry Jekyll in The Mummy and Johnson will again appear as Anastasia Steele in Fifty Shades Freed.