Thor: Ragnarok-Inspired Valkyrie Coming To Marvel Comics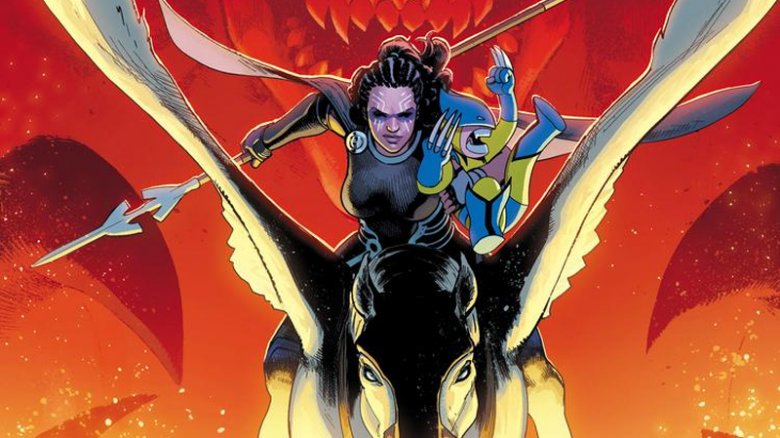 Tessa Thompson's Valkyrie is getting her own spinoff! Sort of. 
Exiles, a Marvel Comics series featuring characters from alternate timelines in the Marvel Comics Multiverse, is being revived with a new team after almost 10 years in hibernation—and when they arrive, they'll be joined by a version of Valkyrie that looks a whole lot like the character who lit up 2016's Thor: Ragnarok.
According to a report by Comicosity, this redesigned Valkyrie is joining a team that also includes the oddball alt-heroes Blink, a pink-skinned mutant teleporter; Iron Lad, an alternate version of Kang the Conquerer; Khan, as in Kamala Khan, a grown-up, apocalypse-surviving version of Ms. Marvel; and finally, some monstrosity called Wolvie, a baby version of Wolverine from that classic team, the X-Babies. Comics!
The new Exiles run is being written by Saladin Ahmed, with art by Javier Rodriguez. Valkyrie's typical appearance in the comics is white, blonde, and slim; by contrast, this new version is black, with dark hair, and built like a tank. She doesn't look exactly like the movie version, which is likely intentional—this Valkyrie variant is very specifically only inspired by Tessa Thompson's version. So don't worry about silly little things like "canon" or "character and likeness rights"—we're all having just fun here.
The revamped Valkyrie is more than just a palette swap, and will have her own distinguishing character traits, according to the creative team behind the series. As opposed to Thor: Ragnarok, which failed to embrace Valkyrie's queerness with a scene hinting at bisexuality despite the best efforts of Thompson, the comic Valkyrie will be a full-on, "maiden-wooing" lesbian, according to Ahmed.
"Our Valkyrie is known as the Lone Defender of Asgard, and she's a tankard-draining, maiden-wooing, giant-slaying thunderbolt of a woman," said Ahmed. "Though she's not technically from the Marvel Cinematic Universe reality, she's basically the literalization of the larger-than-her-physical-frame swagger that Tessa Thompson displayed in Thor: Ragnarok, turned up to 11."
"Like everyone else who has seen Taika Waititi's brilliant Thor: Ragnarok movie, all of us on Team Exiles are big fans of Tessa Thompson's Valkyrie," said series editor Wil Moss in a statement. "So when we realized that we had the perfect series—where the roster is made up of alternate reality versions of Marvel heroes—to introduce a comic book equivalent of that version of Valkyrie, we jumped at the chance! And how great is series artist Javier Rodriguez's design? Such a nice combo of the classic Valkyrie look and the MCU's, yeah?"
"Valkyrie's a character who's always appealed to me," Ahmed said, elaborating the decision to include a version of her in the Exiles line-up. "Her iconic warrior-woman look—spear! sword! flying horse!—but also the juxtaposition of a kickass ancient fantasy hero operating in contemporary New York City. She's a classic Marvel heroine."  
You check out some more art from Exiles, including a shot of the full team and a look at a grizzled-grown up Ms. Marvel, down below. 
Exiles #1 hits store shelves on April 11.