The SNL Season 48 Premiere Sketch That Has Some Fans' Eyebrows Raised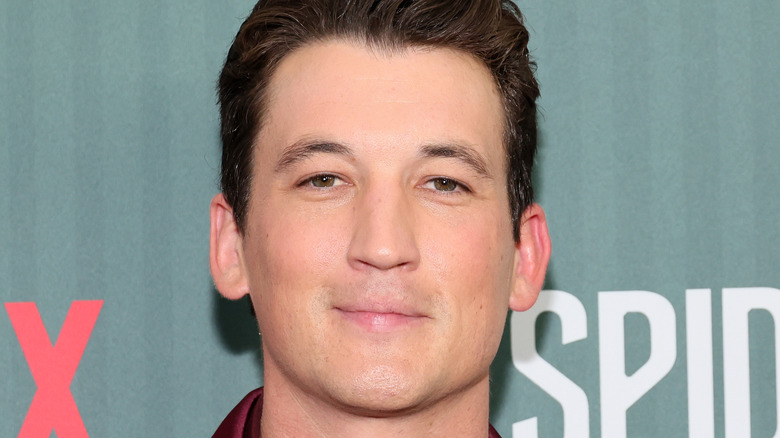 Dia Dipasupil/Getty Images
"Saturday Night Live," the long-running late-night sketch comedy series created by Lorne Michaels, began its 48th season on October 1, 2022. It marks the first episode since the series saw a slew of cast members, including Pete Davidson, Kate McKinnon, Aidy Bryant, Chris Redd, Kyle Mooney, Melissa Villaseñor, Alex Moffat, and Aristotle Athari exit the show at the end of Season 47 (via Deadline). The show welcomed some new members like Marcello Hernández, Molly Kearney, Michael Longfellow, and Devon Walker. Plus, plenty of notable cast members such as Colin Jost, Michael Che, Bowen Yang, and Chloe Fineman have returned for Season 48.
The Season 48 premiere was hosted by "Top Gun: Maverick" star Miles Teller, with Kendrick Lamar as the musical guest. Despite a solid combo of host and performer as well as plenty of familiar cast members returning, the premiere also included a sketch that has some fans raising their eyebrows. Here's the "SNL" sketch from the new season that has already sparked controversy.
SNL has been accused of stealing a sketch
In the premiere episode, there was a skit called "Charmin Bears" in which Miles Teller, Kenan Thompson, Punkie Johnson, and Heidi Gardner (as well as Bowen Yang later in the sketch) are dressed up in blue bear suits. After Teller's character informs his blue bear family that he got into Toilet Paper College but has decided not to go, the others try to convince him to change his mind – especially the bear father played by Thompson. As it turns out, Teller's character is avoiding Toilet Paper College because wants to be a dancer. After the episode, fans on a Reddit thread pointed out that the sketch is eerily similar to one by Joel Haver.
In Haver's sketch, titled "Toilet Paper Bears," a young blue bear tells his father that he loves theater and dancing and doesn't want to go into the family business.
Naturally, the similarities got fans talking. In the Reddit thread, u/cilantno wrote, "Was pretty shocked at how similar the two were." Further, u/Grinagh added, "[Y]ou could almost see each writer's change to the original." One fan also pointed out that this is not the first time that "SNL" has been accused of stealing sketches. And u/Chancellor_Anakin joked, "Yeah, they plagiarized worse than me in 10th grade"
Haver responded the the plagiarism claims
"Toilet Paper Bears" creator Joel Haver responded to the controversy in a video titled "SNL stole my video." He begins by noting that he often tends to cite it as a coincidence when situations like these arise. However, after watching the "SNL" sketch, he was surprised by all of the similarities.
Haver said, "It was pretty alarming. I was like, 'wow.'" He went on to say that usually, these situations end up being a similar concept that is taken in a different direction, or it can be more easily seen as a coincidence. However, in the case of the "Charmin Bears" sketch, he thought the similarities aligned a bit too much.
However, Haver noted that he doesn't feel any ill will toward "SNL." He explained, "I don't think it was malicious. It was either a subconscious borrowing from somebody on the writers' staff who saw my video, or it was a wild coincidence. My video got enjoyed by a lot of people. It got over a million views. I'm happy with it."
As of this writing, no one from "SNL" has yet commented on the allegations of plagiarism involving "Charmin Bears" and "Toilet Paper Bears."