Tommy Wiseau Reveals What He Would've Said At The Golden Globes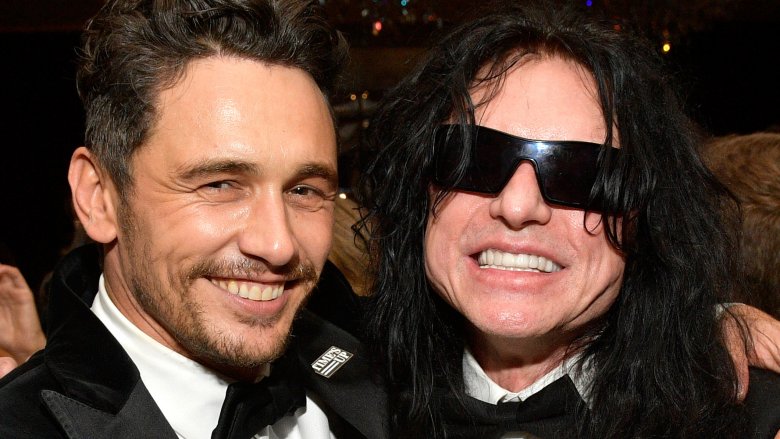 Getty Images
Tommy Wiseau came this close to saying something during James Franco's speech at the Golden Globes, but Franco shut it down. 
It happened Sunday night when Franco won Best Actor in a Motion Picture Comedy for portraying the director and star of The Room in The Disaster Artist. As soon as Franco walked onstage (dragging along his brother and co-star Dave Franco), he beckoned for Wiseau to join him. When Wiseau went for the microphone, Franco promptly stopped him.
Although we were deprived of what could've been an incredible moment, Wiseau later revealed what he would've said to the Los Angeles Times: it was going to be a line from The Room. "If a lot of people loved each other, the world would be a better place to live," he said. "See The Room, have fun, and enjoy life. The American dream is alive, and it's real."
Even The Disaster Artist co-star Seth Rogen wanted to hear what Wiseau would've said. He told the Times, "I want to know what Tommy was going to say! He looked like he was going for it!"
Instead, Franco referenced something Wiseau said before setting out to make The Room, a movie that's so bad it's amazing. "Nineteen years ago, he was stuck in traffic from the Golden Globes [and] he said to his best friend Greg [Sestero], 'Golden Globes? So what? I'm not invited. I know they don't want me: guy with accent, long hair. So I show them. I don't wait for Hollywood. I make my own movie.'"
It further demonstrated the complicated dynamic between Franco and Wiseau. Although Wiseau and Greg Sestero–co-star of The Room and co-writer of the book that inspired The Disaster Artist–were at the Golden Globes, they were at a table separate from the cast and farther back in the room. When asked if he was upset they weren't closer, Wiseau said, "It doesn't matter. We're here!"
Maybe he'll get a chance to speak on an even bigger stage. The Oscar nominations will be announced Jan. 23, and if Franco wins, he could always hand the microphone to Wiseau. But knowing Franco, we're guessing it's a longshot.