Blink And You'll Miss A Hilarious Meta-Joke In Steven Universe's Steven's Dream Episode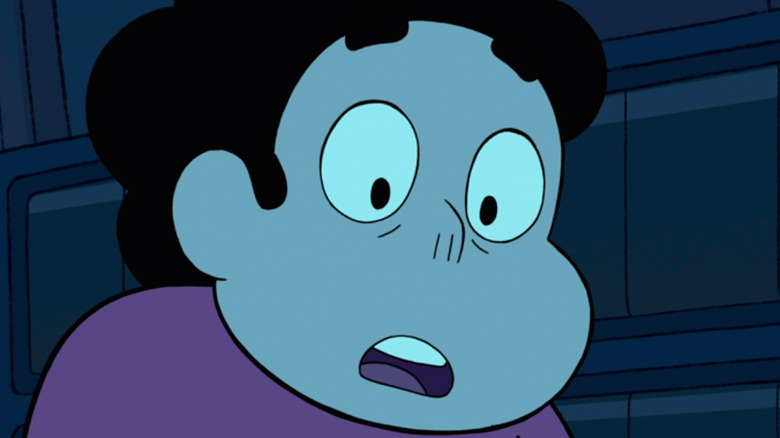 Cartoon Network
"Steven Universe" is technically a show for children, but it is full of so many complex jokes that it can be enjoyed by adults as well. A lot of successful children's shows include elements that appeal to adults because, one could argue, if adults enjoy (or at least tolerate) the show then they are more likely to put it on for their child to watch. The Cartoon Network animated series does a great job of catering to a primary audience of children as well as a secondary audience of parents and adults. Because of this, there are many things only adults notice in "Steven Universe."
"Steven Universe" actually engages with deep, philosophical topics in order to generate humor that appeals to adults, rather than sprinkling in euphemistic one-liners about sex or other adult topics. With all that being said, there are perhaps still some jokes that may have slipped through the cracks because of how subtle — or even meta — they are. 
Greg sees himself being drawn by a Korean animator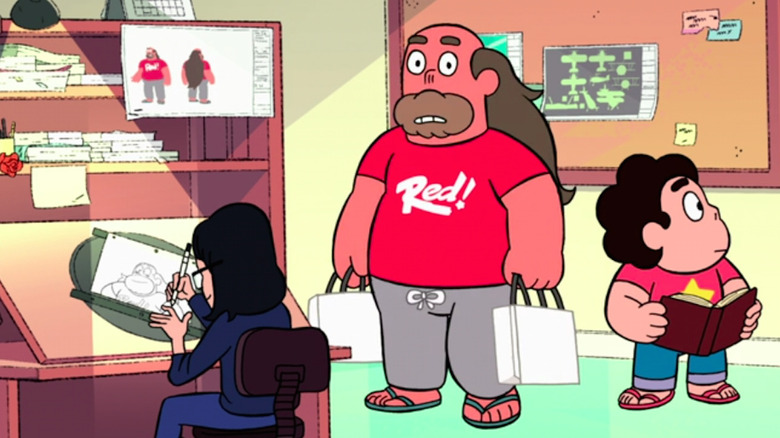 Cartoon Network
In Season 4, Episode 10 of "Steven Universe" (titled "Steven's Dream"), Steven (Zach Callison) has a series of dreams where he is trying to find his mother Rose Quartz's (Susan Egan) palanquin, which he has learned about in real life. His father Greg Universe (Tom Scharpling) is with him in these dreams — as well as in waking life — trying to help Steven find the palanquin. Although they are on a serious mission, in one of the dreams Steven and Greg take a side-trip to Korea where they sample food, explore the city of Seoul, and go shopping in an adorable montage.
While in Seoul, Steven and Greg visit what appears to be an animation studio, and Greg sees a Korean woman drawing a picture of him wearing the outfit he is currently wearing (rather than his everyday clothes). According to ScreenRant, "Steven Universe" was animated in Korea. Specifically (according to Animation Fixation), the show used the animation production company Rough Draft Korea, the sister company to Rough Draft Studios in California. Thus, when Greg sees himself being drawn, this is actually a complex, meta-joke.
Greg looks horrified to witness his own creation, but Steven just stands next to Greg, not noticing the drawing and remaining blissfully unaware as to what is going on. Greg pulls Steven away from the animation studio in order to shield him from having the same existential crisis he is going through.