Jensen Ackles Gave The Winchesters' Stars The Most Hilarious Pep Talk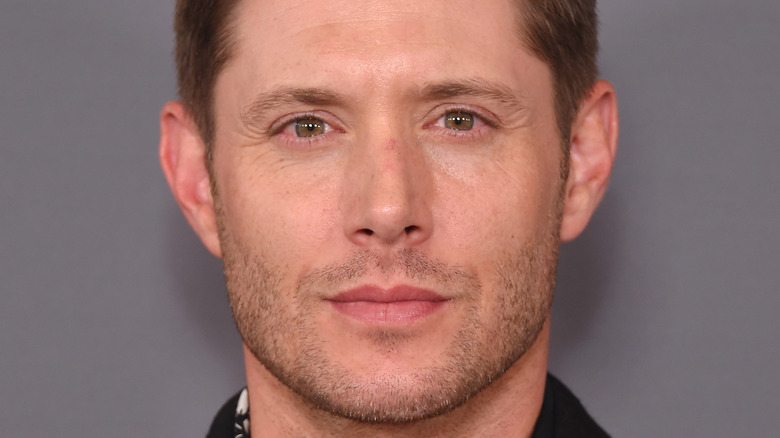 DFree/Shutterstock
Jensen Ackles has had many notable roles throughout his career. Still, perhaps the most recognizable is his character on "Supernatural." For 15 seasons, Ackles portrayed Dean Winchester alongside Jared Padalecki as Sam Winchester. The show finally came to an end in 2020 and both main actors moved on to other roles. However, Ackles had more ideas for the world of "Supernatural," and a spin-off titled "The Winchesters" was announced, with Ackles as the narrator.
"The Winchesters" is set in the 1970s and will serve as a prequel to the events of "Supernatural." It will focus on John Winchester (Drake Rodger) and Mary Campbell (Meg Donnelly), Sam and Dean's parents, and their journey to romance and monster-hunting. Along with narrating duties, Ackles also co-developed the show and serves as an executive producer (via Deadline), which means he's heavily involved in the production process. As it turns out, his involvement also included giving the new show's stars a pointed and hilarious pep talk.
Jensen Ackles jokingly told the cast not to mess the franchise up
Jensen Ackles recently sat with Entertainment Weekly to discuss the ins and outs of "The Winchesters" and trying to keep the legacy of "Supernatural" alive. To that end, Ackles gave the new stars of the upcoming show a rather funny pep talk, jokingly warning them that they had better not screw things up. "There's a big population of people that are very protective of the story and of these characters, and you are the new stewards of this, and you need to understand the weight of that, and you need to understand how important it is to treat this with care and respect," Ackles said. "Because I'm like, listen, I didn't work my ass off for 15 years to have you kids come in here and f*** it up."
Ackles' protection of "Supernatural" and its legacy makes sense. After all, trying to make sure that the love for the original series isn't diminished or tarnished by a prequel like "The Winchesters" is a valid concern to have. However, it also comes off as Ackles having his tongue planted in his cheek. Star Meg Donnelly even revealed that she'd approached Ackles for help with certain aspects of the series, including lock-picking. It seems that Ackles has stepped into a guidance role on "The Winchesters."