The Eyebrow-Raising Price American Pickers' Frank Fritz Paid For A Spooky Halloween Find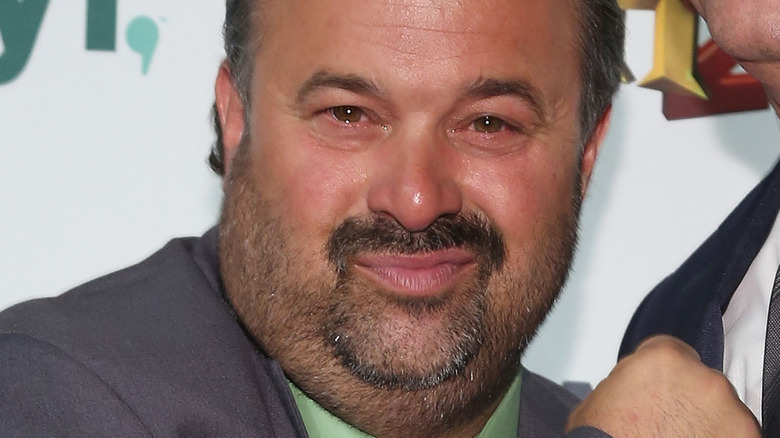 Taylor Hill/Getty Images
There's a special kind of excitement that comes with unearthing lost trinkets and treasures, and luckily for the "American Pickers" team, they get to do it every day. Since it began in 2010, the History series has followed the Antique Archaeology team as they pursue one singular goal: find as much valuable vintage stuff as possible. Week in and week out, they travel the United States (but not all of it), hopeful that they'll stumble upon something special in a shed, storage unit, personal collection, and more. More often than not, they're rather successful.
At the time of this writing, Mike Wolfe and Danielle Colby are the longest-tenured "American Pickers" hosts. However, fans of the program haven't been so quick to forget Frank Fritz, who helped them make it such a success for the first 20 seasons. In that time, he proved not only an engaging television personality that folks enjoyed watching but a capable picker who could find all kinds of goodies in the most unlikely places. Not to mention, his wide and varied base of knowledge made it easy for him to scope out a range of intriguing items.
Of the many purchases Frank Fritz made throughout his "American Pickers" tenure, this one is perfect for the spookiest time of the year. Here's the surprising amount he paid for this large Halloween collection.
Fritz dropped over $2,000 on the Halloween lot
The "American Pickers" Season 17 episode "The Great Pumpkin Showdown" saw Frank Fritz meet with a collector named Tom. His focus is toys, and he had all kinds of neat things for the expert picker to check out. One cluster that caught Frank's eye was Halloween-themed, which included everything from decorations to party favors that date back decades. Given the popularity of Halloween items and the sheer size of the collection, Frank knew he could turn a profit. After a brief negotiation period, he walked away with the festive lot for a whopping $2,350 — money well spent in his eyes. 
While Frank may have felt this buy was worth the money, the "American Pickers" crew aren't always so certain when it comes to old Halloween memorabilia. Look no further than the Season 13 episode "The Maineiacs," where Frank and Mike Wolfe discovered an antique jack-o-lantern parade lantern. They immediately found themselves in a tough spot because of it. On one hand, there's no doubt some value to it, bearing in mind how rare pieces like it are. On the other, because it's so hard to find, they weren't sure just how valuable it truly is. They eventually paid $500 for it, but questions lingered when it came to their prospective profit margin.
Despite its status as a night of terror and frights, Halloween holds a special place in the hearts of many. As a result, the "American Pickers" team will have to continue keeping a close eye out for trinkets related to it throughout their travels.