Why Chief John Suarez From East New York Looks So Familiar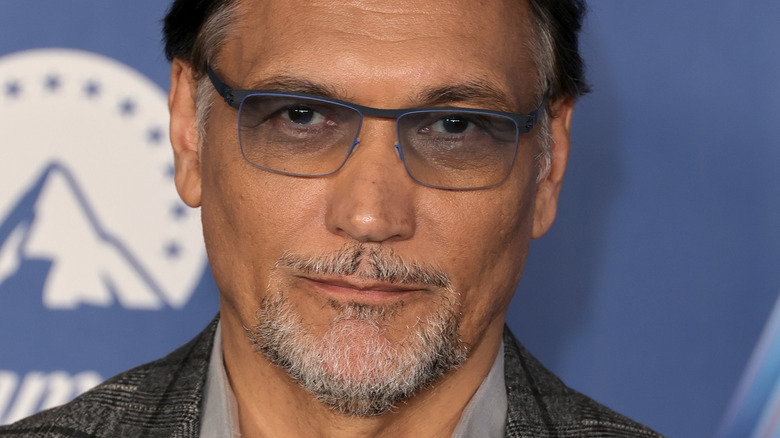 Michael Loccisano/Getty Images
"East New York" takes a deep look into a city divided. Centered within New York City's 74th precinct, the series shows a city bubbling with distrust and hints of gentrification. Into this tumult is thrown the recently-promoted Deputy Inspector Regina Haywood (Amanda Warren), who tries to modernize the station's approach toward policing and their civilian neighbors. 
Naturally, Haywood finds herself bumping up against both supportive figures and detractors within the organization she's now in charge of heading.  Among the more supportive figures is Chief John Suarez, Haywood's mentor on the force. The twosome bumped heads during Haywood's maiden investigation, a pattern that seems destined to repeat itself during the show's run.
If you're a science fiction nerd or you just plain love a good old fashioned procedural, then you're probably familiar with the actor who plays Suarez. Here's why his face might be sparking up a few memories for you.
L.A. Law Made Jimmy Smits a star
Jimmy Smits is an icon of television and film with 62 credits to his IMDb page as of this writing, and his role on "East New York" is just his latest stop on a storied career.  He first gained worldwide attention as part of the ensemble lighting up NBC's "L.A. Law." Smits played Victor Sifuentes for five of its six seasons, though he did pop up during the show's final season in a guest-starring capacity. Introduced as a cocky public defender, Sifuentes is coaxed into joining the firm of McKenzie, Brackman, Chaney, and Kuzak. But his heart remains devoted to the struggling populace of the city, and he's not afraid to play dirty to help set his clients free.
It's a role that rewarded Smits well, earning him six Emmy nominations and winning him an award for Outstanding Supporting Actor in a Drama Series in 1990. He told Entertainment Tonight in 2021 that bringing Victor to three-dimensional life was of the utmost importance to him. "[F]irst and foremost, I wanted to make sure that the character, in terms of being a lawyer, was spot on. And they let me do that in so many different ways. The writers' room did this story where there would be semi-comedic scenes and I never thought those kinds of things would happen with this particular character. It was very kind of fulfilling on so many levels." 
At the moment, Smits hasn't expressed any interest in participating in the show's upcoming return to the airwaves in the form of a revival, but it's possible he might return to the show in one way or another.
He followed a difficult act in NYPD Blue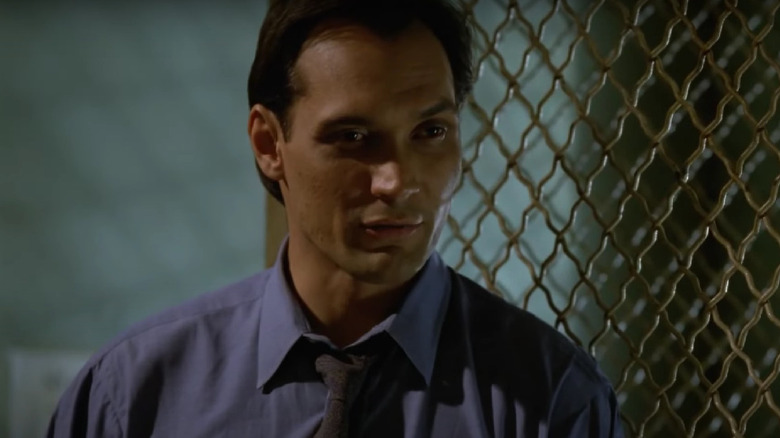 ABC
Jimmy Smits' next major role saw him doing the nearly impossible; replacing the popular David Caruso as the partner of Andy Sipowicz (Dennis Franz) on "NYPD Blue." Smits' Bobby Simone soon became an icon in his own right, and his run on the show spanned from Season 2 to Season 5 of the series. The character has a popular romance with Diane Russell (Kim Delaney) which eventually culminates in marriage, and Andy and Bobby became close friends.
Bobby's death during Season 5's "Heart and Souls," connected to complications from heart transplant surgery with resulted in a brain infection, was such a shocker to audiences because producers succeeded in playing the news of Smits' departure from the show close to their vests. 
Smits expressed pride in his work as Bobby, and specifically his death scene. "I always grapple with myself, from job to job, 'Is this going to make an impact in some way?' And at least I know, looking at an episode like that, that I was involved with something I can really be proud of," he told Yahoo! in 2013.
And yet, Smits also told Entertainment Tonight that sometimes playing Bobby could be difficult. "For me, coming from the background that I came from and the neighborhood that I came from was — I'm talking about that now in 2020, when we're in the middle of witnessing transgressions by people who are supposed to be protecting us — to get into the mindset and really understanding, you don't know what is behind the door, or you don't know what you're going to run into when you go into a car and how that affects you. To get into that mindset, it was tough."
He succeeded Bartlet on The West Wing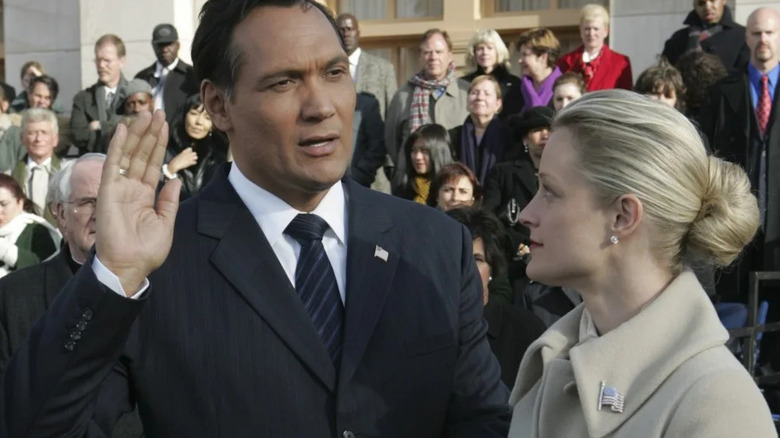 Greg Schwartz/NBC
Having extended the life of one drama, NBC called on Jimmy Smits to give a little extra juice to the final two seasons of "The West Wing." The actor stepped up to the plate as Matt Santos, a Democratic senator from Texas who eventually succeeds Josiah "Jed" Bartlet (Martin Sheen) as the president of the United States. Season 6 follows Santos' candidacy and his battle for a berth on the Democratic ticket with Bartlet. Things eventually go down to the wire, and inspiring speeches by both men ultimately result in Santos getting the votes he needs to proceed to the election as the Democratic nominee. Season 7 follows his campaign and Bartlet's final term, with Santos eventually being declared the victor. Bartlet and Santos' respective teams then must adjust their expectations as both figures deal with political gamesmanship, press anxieties, and the business of birthing a new administration.
Smits later told Entertainment Weekly in 2016 that all of that political talk didn't come naturally to him — specifically trying to credibly speak about the political issues at hand in simulated live debates he and Alan Alda's Senator Arnold Vinick had to undertake. "To do a live debate, when you don't know really know too much about the political situations – it was like doing a play. Talk about opening night jitters, wow!"
He was Leia's (adopted) father in Star Wars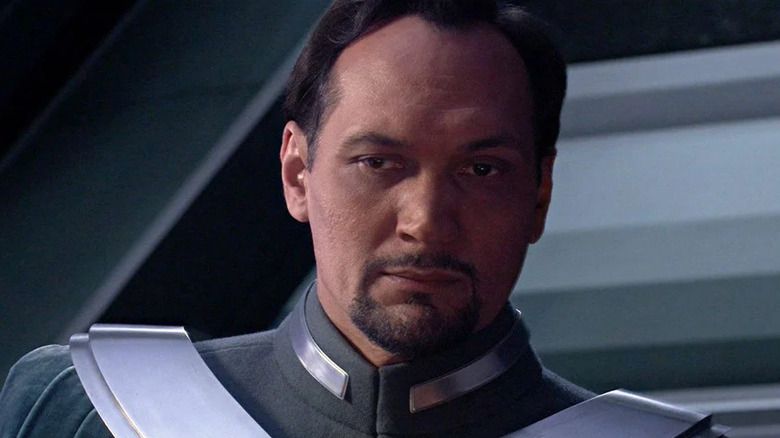 20th Century Studios/Disney +
That's Jimmy Smits as Senator Bail Organa, the loving adoptive father of Princess Leia Organa (Carrie Fisher) in the "Star Wars" saga. Smits has portrayed the fierce but doomed political leader of Alderaan in multiple "Star Wars"-related projects. The character first appears in "Star Wars: Episode II – Attack of the Clones," then Smits reprises his role in "Star Wars: Episode III – Revenge of the Sith" and "Rogue One: A Star Wars Story." The three films chronicle both Organa's political endeavors and the founding of the Rebel Alliance and how and why he volunteered to raise the tough and rambunctious Leia. Each appearance has given insight into the legendary princess and shows that she's not just her biological parents' daughter but carries something of Bail and Queen Breha Organa (Rebecca Jackson Mendoza and Simone Kessell) with her on her journey through the galaxy. More recently, Smits showed up as Bail in three episodes of Disney+'s  "Obi-Wan Kenobi."
Bail remains Smits' best-known film role; while he appeared in minor hits such as "Old Gringo," "Vital Signs," "Switch," "My Family," and "In the Heights," his roles on TV dramas have dwarfed most of his big-screen endeavors. 
Sons of Anarchy was new territory for him
Jimmy Smits' career has continued to boom in recent years, and he's had significant roles in everything from "24: Legacy" to "The Get Down" to "How to Get Away With Murder." One of his most recent roles was in "Sons of Anarchy," where he played escort agency owner Nero Padilla. Padilla finds himself in a relationship with on-the-rebound biker mama Gemma Teller Morrow (Katey Sagal), which ultimately hits a dead end when he learns about the depth of Gemma's treachery. Nero manages to survive the show's conclusion, which is more than can be said for many of its tragic heroes.
Smits told Entertainment Weekly in 2013 that joining the series was a matter of wanting to stretch his acting muscles. "[Showrunner Kurt Sutter] weaves these dark, gritty storylines, and I wanted to be able to challenge myself and do something different." He later added that he'd hoped to be able to ride a motorcycle onscreen, but that never happened.
Whether it's lawyers, cops, or intergalactic nobility, Jimmy Smits can do it all at this point. With any luck, his fans will have the opportunity to enjoy his work for many more years to come.