James Franco Takes Tommy Wiseau Onstage After Golden Globes Win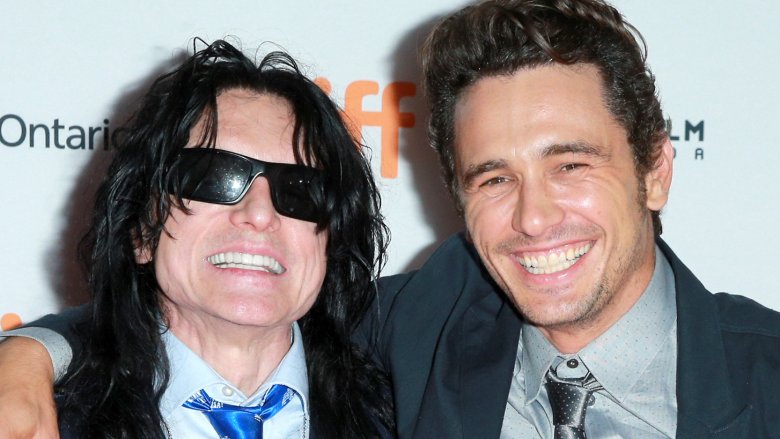 Getty Images
It would've been so awesome if Tommy Wiseau had gotten onstage and said, "Oh hi, Oprah." Pretty much everyone else mentioned her.
James Franco won best actor in a drama at the Golden Globes on Sunday for his performance as the enigmatic Wiseau in The Disaster Artist, and he took the director and star of The Room with him onstage. If you're not aware, The Disaster Artist is based on the creation of the so-bad-it's-amazing cult classic that Wiseau unleashed upon the world in 2003.
As soon as Franco walked onstage to accept the award, he beckoned for Wiseau to join him. "First person I have to thank is the man Tommy Wiseau," Franco said. The moment Wiseau greeted him, he went to grab the microphone, but Franco jokingly stopped him before quoting the man himself, in character, of course. "Nineteen years ago, he was stuck in traffic from the Golden Globes [and] he said to his best friend Greg [Sestero], 'Golden Globes? So what? I'm not invited. I know they don't want me: guy with accent, long hair. So I show them. I don't wait for Hollywood. I make my own movie.'"
Showing a great deal of restraint, Wiseau didn't say anything during the speech. It's the second Golden Globe for Franco, who won in 2002 for his performance in James Dean.