The Deep Cut Game Of Thrones Culinary Easter Egg You Likely Missed In House Of The Dragon - Exclusive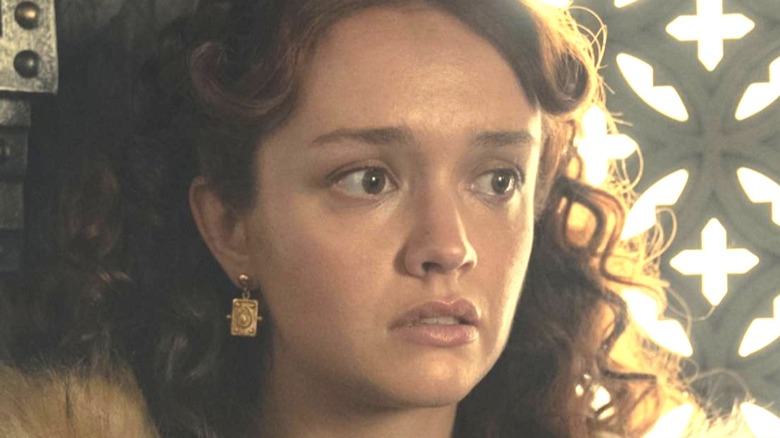 Ollie Upton/HBO
For years, people obsessed over "Game of Thrones." In a world that had become increasingly stratified by what you could watch with a myriad of streaming services, it was seemingly the only title in town to capture the crown of "Must-Watch Television." People would hold viewing parties on Sunday nights to take in the experience as a collective, and if you went on social media by Monday morning, you shouldn't have been disappointed to have a major plot point spoiled for you. 
HBO seems to have caught lightning in a bottle once again with the release of "House of the Dragon," a prequel series to "Game of Thrones" set nearly 200 years before the events of that story. Despite the centuries-long differential, there's still plenty for fans to recognize in the show. From the presence of Targaryens to important landmarks, it's clearly the same Westeros. Even details in the food recall the days of old (or new, depending on how you look at it). 
In an exclusive interview with Looper's sister site, Tasting Table, set decorator Claire Richards spoke about all things that went into developing the cuisine of the show, including one clever Easter egg that may have gone over some fans' heads. 
Rhaenyra's lemon cake was a callback to Game of Thrones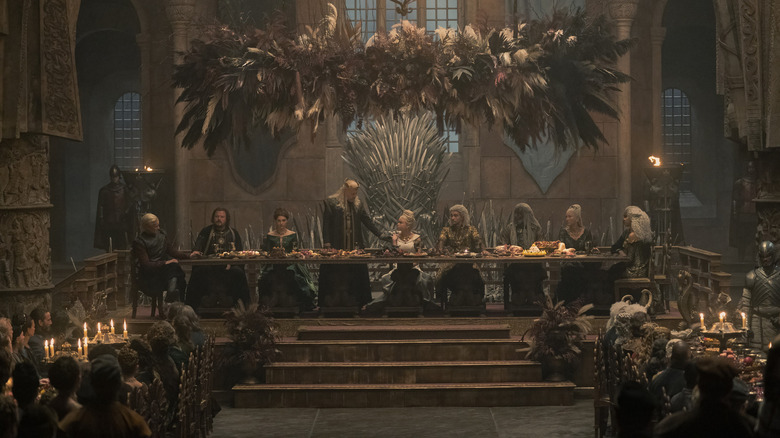 Ollie Upton/HBO
Sansa Stark (Sophie Turner) certainly enjoyed some lemon cake on "Game of Thrones," particularly during Seasons 3 and 4 of the series. They were her favorite dessert and became so iconic that they even made their way into a "Binging With Babish" episode. As it turns out, Sansa regularly favored a dessert that had delighted the upper classes of Westeros for several centuries, as Rhaenyra (Millie Alcock) also enjoys the treat in Episode 5 of "House of the Dragon."
When asked if any Easter eggs went into the development of the show's cuisine, Claire Richards responded, "One of them could have been to do with a lemon cake that Rhaenyra was eating in Episode 5. That was back in the day when they were doing 'Game of Thrones,' and they liked the lemon cake that has the actual pieces of lemon on the top of them."
While some people may not have caught the shoutout, others believe the lemon cakes serve as more than just a fun Easter egg. On the "House of the Dragon" subreddit, u/barna_akos94 pointed out how Rhaenyra only ate the lemon pieces on the tops of the cakes. By doing so, she ruined the treats for the next person to come along, only thinking of herself and her own desires in the moment. It could function as a bit of character development in addition to sneaking in a fun feast for the eyes for longtime "Game of Thrones" fans.
"House of the Dragon" Season 1 airs new episodes on HBO and HBO Max every Sunday.