Here's The Trailer For Will Smith's First Major Post-Oscars Project Emancipation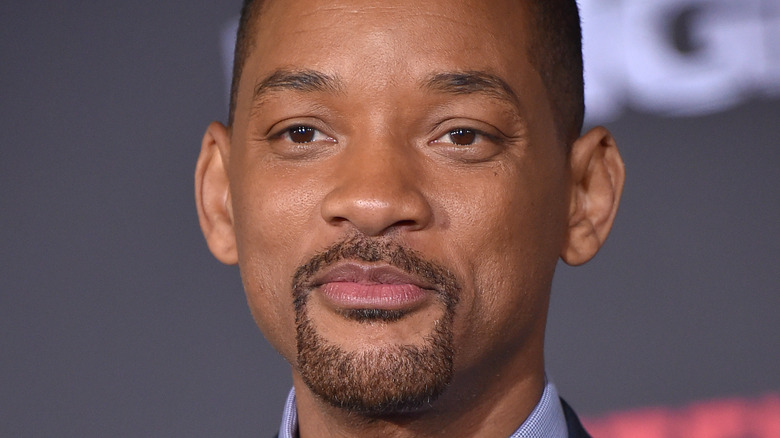 DFree/Shutterstock
The 2022 Academy Awards were a culmination of Will Smith's long and storied career. The Fresh Prince's sitcom roots blossomed into a hip-hop career before he careened towards full-fledged stardom, where he flew like a butterfly, wooed rom-com enthusiasts, and, on multiple occasions, fended off alien invaders. In March, the Academy finally recognized Smith's decades-long career when he took home the Best Actor Oscar for his portrayal of Richard Williams in the sports drama "King Richard."
Unfortunately, Smith's tremendous achievement was overshadowed by the controversy that occurred onstage. Smith accosted Chris Rock, who made a disparaging joke about his wife Jada Pinkett-Smith and was banned from attending the ceremony for ten years. He also resigned from the Academy.
The ban complicates Smith's future projects, especially his forthcoming film "Emancipation" and its subsequent award season campaign cycle. "Emancipation" marks Smith's first major role following the Oscars incident last spring. (Notably, production on "Emancipation" wrapped before The Slap.) Now, Apple Original Films has shared the first trailer for Smith's forthcoming slavery drama.
Will Smith promises a stirring performance in the Emancipation trailer
Directed by Antoine Fuqua of "Training Day" and "The Equalizer" fame, "Emancipation" is based on the true story of Gordon, also known as "Whipped Peter," a slave who escaped Louisiana and joined the Union Army. The trailer tracks Peter's journey north from treacherous alligator-filled swamps to Civil War battlefields. Peter is famously known for the disturbing 1863 photographs that show his scarred back. "Peter's image from 1863 inspired me to want to make the film and inspired Will to want to make the film," Fuqua told Deadline. The trailer briefly shows Smith as Peter being photographed. In addition to Smith, the cast includes Ben Foster, Charmaine Bingwa, Gilbert Owuor, and Mustafa Shakir.
In a reversal of Apple's initial release schedule for "Emancipation," the film is set to debut in 2022 instead of its planned 2023 release date. The shifting schedule is owing to a few factors: COVID-related delays, damage caused by Hurricane Ida, Martin Scorsese's Apple film "Killers of the Flower Moon" being pushed to 2023, and, in all likelihood, a certain amount of post-slap damage control. "Emancipation" will open in theaters on December 2 and begin streaming on Apple TV+ on December 9.