Barry Keoghan's Audition Tape For The Batman Channels Another One Of Cinema's Greatest Villains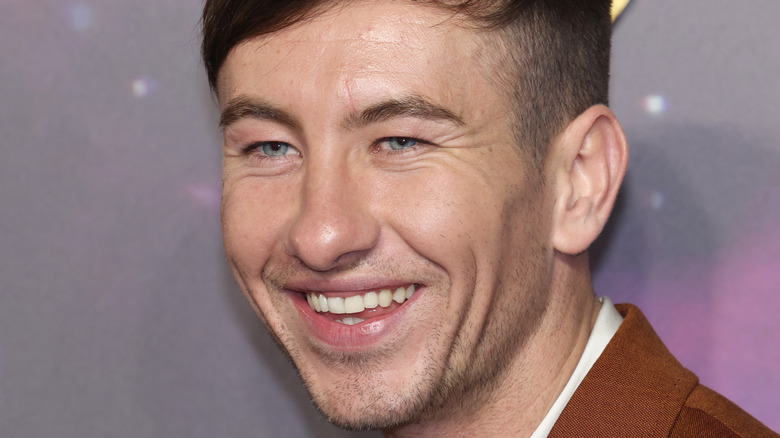 Tim P. Whitby/Getty Images
Among the surprising touches in Matt Reeves' "The Batman," one standout addition was the appearance of a familiar face to the Dark Knight's history that many didn't expect to see. That being said, there wasn't so much to see, but enough to hear when a maniacal laugh let rip in a neighboring prison cell to The Riddler. Barry Keoghan's The Joker had been snuck into Robert Pattinson's debut shift as The Caped Crusader, teasing a new iteration of Batman's iconic arch-nemesis.
While Keoghan had been spied on set during the film's production, it wasn't entirely confirmed he'd be getting teed up to play The Joker. Like the rest of Reeves' film, this iteration of the character was a much harsher and more visceral version than what had been seen before, compared to Jack Nicholson, Joaquin Phoenix, and even Heath Ledger. What's the biggest surprise, however, is that it was a role that the "Eternals" star didn't even have in his sights. The call to action spawned from a happy accident of being turned down for one part and offered another, all thanks to an audition that gave off the vibes of an iconic and terrifying antagonist.
Barry Keoghan's Clockwork Orange-fuelled Riddler got him the Joker role in The Batman
Proving that even if opportunity doesn't knock, just storm in anyway and hope for the best, Keoghan's take on The Joker came about after sending in an audition tape that was never requested. After learning that The Riddler was headed back to the big screen in "The Batman," he took a shot and gave his best iteration of Edward Nygma with a heavy tint of Alex DeLarge energy from "A Clockwork Orange."
The tape which the actor released himself on Twitter shows him with a hat and cane walking down hallways to "Danse Macabre" playing throughout. Seeing it quickly evokes comparisons to Malcolm McDowell's unsettling performance in the Stanley Kubrick classic. Unfortunately, while his risky tape didn't check the boxes that Paul Dano did for the role, it did fit the bill for the other criminal cameo they had planned. Speaking to GQ, Keoghan recalled that he eventually got the call after getting the tape. As he recalls it, he was told, "The Batman wants you to play the Joker — but you cannot tell anyone." Who's laughing now, eh?