The Actress Who Plays Courtney In Total Drama Is Gorgeous In Real Life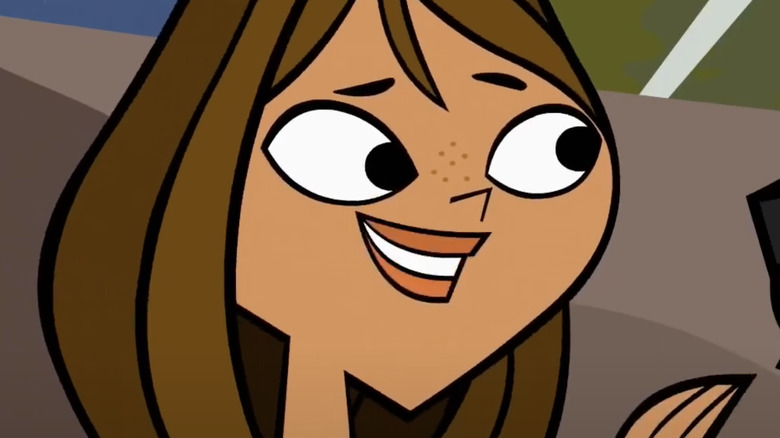 Cartoon Network/Teletoon
There have been some pretty weird cartoons put out in the past, and there are some that people should not watch in the presence of children. Then there are shows like "Total Drama" that manage to hit several target demographics and keep things relatively normal in the process.
When it comes to entertaining animated reality competition parodies, the first name that most assuredly comes to mind is the "Total Drama" franchise. While many cartoon titles were canceled in the 2000s, the Teletoon series that premiered in 2007 showed real promise early on. The initial run of episodes was called "Total Drama Island." According to Teletoon Canada VP of programming Carole Bonneau, the first season constantly outperformed the competition, and its number of adult viewers was described as "impressive" (via Media in Canada.) In addition to being a success on the small screen, the debut run of the animated action comedy received some critical acclaim, with Common Sense Media hailing it as an "enjoyable, smart show."
Each season showcases contestants competing in challenges similar to what they do on the series "Survivor." The same drama, relationships, and betrayals seen in reality competition shows are also on display. Fans of the animated series enjoyed so many memorable moments and have gotten to know the characters well, but some of the series' followers may not be aware that the actress who voices Courtney in "Total Drama" is absolutely gorgeous in real life.
Meet Emilie-Claire Barlow
Emilie-Claire Barlow is a stunning voice actress and an award-winning singer (via CMW.net). She is also responsible for voicing Courtney in the "Total Drama" franchise. But that isn't the only eye-catching part of the beautiful vocal artists' resume. Out of her many impressive credits, Barlow has voiced Chrissy in "6Teen," Theresa in "Fugget About It," and Ellody and Laurie in "Total Drama Presents: The Ridonculous Race." In addition, she has also lent her talents to franchises like "Sailor Moon" and "Bakugan" (via IMDb). 
Throughout her rewarding career, she has taken on a vast assortment of roles, each having its own unique personality, with some hitting closer to home than others. In an interview with Chris Mayek (via YouTube), Barlow talked about how she relates to Courtney from "Total Drama." "Well, you know they describe her as a Type A personality which I definitely am. I relate to her in that way. I probably can have bossy tendencies, but I try to be a little bit nicer than she is, so yeah there were some similarities for sure." She went on to mention what was great about playing the character. "It was really fun, its fun to play that kind of character. She has really funny lines. The writers are amazing." 
There's no denying the ravishing and passionate artist has a knack for bringing written words to life in several ways, and Courtney from "Total Drama" is arguably a solid contender to be labeled as one of Barlow's greatest hits.