Young Sheldon Renewed For Season 2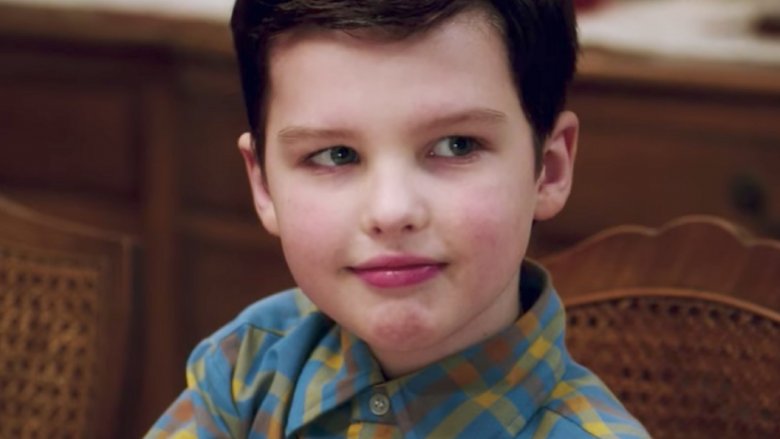 Young Sheldon will be back for season two. According to The Hollywood Reporter, CBS has handed down an early renewal to the Big Bang Theory spin-off, which features Iain Armitage as a younger version of the prickly scientist Sheldon Cooper.
The show follows Sheldon at 9-years-old as he establishes himself as a social prodigy. The rest of the cast includes Zoe Perry as Sheldon's mother, Lance Barber as his father, Montana Jordan as his older brother, Reagan Revord as his twin sister, and Annie Potts as his grandmother. Jim Parsons, who plays Sheldon on The Big Bang Theory, provides narration for the series and serves as an executive producer.
Young Sheldon has enjoyed the highest ratings for any freshman comedy, earning 16.2 million total viewers and a 4.9 in the key 18 to 49 demo. It also holds the spot for the second highest rated comedy on all of television, after only The Big Bang Theory. The show, which comes from Chuck Lorre and Steve Molaro, is the most watched new comedy on any network in 18 years.
"Young Sheldon has made a huge impact on our schedule in the short time it's been on the air," CBS Entertainment president Kelly Kahl said in a statement. "While the show's DNA is clearly rooted in The Big Bang Theory, Young Sheldon has staked out its own place in the TV universe with a unique creative tone, brilliant writing, and a gifted multi-generational cast. We can't wait to see Chuck, Steve, Jim, and Todd [Spiewak]'s vision for how the Cooper family deals with Sheldon growing a year older... and smarter."
Young Sheldon airs on Thursdays at 8:30 p.m. on CBS.