House Of The Dragon Episode 7 Had Fans All Complaining About The Same Thing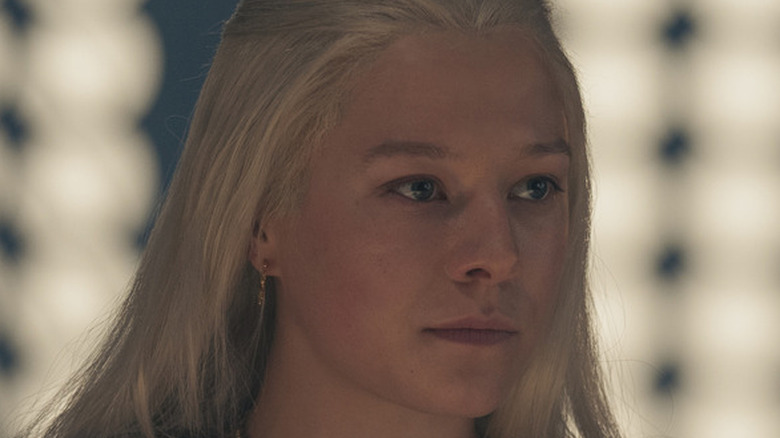 Ollie Upton/HBO
Season 1 of "House of the Dragon," the spin-off prequel series to the incredibly popular "Game of Thrones," has been extremely successful so far. According to Forbes, the premiere of "House of the Dragon" had the largest viewership of any original series in HBO history, and the second episode had an even larger viewership than the first. 
However, this does not mean "House of the Dragon" fans have not found things to complain about. Any time a show becomes this popular, people will complain about aspects of it not because they hate the show but because they love it enough and care about it enough to nitpick every little detail.
For example, some fans did not like how the actresses who played teenage versions of Rhaenyra Targaryen (Milly Alcock) and Alicent Hightower (Emily Carey) were replaced in Episode 6 with the adult actresses Emma D'Arcy (Rhaenyra) and Olivia Cooke (Alicent). Luckily for those fans, major time jumps that necessitate replacing child actors are the one thing fans definitely won't see in "House of the Dragon" Season 2. Other fans love to complain about how much they hate Alicent in general, kind of like they did with Cersei Lannister (Lena Headey) in "Game of Thrones." However, although these types of characters are sickeningly evil, they are entertaining to watch, and they are also necessary to move the plot forward.
There is one thing about "House of the Dragon" Episode 7 in particular that has fans complaining once again.
Episode 7's dark lighting infuriated fans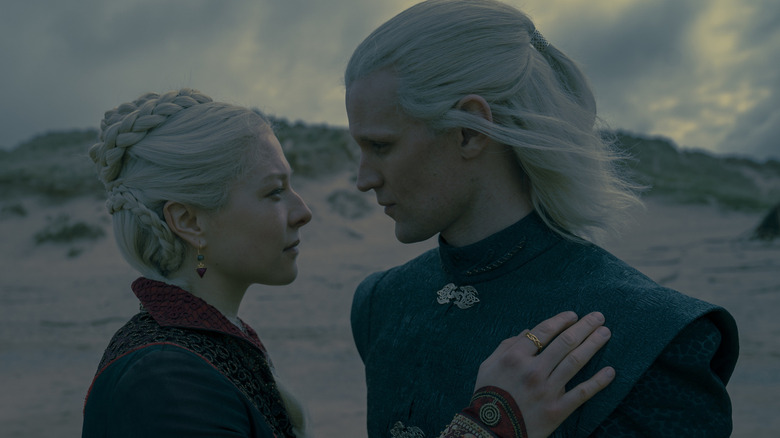 Ollie Upton/HBO
At their best, "Game of Thrones" and "House of the Dragon" feature visually stunning scenes. However, at their worst, both shows can have lighting problems. This is partially because many scenes occur at night in a time and place where there was no electricity, only candles. Still, it is annoying to watch a show and not be able to tell what is going on because the lighting is so dark. 
Many viewers complained about the visibility problems in "House of the Dragon" Episode 7. Collider noted that in the scene where Rhaenyra Targaryen (Emma D'Arcy) and Daemon Targaryen (Matt Smith) talk on the beach, it is nearly impossible to see their facial expressions. This is frustrating because it is an important scene and also because it sounds like both actors delivered a great performance, which viewers would like to see as well as hear. @kreshjun tweeted about Episode 7, "It might as well have been audio only. Watching was like listening to a radio show and being forced to use my imagination to visualize what was actually happening."
According to The Independent, the lighting in Episode 7 was so dark that fans are comparing it to "Game of Thrones" Season 8 Episode 3, "The Long Night," where the army of the dead battle the combined armies of the living at Winterfell. There were narrative reasons to explain the darkness of this episode, but the lack of lighting still made it very difficult to follow.
@zephyr757 tweeted, "I'm gonna need @hbomax to issue a written apology for literally a whole episode of black screen of #HouseOfTheDragon." @HBOMaxHelp replied that the episode's dim lighting was an intentional choice, which prompted @imnotbabyy to respond, "It's a bad one."