The Trailer For Guillermo Del Toro's Cabinet Of Curiosities Has Fans All Excited About The Same Thing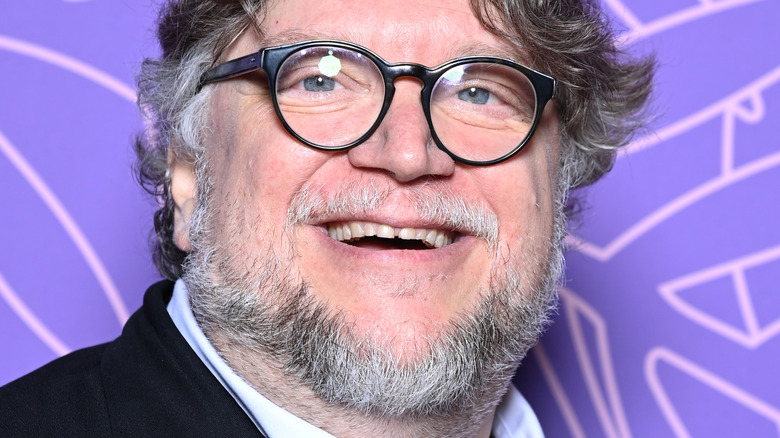 Pascal Le Segretain/Getty Images
Guillermo del Toro's "Cabinet of Curiosities" is a horrifying follow-up to his nail-biting iteration of "Scary Stories to Tell in The Dark" that aims to terrify viewers on Netflix. On October 25, 2022, the episodic anthology series will begin airing double-feature episodes, concluding on October 28 with "The Outside" and "The Viewing," according to Deadline. The horror master will also host his "Cabinet of Curiosities" while recruiting several acclaimed directors to help tell his twisted tales.
These include Jennifer Kent, the esteemed director who brought "The Babadook" to life, and Panos Cosmatos, the visionary mind behind "Mandy." The first episode will even be helmed by "Twilight" and "Thirteen" director Catherine Hardwicke, who will surely bring her distinct visual flair to the tale of terror. These horrific depictions will also star notable fan favorites, including Rupert Grint ("Harry Potter") and veterans of gore Geena Davis ("The Exorcist" television show) and Andrew Lincoln ("The Walking Dead").
Of all the spooky treats Netflix is serving up for the holiday season, del Toro's new "Cabinet of Curiosities" trailer has several fans particularly excited for the adaptations of an iconic storyteller's tales and notable beasts. 
Fans are ecstatic for the Lovecraft episodes
Fans of H.P. Lovecraft's blood-curdling stories rejoiced in the comments on the newest trailer for Guillermo del Toro's "Cabinet of Curiosities." "Can't wait for the Lovecraft adaptations in this!" one user wrote. "So glad to see him adapting Lovecraftian works into this series!" wrote another.
The spine-tingling premiere episode "Dreams in the Witch House" will bring Lovecraft's short story to life and follows a young man who encounters the spirit of a haunting Salem sorceress. Episode 4 will also adapt Lovecraft's "Pickman's Model" and stars "Westworld" troublemaker Ben Barnes and "American Gods" trickster Crispin Glover. The tale follows a young painter who illustrates monstrous beings doing unspeakable acts that get progressively more evil over time. The chilling paintings reveal a jaw-dropping origin that will surely stay with viewers long after Guillermo del Toro's "Cabinet of Curiosities" concludes. The nightmare-inducing episodes join other recent acclaimed Lovecraft-inspired hits like Misha Green's revolutionary "Lovecraft Country" on HBO and the dazzling "Color Out of Space," featuring one of Nicolas Cage's best performances yet.
Guillermo del Toro's "Cabinet of Curiosities" looks committed to telling unique and engaging stories that quench the audience's thirst for terror. The hair-raising 1st season will surely make a bloody mark on Netflix and highlight del Toro's spooky knack for unraveling petrifying adventures. 
The "Cabinet of Curiosities" officially opens on October 25 before closing with its last episode on October 28.