The Hocus Pocus 2 Scene That Breaks Reality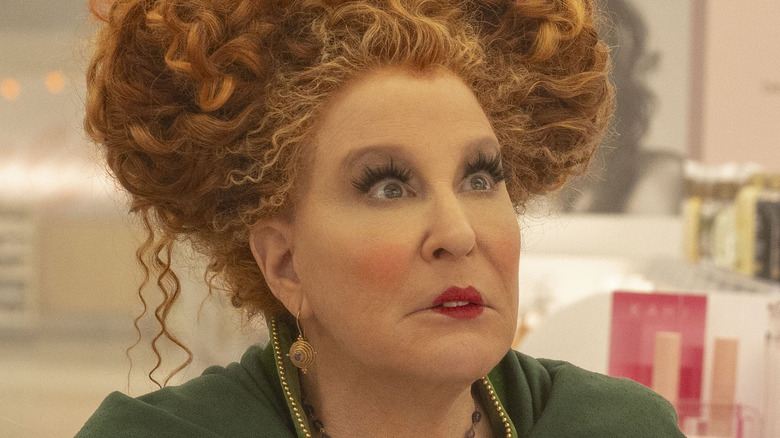 Disney
What better way to kick into the spooky season than have a reunion with those devious, despicable Sanderson sisters? Bette Midler, Kathy Najimy, and Sarah Jessica Parker are back on their brooms (and other household appliances) as Winifred, Mary, and Sarah Sanderson, Salem's most famous witches, in "Hocus Pocus 2." Set on causing trouble over a possible boil and bubble, the new film focuses a bit on the origin of the sisters (by way of Hannah Waddingham as The Witch Mother) and sees them facing off against a younger generation set on stopping any evil magic being cast on the scariest night of the year. What's interesting about this eagerly-anticipated installment is that we get a glimpse at just how prominent the sisters have become since their last revival in 1993 — and it's downright confusing.
Not to be the killjoy carnival wandering through your viewing of Disney's latest revisited franchise, but while there's a lot of love for "Hocus Pocus" in its sequel, some don't make sense. Easter eggs are all well and good, but in the case of the family-friendly Halloween franchise, one scene, in particular, stands out for all the wrong reasons, resulting in a mad meta moment that may have you wondering if someone cast a spell to break your brain just a bit.
Hocus Pocus 2 hosts an Easter egg that makes no sense...twice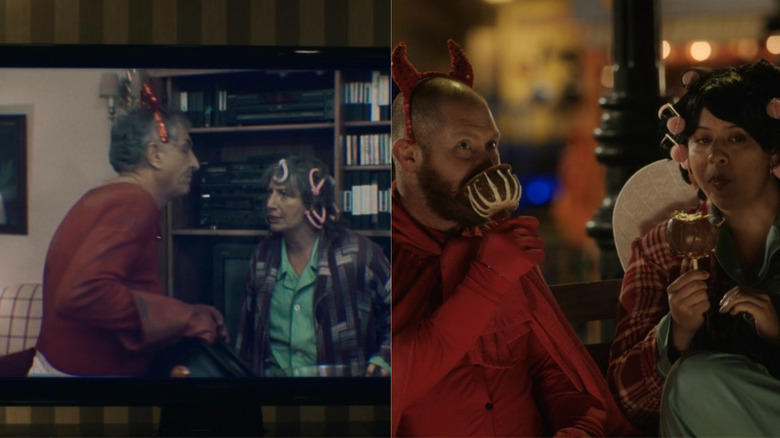 Disney
Just like before, "Hocus Pocus 2" spends a moment sending the Sandersons out into Salem and up to no good. During this wander through another advanced era they can't comprehend, Winifred Sanderson walks past a living room window and sees a couple sitting in front of the television while Salem is caught up in the Halloween fun. Here we have a moment that would leave the die-hard "Hocus Pocus" fans scratching their heads over what's on display when Winifred catches a glimpse of the original 1993 film on television. The scene in question is when the sisters come across who they believe to be the Devil (Garry Marshall in costume), and their fun is cut short when (listed in the credits as) "The Master's Wife" (Penny Marshall) catches her husband in the act.
It's a jarring moment that doesn't fit with the film, creating more of a dent in the story than anything. It seems even stranger that, shortly after this scene, Tony Hale's Mayor comes across a couple dressed as the elderly pair later on. Perhaps the smarter move would've been to stick with the latter nod to the original than the one that breaks the film's reality. Maybe cast a better spell next time?