Who Plays The Drag Queen Sanderson Sisters In Hocus Pocus 2?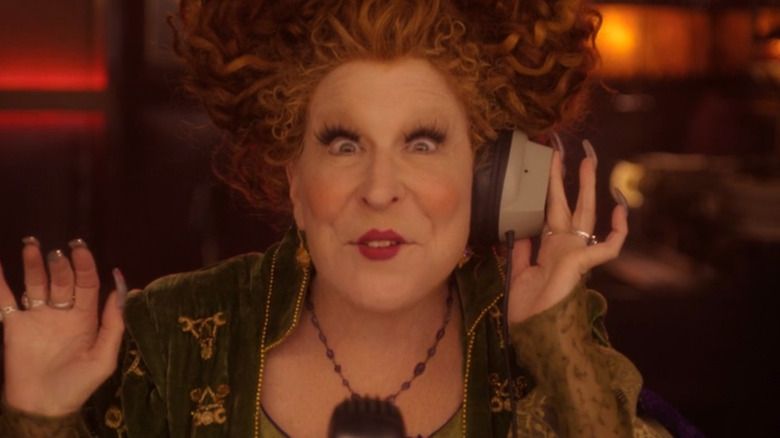 Disney+
Warning: This article contains mild spoilers for "Hocus Pocus 2"
"Hocus Pocus 2" is full of delightful nods to the original but never feels overstuffed with nostalgia. The Sanderson sisters are as oddly wicked as ever and sport their signature garbs and strut, although this time around, they have new forms of transportation. While Winifred (Bette Middler) rides a broom, Sarah (Sarah Jessica Parker) hops aboard a Swiffer Wet-Jet, while Mary (Kathy Najimy) rides on two Roombas.
The women jet off on their new rides to the Salem Scare Fest, where we get another hilarious throwback to the original. After losing a Sanderson sisters lookalike contest, Winifred, Sarah, and Mary perform a cover of "One Way or Another" by Blondie for a large crowd, just as they do with "I Put a Spell on You" in the first "Hocus Pocus." But before that performance, we see all the contestants for the contest on stage with the sisters. One of these trios is made up of drag queens, and anyone with a degree in Herstory will know exactly who they are.
The Hocus Pocus drag queens have all appeared on Drag Race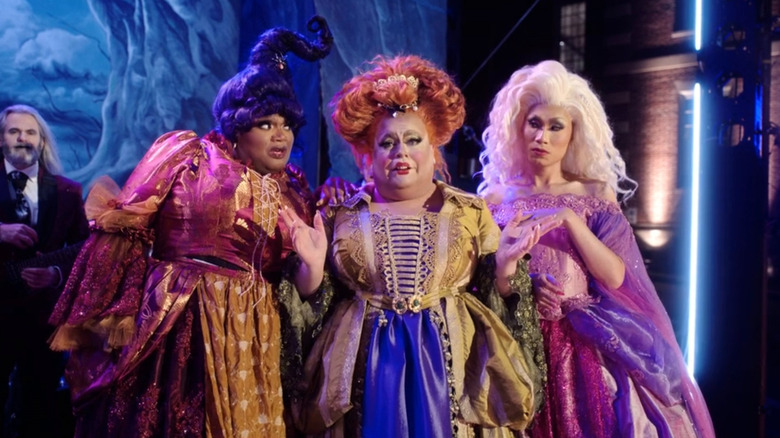 Disney+
The drag queen Sanderson sisters are made up of "RuPaul's Drag Race" contestants Ginger Minj, Kornbread Jeté, and Kahmora Hall. Ginger portrays Winifred; Korbread is dressed as Mary, and Kahmorah embodies the goofiness of Sarah.
The most tenured of the bunch is Ginger Minj, who debuted on Season 7 of "Drag Race" and finished as a runner-up. She returned for "All-Stars 2" but was sent packing early and finished in eighth place. Coming back for her third "Drag Race" appearance, Ginger was on the "All-Stars 6" cast and was a runner-up yet again. Kornbread Jeté was one of the boisterous personalities on Season 14 of "Drag Race," but she didn't last as long as she had hoped. Korbread came in 12th place but won the coveted Miss Congeniality prize. Kahmora Hall appeared in Season 13 and was the first queen sent home, landing her in 13th place.
"Drag Race" fans are used to the reality series' queens appearing in films and television shows after finishing their season. Shangela famously appeared in "A Star is Born" alongside Lady Gaga, while Ginger Minj appeared in the 2018 Jennifer Aniston flick "Dumplin'." It looks like Ginger stays booked and busy.