Who Plays Denise In Escape The Field?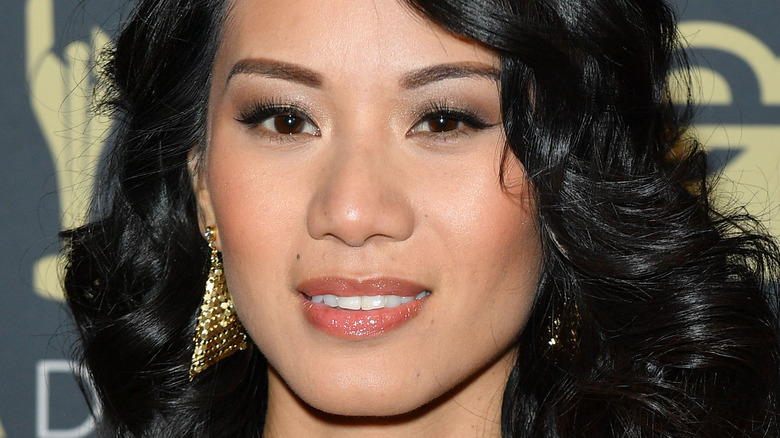 George Pimentel/Getty Images
The film "Escape the Field" was released in May with a multi-platform debut — in theaters, digitally, and on-demand (per Deadline). But you may have missed it, as it didn't make much of a splash. The reviews weren't stellar; Roger Ebert, for example, gave the survival-based suspense thriller just one star, and it also has a Rotten Tomatoes score of just 19%. 
However, if you're looking for a B-movie in the horror genre to watch, this might not be a bad choice for streaming on movie night. Some reviewers did think it delivered on the jump scares and featured a level of intelligence in the puzzle clues it metes out. In the Austin Chronicle, Matthew Monagle wrote, "There's something uniquely enjoyable about watching a second-tier title execute to the best of its abilities. 'Escape the Field' won't change the world, but it is a solid showing for everyone involved."
If you do decide to watch "Escape the Field," you'll see an ensemble of six characters try to find their way out of a cornfield in which they've been placed after being kidnapped, only there's an invisible monster chasing them and picking them off one by one. They must use some items they've been given (like matches, a gun with one bullet, and a knife) and solve puzzles to survive. The most well-known of the actors may be star Jordan Claire Robbins ("The Umbrella Academy"), but you might also be wondering who plays Denise, one of the other women in the ill-fated group.
Elena Juatco, a Canadian actress and singer, plays Denise
The role of Denise is played by Filipino-Chinese actress Elena Juatco — her first role after the pandemic, she told LRM Online, since "Escape the Field" was filmed in September 2020. In the same interview, she called her character "someone who clearly comes from wealth and privilege, this is clearly her nightmare," and added that Denise doesn't like the outdoors and is a bit bitter about her situation. 
However, Juatco told Muse TV Network that one of the reasons the role appealed to her is that there's a sense of mystery about her. Denise seems to know more about what's going on than some of the others trapped in the cornfield. As such, the role allowed her to use her imagination to create a backstory that brought her more fully into her character. And this is one of the reasons she enjoys horror.
"I've always wanted to do a horror film, I love the genre," she told LRM Online, noting that this was a bucket list item for her. "I'm the kind of person on Halloween who, the only thing I want to do is be by myself in a dark room watching horror movies and getting scared and fearing for my life."
Juatco got her start on Canadian Idol and is now a fixture on Canadian TV
In actuality, Elena Juatco has had a role in a horror comedy before: Her first credited role was in "Repo!: The Genetic Opera," the 2008 musical with Paul Sorvino and Paris Hilton (via IMDb). However, Canadian television viewers might know her best from the show that thrust her into the spotlight: "Canadian Idol." She appeared as a contestant in Season 2 of the show in 2006, ultimately placing sixth. She also returned in Season 4 as co-host of the program. 
"Every step I got further I couldn't believe it," she told brioux.tv about the experience. "To be nobody and suddenly be launched to the point everyone knows you. I remember being on a plane to Toronto for the Top 100 and thinking, 'Oh my God, someone thinks I'm worth a plane ticket to go somewhere and sing a song.' That just blew my mind."
Juatco's meatier roles have been in the short-lived Canadian series "Open Heart," in which she had a regular role as Dr. Scarlet McWhinnie, and "Jann," the fictionalized CTV series about performer Jann Arden. On that show, she plays Jann's manager, Cale. "I love the part so much," Juatco said. "I find it very freeing to play someone so fearless who doesn't care what people think of her, who's so laser-focused and goes after things that she wants. It's a very empowering character to play."
Juatco has guest-starred in a number of TV shows, including "Schitt's Creek," and she's been in several Christmas movies, including the upcoming "Mistletoe Match" and "Finding Mr. Right," which look like they will allow her to fulfill another bucket-list acting role: romantic comedy heroine (per The Cre8sianproject).