Looper Asks: Which Grey's Anatomy Death Was Most Upsetting? - Exclusive Survey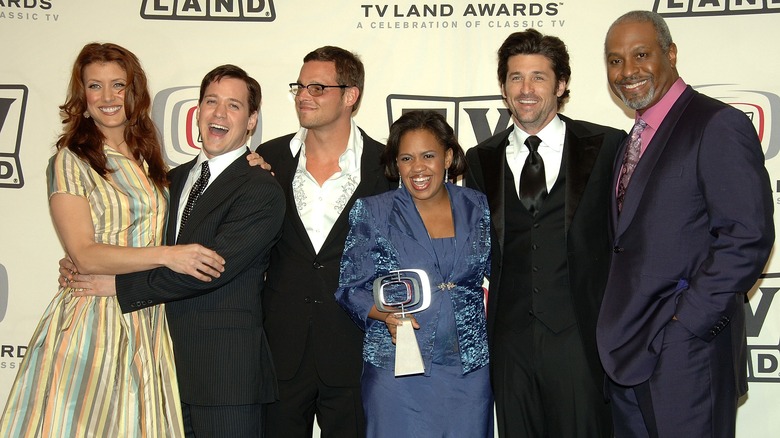 Stephen Shugerman/Getty Images
It takes a very special drama to survive multiple cast turnovers. Shows such as "Law & Order" and "ER" paved the way for shows like "CSI: Crime Scene Investigations" and "NCIS" by surviving and thriving after losing important figures who spearheaded some of their show's most memorable early hours. The folks at Grey Sloan Memorial Hospital are no strangers to the concept of having to start over from scratch — only three members of the show's original cast remain from its first season as it heads into Season 19 (per IMDb). While Ellen Pompeo (Dr. Meredith Grey), Chandra Wilson (Dr. Miranda Bailey), and James Pickens Jr. (Dr. Richard Webber) are currently the last actors standing from the show's first iteration, many more characters have come, won viewers' hearts, and left.
Death, naturally, often stalks the hospital's hallways. Doctors and patients alike have left "Grey's Anatomy" in a myriad number of ways, from long-term illnesses to sudden accidents. While each of those losses have been uniquely heartbreaking, some of those expirations have been completely unforgettable, sticking with viewers over time. But which death rents the hearts of our readers the most fiercely? We polled 613 of our American users to find out.
Fans still aren't over George's death
After polling 613 of our American readers, 24.31% found the death of George O'Malley (T.R. Knight) to be the most upsetting, and his passing took the top spot. George, known for his friendly clumsiness, died during Season 5, Episode 24, "Now or Never." George left the series to serve as an army medic during Season 5, but never made it to Iraq; he was disfigured in a bus accident while still in Seattle. "Now Or Never" leaves viewers teetering on the edge of a cliffhanger, unsure if a severely injured George or a cancer-stricken and flatlining Izzy Stevens (Katherine Heigl) will die. Season 6's premiere, "Good Mourning," confirms George's passing. Knight has returned to play George in several guest appearances as a ghost.
The runner-up is McDreamy himself, Derek Shepherd (Patrick Dempsey). Shepherd died due to medical incompetence after a car accident in Season 11's "How to Save a Life." His death drew 23.82% of the poll. Following him is Lexie Grey (Chyler Leigh), who died in a plane crash during Season 8's "Flight." She was the only major fatality in an accident that mangled Derek's hand and injured the pilot. Lexie dies from internal injuries holding the hand of Dr. Mark Sloan (Eric Dane), her boyfriend. Lexie's passing received over 20% of the poll.
Our next entry proves that even minor characters can heavily influence long-term storytelling. Denny Duquette (Jeffrey Dean Morgan) is a heart patient who falls in love with Izzy while waiting for a life-saving transplant. Though Izzy and Denny tentatively plan a future, Denny dies post-surgery, leaving Izzy devastated. Denny got over 14% of our viewers' votes.
Mark and Andrew round out the poll
In second to last place is Mark Sloane himself. During the Season 9 premiere, "Going, Going, Gone," Mark's injuries are worsened by exposure while the crash victims wait for a med flight out of the wilderness. He arrives at Seattle Grace in a coma, and seems to rally but ultimately crashes and ends up on life support. The doctors learn he has a Do Not Resuscitate Order but none of his colleagues are willing to pull the plug. Dr. Richard Webber is the one who removes him from life support, as was Mark's last wish. His death got over 11% of the vote.
Bringing up the rear is the passing of Andrew DeLuca (Giacomo Gianniotti) with 6.04% of the vote. DeLuca was stabbed multiple times during the "Station 19" episode "Train in Vain," then was taken into surgery on "Grey's Anatomy." Though a valiant effort was put in, Andrew died on the operating table. He did get to say a final goodbye to a comatose Meredith while they lingered in mutual purgatory.