Goodfellas And Sopranos Actors Who Were Also In The Godfather Movies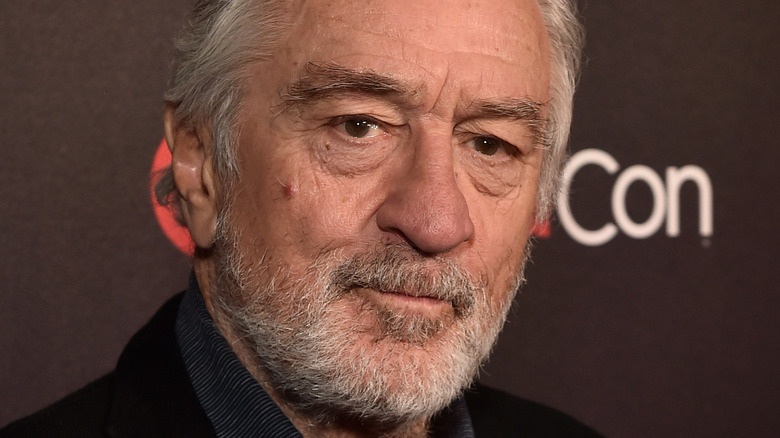 Alberto E. Rodriguez/Getty Images
While it was a Herculean feat to put Mario Puzo's 1969 novel "Godfather" on the big screen, Francis Ford Coppola's 1972 film resulted in 11 Academy Award nominations, including best picture. 
When a sequel was taking shape, Coppola didn't want to go through the headache again, so he recommended a young Martin Scorsese for the job. The studio rejected the choice, Coppola made demands they couldn't refuse, and lightning struck twice as "The Godfather Part II" was feted with the same number of nominations, becoming the first sequel to ever win best picture.
Taken as a pair, the two "Godfather" films are considered among the greatest of all time. While the third installment from 1990 was much derided, it still was nominated for seven Academy Awards, and Coppola's recent re-edited cut has found more receptive audiences and admiration.
The trilogy has had a major influence on cinema, television, and culture ever since their release. Martin Scorsese called the original "an epic Hollywood picture, an old‐fashioned movie — in the good sense — like 'Gone With the Wind,' only better," while "Part III" actor Joe Mantegna has said, "For a guy like me, 'The Godfather' was the Italian 'Star Wars'." One film and one television series that followed in its wake — Scorsese's "Goodfellas" and David Chase's "Sopranos" (which he said was "a mob show about the first generation of people who were influenced by the movies about the mob") — are the closest things to match the brilliance of the "Godfather" films. Not only do they naturally owe a debt of gratitude to Coppola's masterpieces, but to their casting director too, as both have employed some of the same talented actors from the three films into their own masterworks.
With that in mind, it's time to pay tribute to those lucky souls — the "Goodfellas" and "Sopranos" actors who were also in "The Godfather" movies — who have become made men multiple times over. Including three who hit the trifecta, being a part of this holy trinity.
Robert De Niro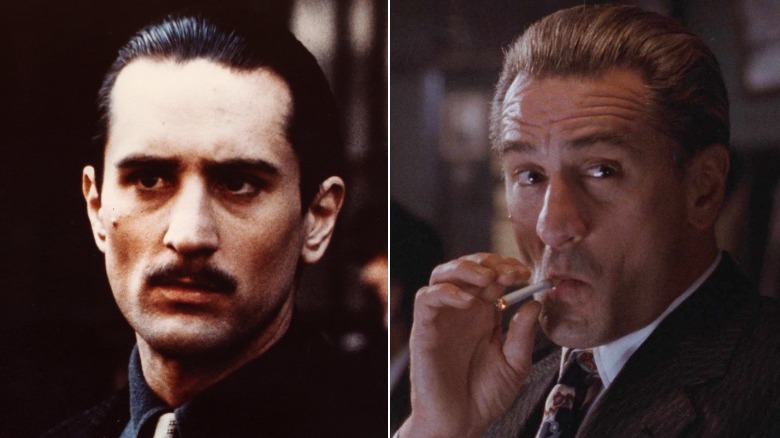 Munawar Hosain/Getty Images, Warner Bros
Robert De Niro had originally auditioned to play Sonny in "The Godfather," but was instead cast to play Clemenza underling Paulie Gatto. When Al Pacino was finally greenlit to play Michael Corleone, De Niro asked to be let go from the picture so he could take Pacino's now abandoned role in another mafia picture, 1971's "The Gang That Couldn't Shoot Straight."
In "The Godfather Part II," De Niro was impossibly tasked to play a younger Vito Corleone, and knew he had large shoes to fill, but told the AP that he "didn't want to do an imitation of Brando." Instead he put in a lot of work, brushed up on Sicilian, visited the town of Corleone, wore a mouthpiece to push his cheeks out more and adapted Brando's hoarse delivery. In the commentary of the film, Coppola admitted at the time that it was risky to cast the up-and-coming De Niro, but said that he "was very taken with his bearing, and I thought he was very stately and nice looking. And he brought back little details from Marlon's performance but not in an obvious way, but a subtle way." Coppola's faith in De Niro paid off, with the brilliant performance winning a best supporting actor Oscar.
De Niro then when on to have an amazing run of collaborations with director Martin Scorsese, including "Mean Streets," Taxi Driver" and "Raging Bull." When Scorsese was developing "Goodfellas," the studio circled John Malkovich for the part of Jimmy Conway, but he passed on the role, opening the door for De Niro. The actor told GQ, "One of the hard scenes for me was when I heard that Joe [Pesci]'s character was killed — to be crying and emotionally really upset. I tried my best."
De Niro would re-team with Scorsese for spiritual sequel films like "Casino" and "The Irishman." They are currently slated to reunite again for 2023's "Killers of the Flower Moon."
Dominic Chianese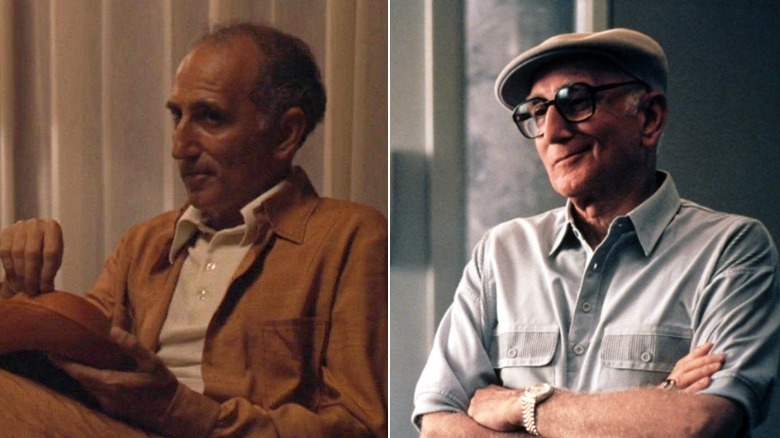 Paramount Pictures, Getty Images/Getty Images
Dominic Chianese (pronounced key-ah-nay-zay) once worked at a bank with George C. Scott, and later his former co-worker helped him land his first TV credit. Chianese then worked in theater for 20 years, and was so involved with a play that he turned down a potential appearance in "The Godfather," recalling to Playbill that he didn't "want to be bothered with these films.'"
When it became a phenomenon and Coppola came calling again for the sequel, Chianese couldn't refuse and became Hyman Roth's right hand man Johnny Ola. He added "that gave me a film career," which included working opposite Al Pacino on "Dog Day Afternoon," and "...And Justice for All," as well as appearing in the Pacino directed "Looking for Richard."
25 years after playing wise guy Johnny Ola, he got even wiser with age, playing Tony's sharp tongued Uncle Junior on "The Sopranos." Chianese strapped on giant glasses, and played Junior "almost like a kind of wimp," adding to Salon that as a capo, he also "gave him a kind of swagger." He told Edge Magazine that he "drew him from my real life experiences ... subconsciously, it was probably my father, my uncle and all the guys around the neighborhood." Junior became a fan favorite (with off-color "Godfather" jokes), and a critical one too, earning the only two Emmy nominations in his career for outstanding supporting actor in a drama series.
The 91-year-old actor is keeping busy; he recently appeared in the short film "The Old Guitarist," and still performs classic songs on stage.
Frank Sivero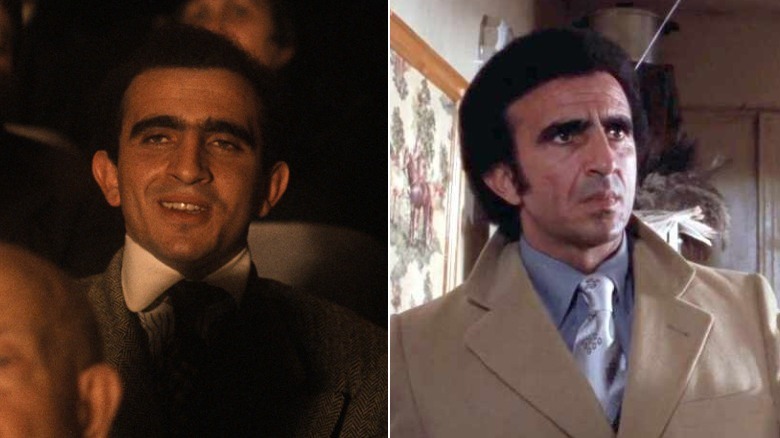 Paramount Pictures, Warner Bros
A natural born Sicilian, and the son of a winemaker and olive oil producer, Frank Sivero moved to New York when he was 11. While honing his cooking skills working at his father's pizzerias, he eventually caught the acting bug and worked to lose his Sicilian accent, trading it in for a Brooklyn one.
While he is reported to have been an extra in the Sonny-Carlo street fight in the first "Godfather," he brought his homemade pizzas to Coppola for his "Godfather II" audition, and not only walked away with the key role of young Vito Corleone's first consigliere Genco Abbandando (and future olive oil business namesake), but also became screen partner Robert De Niro's dialect coach. That same year, he appeared opposite De Niro in Scorsese's "New York, New York."
Thirteen years later he would reunite with both De Niro and Scorsese to play comic relief (and eventually frozen to death) Frankie Carbone in "Goodfellas." In his own humble opinion, without him, "'Goodfellas' is not a classic," adding "In every scene that I'm in, that is very gruesome ... I took that gruesomeness, now where people didn't go home and have nightmares over it .... I took that tension away." Scorsese enlisted him one more time for 2004's "The Aviator."
While he turned down a role in "The Sopranos," and never watched the series, he couldn't refuse the offer to appear in the music video for Mariah Carey's "Honey." He has been very protective of his "Goodfellas" character Frankie, suing both Fox (for possibly appropriating his likeness for "The Simpsons" mafia character Louie) and a deli (for using his "Goodfellas" name and image for an Italian sandwich).
Vittorio Duse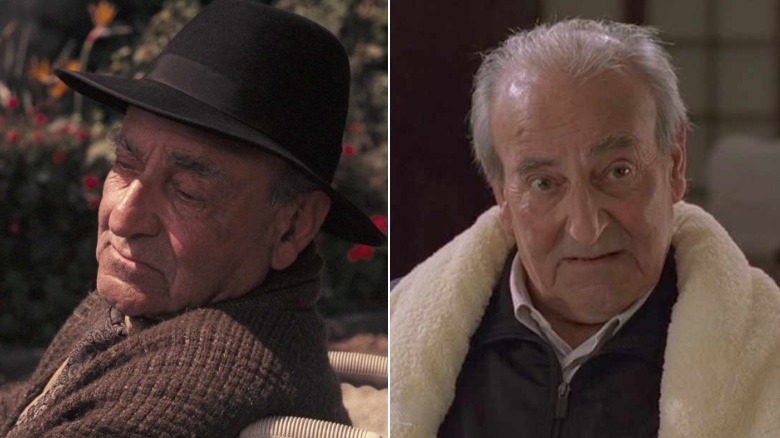 Paramount Pictures, HBO
When the character Don Tommasino made his third appearance in as many films in "Godfather III," the original actor who played him in the first had passed away a year prior to filming. Coppola said on the commentary for "III," "This is a new actor playing the part that Corrado Gaipa played, if you remember the old uncle that took care of Michael when he stayed at the villa." It fell on fellow Italian actor Vittorio Duse to sit in Tommasino's empty wheelchair, and eventually get assassinated, setting up Michael's ultimate vengeance in the final chapter.
A veteran actor who appeared in works as varied as Visconti's "The Leopard" and "The Young Indiana Jones Chronicles," Duse was also a director and screenwriter. One of his final roles was also probably his second best-known to American audiences: that of Don Zi Vittorio in the "Commendatori" (Season 2, Episode 4) episode of "The Sopranos," where the gang watch a bootleg version of "The Godfather II" and Tony mentions that one of his favorite scenes is where Vito visits a villa in the old country. When Tony and crew visit Naples, they seek an audience with Vittorio, but are greeted by a weakened version of the man, bound by a wheelchair, and mumbling about the names of New York area bridges and highways.
Duse died in 2005, at age 89.
Richard Bright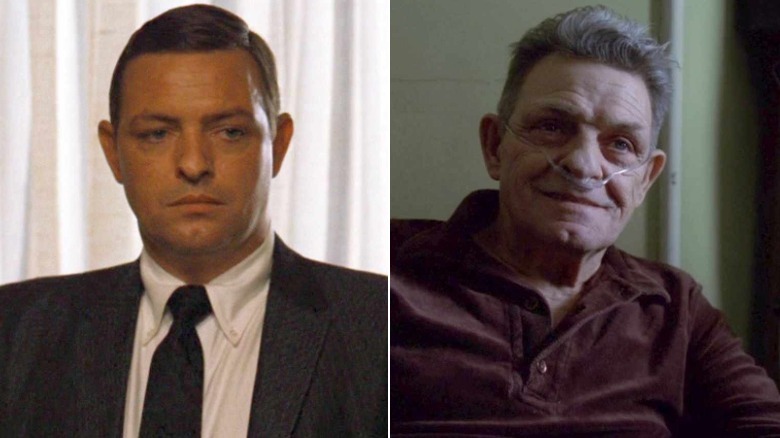 Paramount Pictures, HBO
There are only five actors who appeared in all three "Godfather" films: Al Pacino, actress (and Coppola's sister) Talia Shire, Diane Keaton, Tere Livrano (who played Tom Hagen's wife) and Richard Bright. Bay Ridge, Brooklyn-bred Bright first crossed paths with Pacino, playing his brother, in 1971's "The Panic in Needle Park," and a year later became his bodyguard and assassin Al Neri in "The Godfather." 
Bright would reprise the same enforcer role in all three films, to which The Independent praised that "he is one of the most powerful and suggestive characters, sitting or standing in the shadows." Although he apparently pleaded with Coppola to expand Neri's quiet role in the series (per The Herald), his character was involved in some of the most memorable moments, like closing the door on Keaton's Kay in the original film, sending Fredo off to sleep with the fishes in the second, and taking care of the Archbishop at the Vatican in the third. He would later share billing with Keaton again in "Looking for Mr. Goodbar," De Niro on "Once Upon a Time in America," and with Pacino and Chianese on stage.
He played plenty more guys (both bad and good) in his career, including grizzled old hitman Frank Crisci in a Season 4 episode of "The Sopranos." In Bright's single scene, one of his fellow assassins tells the tale of how Crisci decapitated a man, appropriately named Tommy Neri.
Bright was hit by a bus and died in 2006 at the age of 68. He is survived by his wife and co-star Rutanya Alda, as well as their son Jeremy.
Tony Lip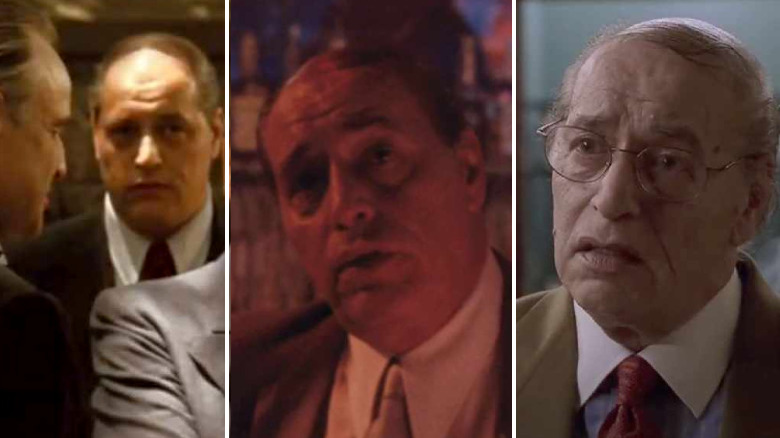 Paramount Pictures, Warner Bros, HBO
Frank Anthony Vallelonga grew up in the Bronx, and as a wise-talking fellow he earned a nickname that stuck: Tony Lip. He burned through plenty of vocations — minor league ballplayer, army man, hairdresser to the Rockettes — and one that would have him hobnobbing with celebrities like Sinatra and Dean Martin: Bouncer and then maitre'd at the famed Copacabana club. 
At the club he caught the attention of Coppola, who was searching for just the right people to fill the background in "The Godfather." It became the acting debut of Lip and his two sons. He'd then go on to play all sorts of unsavory bit characters (and was even Telly Savalas' double on "Kojak"), even sharing a call sheet with Pacino again for "Dog Day Afternoon" and "Donnie Brasco," as well as Scorsese for "Raging Bull" and a decade later, "Goodfellas." Lip briefly appeared in the infamous crew introduction scene as Frankie, who asks Henry Hill, "Staying out of trouble?"
Acting fame came late in life to Lip when he was tapped to play family crime boss Carmine Lupertazzi on "The Sopranos" for 11 episodes, splashed over seasons 3 through 6. He channeled his experiences from the old neighborhood and poured them into the character, telling The Record, "The bosses of families in the Bronx were low-key, very soft-spoken, and never got angry. So that's how I decided to play Carmine."
Lip's son (and collaborator) Nick knew his life was rich and ripe for storytelling, proudly telling NJ.com, "I could write five movies about my father," and hit Oscar gold telling the one that became "Green Book." The best picture winner, which chronicled Lip's experience driving African-American musician Don Shirley throughout the segregated south, was released five years after Lip's death in 2013.
John Aprea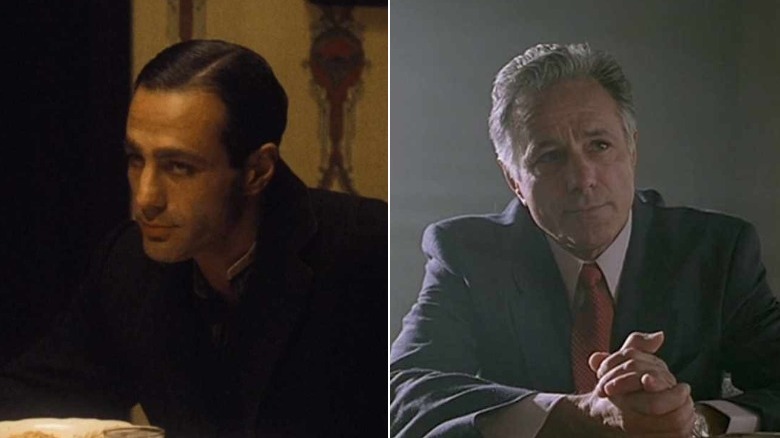 Paramount Pictures, HBO
Jersey boy John Aprea was often "stereotyped as the bad guy," as he told The Shreveport Journal in 1988, "because I'm dark and Italian I tend to get cast as the gangster type." One gangster he auditioned for was to play Michael Corleone in "The Godfather," but he had to wait it out before getting cast to play young Tessio in "The Godfather II." 
Aprea said the role, playing a younger version of Abe Vigoda and not speaking a lick of English opposite Robert De Niro, was a "high point" in his career, and he truly appreciated working for a "perfectionist" like Coppola.
Aprea had turns in other films such as "Bullitt," "The Stepford Wives," "New Jack City," the mini-series "The Gangster Chronicles," and shows such as "Another World," "Falcon Crest," "Knotts Landing," "Full House" (as John Stamos' "dad"), and even a single episode of "The Sopranos." In the finale of Season 1, Aprea played U.S. Attorney Gene Conigliaro, who puts the pressure on newly-arrested Junior to spill the beans on Tony. Aprea told L'Italo-Americano "The Sopranos" success "is a demonstration of what still today continues to attract more viewers: the chance to break free from a state of injustice taking advantage of the protection of the stronger individuals."
To this day, playing young Tessio is near and dear to Aprea's heart. He told The Digital Journal in 2020, "'The Godfather: Part II' just stays with you, it's a part of who you are. It is one of the best films ever made ... each time it comes on television, I tell myself 'I'm not going to see it again' but before I know it, I've watched every minute."
Frank Albanese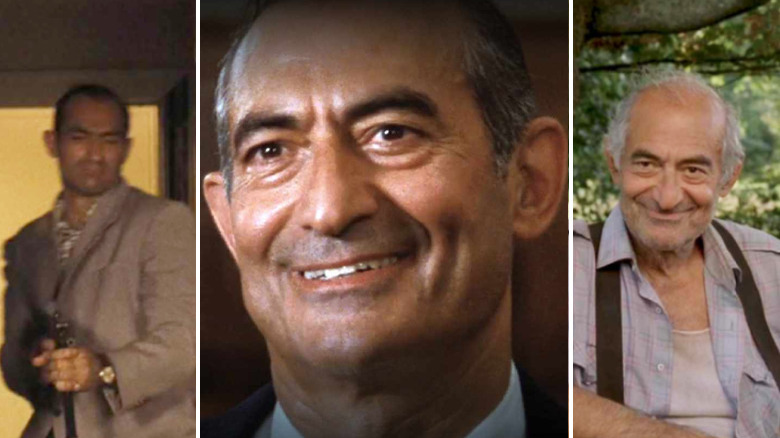 Paramount Pictures, Warner Bros, HBO
When Frank Albanese, protégé of boxer Rocky Graziano, had to bow out of the ring for good due to a brain injury, he had to find a new line of work. While he also worked as a longshoreman, Graziano helped Albanese land his first acting assignment — a minor role in the 1968 Martin Ritt/Kirk Douglas mafia drama "The Brotherhood," which led to more roles in similarly-themed films over the next four decades, including the holy mafia trifecta.
Albanese had the rare opportunity to appear in two different "Godfather" films as two different characters. In 2008, he said, "I was the hitman in 'Godfather I,' come busting through the room, shot the guy and girl in bed ... he died happy. And 'Godfather III,' I was the grand Marshall, leading the parade and then they have this big shoot out there. Everybody's running."
In a film of many unforgettable faces, Albanese's stood out in "Goodfellas," sporting one of the widest smiling grins as young Henry Hill's crooked lawyer. He said in a 2010 interview, "Even though it was a small scene, I really loved doing 'Goodfellas' when ... I gave the judge the high sign .... Martin Scorsese, in my opinion, the best director there is."
As for his most memorable role, he said that it "goes without saying, 'The Sopranos,'" where he played Uncle Pat — who owned a farm where bodies were buried and would frequently forget their location. He added, "I really enjoyed doing that. Working with the top professionals, top of the line actors, directors."
Albanese died in 2015 at age 84.
Vito Antuofermo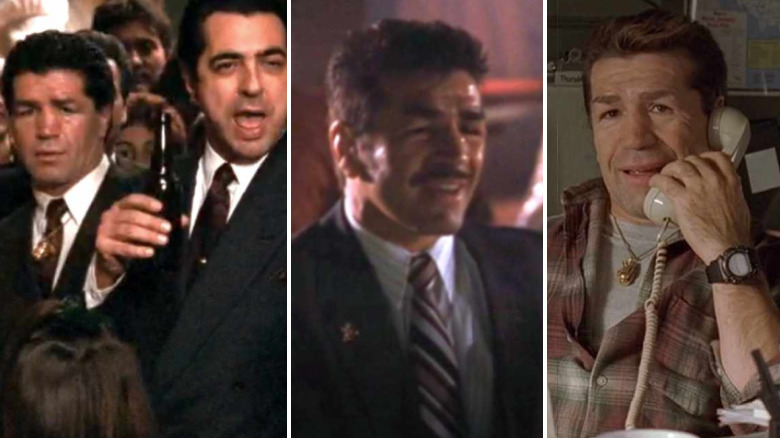 Paramount Pictures, Warner Bros, HBO
Moving from Italy to America with his family when he was 17, Vito Antuofermo made a name for himself in the boxing ring as an undisputed World Middleweight Champion, even going fist-to-fist with Marvin Hagler twice. When his career winded down in the mid-'80s, in addition to being Donald Trump's bodyguard, running Coca-Cola delivery routes and being a longshoreman, he began studying acting at the Lee Strasberg Institute; as he recalled to Newsday in 1988, "It's like I felt about boxing, I knew I was going to make it."
By 1990, he made quite the one-two debut punch, playing heavies in both "Goodfellas" and "Godfather III." In the former, he briefly played a "prizefighter" who greets Joe Pesci's Tommy character with a bright smile and a handshake in a club. For his work in Coppola's film, he got to flex a bit more muscle and acting chops as "Joey Zasa's bulldog," Anthony "The Ant" Squigilaro, known to "dips his bullets in cyanide." Antuofermo recalled to Sports Illustrated in 2009 that Coppola wanted him to channel his fighting mood as he was about to take on Hagler back in 1979, and project it opposite his scene with Andy Garcia, to which "I accidentally hit him right in his f****** nose."
For Antuofermo, "The mob, fighting, being a wise guy — those types of roles are easy for me," and he further padded his resume with a rare feat, appearing in those two aforementioned films as well as his last credited role, on "The Sopranos," as Aprile crew member Bobby Zanone, who doesn't mind picking up people's garbage, or returning it back to them. However, he later admitted to Boxing News that his acting career was "not enough to make a living out of."
Lou Martini Jr.
For Lou Martini Jr., watching "The Godfather" is like looking at a beautiful, bittersweet old family album. His father, Martini Sr., was cast to play future sleeper with fishes Luca Brasi, but he shot for one day before falling ill and later dying, and the role was re-cast with Lenny Montana. However, his father was able to get many members of his family work as extras, including his 9-year-old self. 
He then took a long break from the industry, but has made up for lost time in the 21st century, racking up over 150 screen credits. However, it didn't seem like he would ever get cast on "The Sopranos," as he told The Brooklyn Paper in 2006 "I was 0 for 13" on auditions (he came close to playing Little Carmine), but finally landed one for the sixth and final season of the show as nebbish optometrist Anthony Infante. His Tony/Johnny Sack go-between part, aka "The Lord of Lenses," lasted 4 episodes, and Martini summarized his character to the Tacoma News Tribune in '06 as someone who "could be a dream of his to maybe be a gangster one day," but adding, "he's pretty happy selling Armani sunglasses."
The actor, who also appeared in Scorsese's "The Irishman," has claimed to be "the only actor to have a speaking part in 'The Godfather' and 'The 'Sopranos.'"
Nick Vallenlonga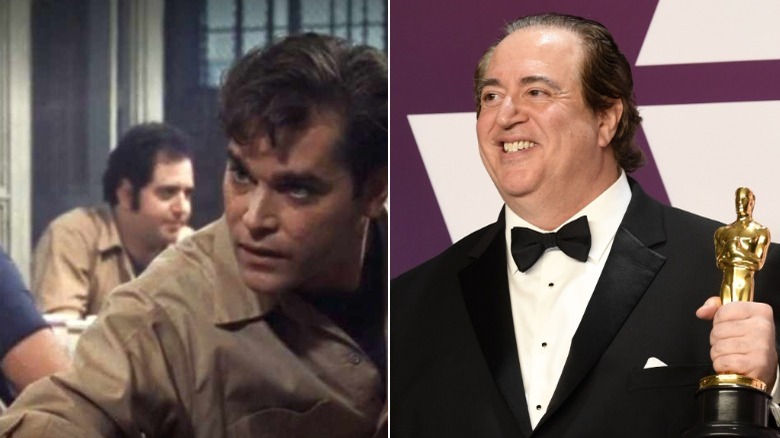 Warner Bros, Frazer Harrison/Getty Images
As the son of Tony Lip, Nick Vallenlonga has both lived in the shadow of his beloved father, as well as benefited from it. When his dad caught the eye of Coppola and his casting director at the Copacabana, looking for just the right background players for the opening wedding scene of "The Godfather," they asked if he had any children who could also join in on the nuptial festivities.
Vallenlonga recollected in 2012 that he got to hang out with James Caan a lot, and relished being in Brando's presence, saying, "I just studied him, watching him put that thing in his mouth to make his jaws open up. It was really interesting running around following the cameras." He added "That was the first time I saw how a movie was made and I was hooked."
He did further background work and had bit parts in films like "East Money," "Splash," "Prizzi's Honor," and was a prison mate of Henry Hill's in "Goodfellas," who watched Hill's wife take her jealous anger out at him by throwing around his contraband. While he was not in "The Sopranos," he did portray Carmine Caputo in the prequel film "The Many Saints of Newark."
Vallenlonga had also branched out into producing, directing and writing, with his screenplay for "Deadfall," directed by Coppola's nephew Christopher and starring his brother Nicholas Cage. He channeled all of his efforts into bringing the true life story of his father's eye-opening southern road trip with Don Shirley into a feature film, writing and acting in 2018's "Green Book." While his father (and Shirley) didn't live to see the film, the son did him proud by earning two Academy Awards, for best screenplay and picture.
Richard Maldone
Richard Maldone's diverse resume includes being on both call sheets and (almost) rap sheets. One of the earliest roles for this New York born actor was uncredited, playing one of Joey Zasa's bodyguards in "The Godfather III"; he would later appear in (not the Kevin Smith film) "Jersey Girl," "Wannabes," and "Analyze That."
He landed his best known role, Albert Barese on "The Sopranos," by reportedly bypassing security on a shoot, approaching James Gandolfini and saying "Someday I'm going to play on this show." He played the "parakeet" acting capo and later captain of the Barese crew for ten episodes. Maldone got into real life trouble in 2003, arrested with others in a large sting operation for trying to sell the animal tranquilizer ketamine to an undercover cop. His lawyer said, "The charge against Mr Maldone is about as fictitious as the character that he plays on 'The Sopranos'," and the defendant himself told the Post that "I've been on the street playing cops and robbers most of my life. I am who I am. But a drug dealer? Never."
While the charges were ultimately dropped, he moved on from the show and industry, saying "It's been good to me. But then again I got this hassle also because of the name. It's time to move on." He has since become a fitness coach, chef and DJ, but still finds time to give back to fans, appearing at SopranosCon, and even reuniting with fellow Zasa bodyguard Vito Antuofermo.
Catherine Scorsese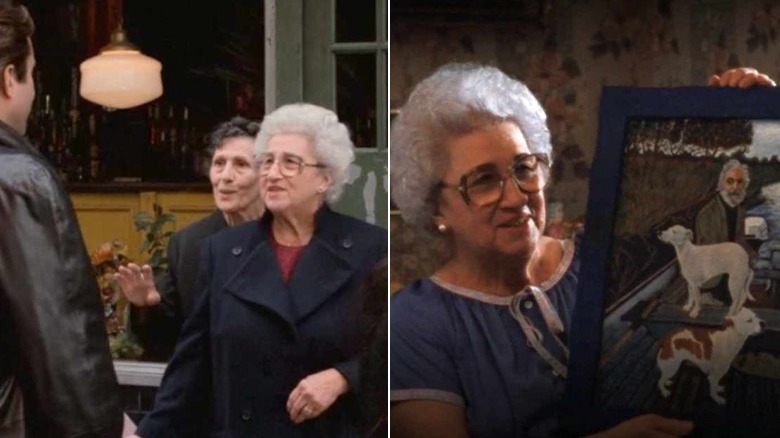 Paramount Pictures, Warner Bros
It goes without saying that without Catherine Scorsese there would be no Martin Scorsese (he told NPR about her influence on his work, as "she had a way of telling stories with a great sense of humor and good timing"). The Scorsese matriarch was not only a presence on her son's film sets, feeding them home cooked meals (De Niro apparently told her she makes the "best pizza in the world"), but also a presence in many of his early films as well, including his 1974 documentary "Italianamerican." When David Letterman asked if she enjoyed being in his movies, she said "Well I have to be in the films, otherwise he threatens me."
One of her most memorable parts was in her son's "Goodfellas" playing Joe Pesci's mother, who welcomes in his character Tommy, De Niro's Jimmy and Liotta's Henry (unbeknownst to her) after disposing of a body. The scene was largely improvised, except for talking about a painting she did (which was painted by author/screenwriter Nicholas Pileggi's mother), and Martin told EW it worked with "the warmth between all of them and particularly my mother playing his mother; he may be a psychopathic killer, but he's still her son."
In the same year, she also appeared in Coppola's "Godfather III," playing a lady who voiced her concern to Andy Garcia's Vincent that old neighborhood is no longer safe. In the commentary for the film, Coppola said that Catherine was "a most wonderful lady, and a great cook, and a wonderful actress." She passed away in 1997, and Coppola added that she was "really a delightful lady that we lost. But I'm so happy to have her in the movie so I know can see her if I miss her."
Joe Mantegna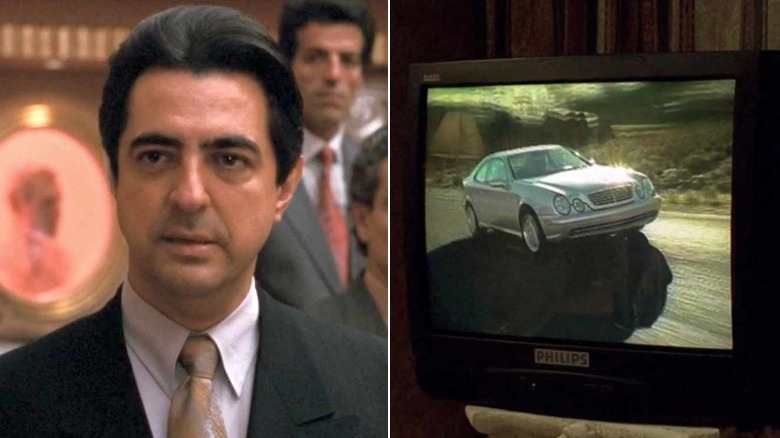 Paramount Pictures, HBO
When native Chicagoan Joe Mantegna saw the original "Godfather" in his twenties, he could only dream of being a part of the action. His dream came true when he was cast to play "Godfather III" antagonist Joey Zasa (the last name was borrowed from Coppola's grandmother's maiden name), which he split time filming along with Woody Allen's "Alice." Mantegna described Zasa to The New York Times in 1990 as a lion of the urban jungle, and one "that outwardly dresses like a million dollars, but inwardly dresses like $50."
The David Mamet player (he originated the Richard Roma role that Pacino played in the film version of "Glengarry Glen Ross") is a three-time Emmy nominee, including playing Pippi De Lena in the mini-series based on Mario Puzo's "The Last Don." Mantegna has also become rather animated, donning sharp suits as gangster Fat Tony on the "Simpsons." "What surprised me and delighted me was that the character seemed to resonate for them and for the public enough that they kept wanting to bring the character back," he said in a 2020 interview. "It's now turned into my longest running character."
One gig he never auditioned for, and didn't even realize he was a part of, was background television noise on the season 3 "Sopranos" episode "He Has Risen." Mantegna was the voice for Mercedes-Benz ads for half a decade (and even got a car from the deal), and one caught the eye and ear of Tony Soprano who was sold on the idea of owning one. In 2020, Mantegna told People TV, "The only way I found out I was even in this was that I got a residual check in the mail that said for 'The Sopranos'," to which he added, "I get like $10 a year from this."