The Classic Christmas Lights Scene On Stranger Things Was Almost Completely Different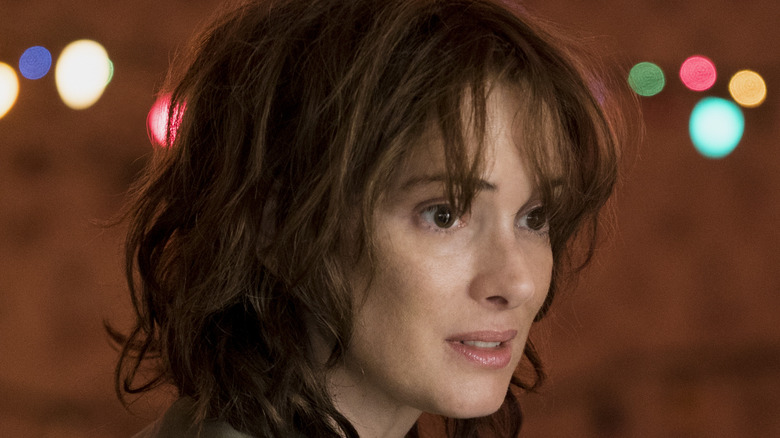 Curtis Baker/Netflix
"Stranger Things" has been a mega-hit since first premiering on Netflix in 2016. It has helped launch the careers of its young stars, and it's also turned Christmas lights into a pop culture phenomenon (via NME).
To recap, Season 1 begins with the disappearance of Will Byers (Noah Schnapp) in the quiet, fictional town of Hawkins, Indiana. Teenager Barbara Holland (Shannon Purser) disappears soon after. As police search for the young Hawkins residents, Mike Wheeler (Finn Wolfhard), Lucas Sinclair (Caleb McLaughlin), and Dustin Henderson (Gaten Matarazzo) meet Eleven (Millie Bobby Brown), who has just escaped from Hawkins National Laboratory where they are hiding an entrance to the Upside Down. 
Meanwhile, Joyce Byers (Winona Ryder) is a mom on a mission to save her son, and a sudden flicker of the lights helps her discover a way to communicate with Will. She uses a ball of Christmas lights to ask him "yes" or "no" questions before transitioning to a wall-sized depiction of the alphabet, where she hopes to get more detailed answers. The heart-stopping moment is now synonymous with the show, but it wasn't always written this way.
The Christmas lights were not always meant for Joyce and Will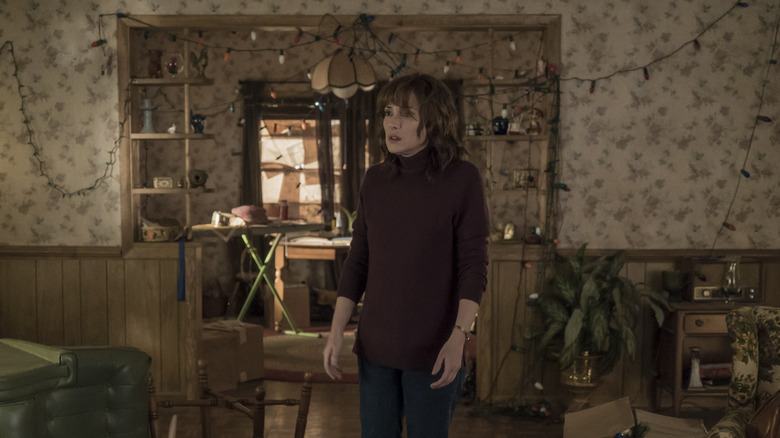 Curtis Baker/Netflix
Show creators Matt and Ross Duffer revealed to Entertainment Weekly that it wasn't always Joyce Byers who was meant to find this secret form of communication between the human world and the Upside Down. And those lights were not always meant for communicating with people, in particular. "In our original pitch to Netflix, the teenagers used Christmas lights to track the monster. Somewhere along the line, one of our writers (we can't remember whom, but we love him or her!) suggested that Joyce instead use these Christmas lights to communicate with Will," they said. 
The now iconic moment plays out in Season 1, Episode 3, "Chapter Three: Holly, Jolly." While Joyce gets some of her questions answered via holiday décor, the scene ultimately ends with Will telling his mom to run as a Demogorgon breaks through the walls of the Byers' home, giving Joyce her first real glimpse at what's lurking beneath Hawkins. "However this idea came about, we're just happy it did because seeing Winona react with joy, then terror, then hope to a glowing ball of Christmas lights is now one of our favorite scenes from the show," said the Duffer Brothers. "Stranger Things" is streaming on Netflix.