Stunning Fan Art Brings Melissa Benoist To Life As The Fantastic Four's Sue Storm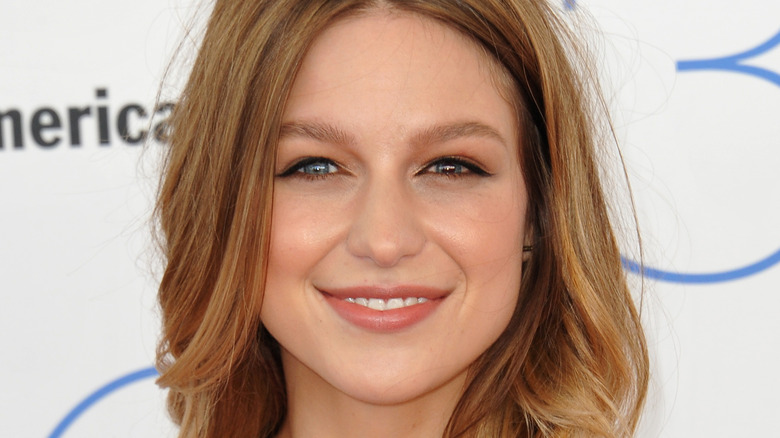 Featureflash Photo Agency/Shutterstock
Melissa Benoist knows a thing or two about being a superhero, having previously shown off her heroics in all 126 episodes of the television show "Supergirl" as the titular character. As Superman's cousin, Supergirl possesses all the powers of a Kryptonian on Earth — that is, she can fly, is nigh invincible and immensely strong, and has exceptionally powerful eyesight that can see through most objects, as well as project a concentrated beam of heat.
Marvel's first family, probably best known by the moniker the Fantastic Four, has long struggled to become just as popular as Marvel's Avengers or DC's equivalent, the Justice League. Featuring four people who gain various abilities after being exposed to cosmic rays, the Fantastic Four consists of the super stretchy Reed Richards, the invisibility-projecting Sue Storm, the rocky and durable Ben Grimm, and the fire-controlling Johnny Storm. It seems, though, that an artist has managed to combine both Benoist and the female member of the Fantastic Four in a stunning image that makes us hope to soon see the character once again on-screen.
Benoist looks absolutely fantastic in Sue Storm concept art
Showing off their work on Instagram, TheImaginativeHobbyist shared an image of Melissa Benoist as Sue Storm, captioning the picture, "Word on the street is that @MelissaBenoist is being considered for Sue in @MarvelStudios' Fantastic Four reboot, here is a concept imagining what she could look as [t]he Invisible Woman." The image shows off a fairly close crop of Benoist as Sue Storm. She is holding up her hand and seems to be activating her powers of invisibility based on the gradient-like effect on the right side of the image. Whether or not Benoist actually gets the role of Sue Storm is up for debate, but at least this image helps fans imagine what a Benoist-helmed Sue might look like.
Of course, the speculation that Benoist is being considered for the role of Sue Storm is not new. In July 2022, Inverse reported several rumors surrounding the secretive upcoming "Fantastic Four" movie, including this one. Whatever happens, Benoist definitely knows how to channel her inner superhero. Speaking with UPI after the conclusion of "Supergirl," the actor said, "I feel like a wholly different person than I was when I started the show. 'Supergirl' really challenged me to become a better person as Melissa." Considering the above image and Benoist's dedication to growing as a person, one can only hope that she eventually does land the role of Sue Storm.