Is Gordon Ramsay's Hell's Kitchen Staged?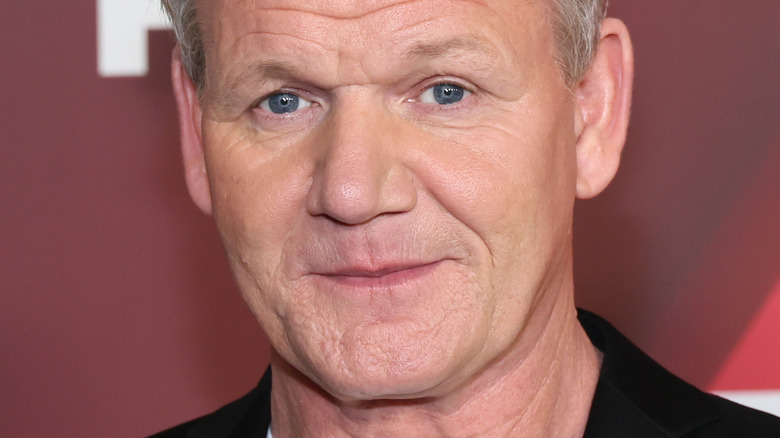 Dia Dipasupil/Getty Images
The emotional spectrum of television cooking programs is as vast as it is infinite. On the one end, you have "The Great British Bake Off," calm, almost pleasantly numbing, inducing the same feeling one gets when eating too many sweets. Further along, perhaps you find more whimsical, slightly aggressive competitions — the uncanny void of Netflix's "Is It Cake?" Then there is the comically tempered professionalism of the Food Network's "Iron Chef America." However, at the opposite end of the spectrum is an overcooked chicken breast shooting through the air, thrown from a NSFW kitchen — this is the world of Gordon Ramsay's "Hell's Kitchen."
The Fox reality cooking series is a winner-take-all elimination contest where chefs from across the country come together under great professional pressure to compete for the position of head chef and a handsome cash prize. Though the work on display is undoubtedly impressive, what truly sets this show apart from a crowded field of competitors is the sheer rage often on display. From contestants fighting with each other to fighting with the customers, the show has enough authentic drama to rival the "Jersey Shore" — and that's before taking into account Ramsay's unique talent for hell-raising monologues. Some may wonder if it's even possible for a person to be that intense all the time, especially when so few reality TV shows are actually real.
It doesn't always pay to be the best
"Hell's Kitchen" is staged to some degree, ranging from aesthetic and presentational aspects to the show's grand prize. As many viewers likely know, the Hell's Kitchen from the show is a TV set, not the genuine Hell's Kitchen restaurant (via Good Housekeeping). Consequently, the prize they're fighting for isn't a head chef position at a fictional restaurant. As Parade notes, contestants are given a cash prize of $250,000 and the opportunity to work at a high-end restaurant at the discretion of Gordon Ramsay. 
In regards to the show's actual content, most of it is real. None of the contestants are actors, nor are their interactions scripted — instead, as Ramsay has stated to Emmy Magazine, the show is cast to instigate actual conflict. By a flippant estimate from Ramsay, the cast is split 50/50 between talented cooks and outrageous characters. This does mean the best chefs aren't always picked, which some may argue qualifies as partial staging. 
The contestants cook on the show, though a former "MasterChef" competitor stated in a Twitch reaction that the show's producers wouldn't let them taste their dishes, lightly alleging that it was done to allow the producers to keep entertaining chefs that made poor-tasting food. The implications of this are two-fold — the judges aren't always in control, and the best-tasting dishes aren't always winners. Though this exact claim hasn't been made against "Hell's Kitchen," it is worth noting as "MasterChef" and "Hell's Kitchen" are executive produced and hosted by Ramsay. 
Is Chef Ramsay really that angry?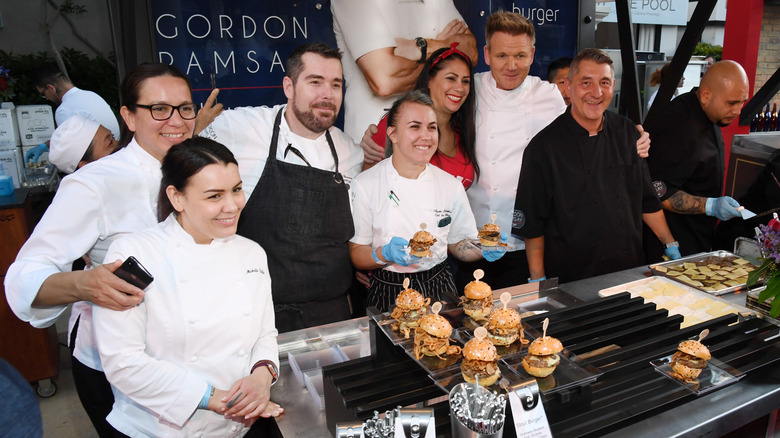 Ethan Miller/Getty Images
Some have described Gordon Ramsay's reactions on the show as staged, exaggerated, or otherwise intentionally over-the-top. Indeed, the celebrity chef is known for long, expletive-filled tirades. This perception of inauthenticity may come from how Ramsay's personality fluctuates across different series, though this could be attributed to the nature of interacting with different types of contestants. 
When dealing with the home cooks of "MasterChef," the child prodigies of "MasterChef Junior," or even the struggling proprietors on "Kitchen Nightmares," his tone is usually a bit more reserved. "Hell's Kitchen" is arguably his most fiery performance, though he's dealing with professional chefs that — in his mind — should know better. Across the board, if an adult chef makes a life-threatening mistake (such as serving raw food or managing an unsafe kitchen), he reacts with the utmost severity. 
Though one could argue he may feel emboldened to react harshly given the audience's response or the context of the mistake, his reactions are genuine. In an interview with Reality Blurred, Season 19 producer Kenny Rosen says that his reactions are because "he knows what an important job it is." Rosen notes, however, that they don't show the majority of the time Ramsay spends with his contestants, much of which is positive and constructive. Rosen describes Ramsay showing contestants how to prepare dishes mid-competition by giving them a brief, calm demonstration. "And once [Ramsay's] shown them — then, yes, he'll ride them if they do it incorrectly." In this producer's verbal portrait, Ramsay seems less like a cynical host, wicked for pure entertainment's sake, but rather a strict, fair teacher expecting the best from his students.