Avengers: Infinity War, Black Panther Named Most Anticipated Films Of 2018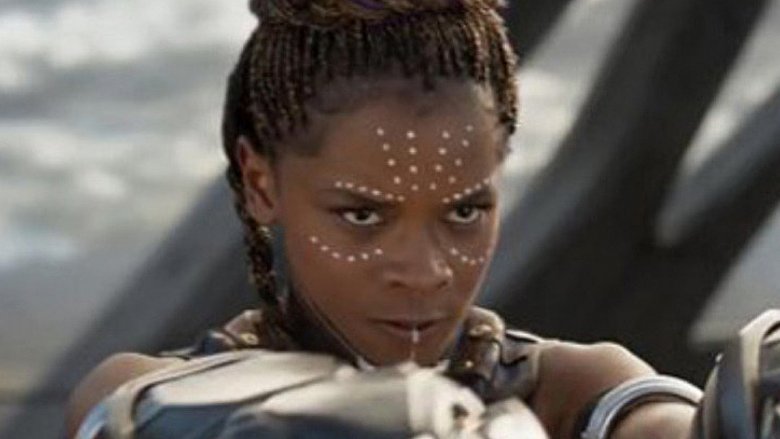 If a recent Fandango survey is any indication, Marvel is going to have a great 2018. According to Deadline, Avengers: Infinity War and Black Panther have topped the list for the most anticipated films of 2018, coming in ahead of Jurassic World: Fallen Kingdom, the untitled Deadpool sequel, and Solo: A Star Wars Story.
Avengers: Infinity War is set to unite basically the entire Marvel pantheon to fight against Thanos (Josh Brolin) and his villainous lieutenants the Black Order. There are many, many superheroes confirmed for the film, including Captain America (Chris Evans), Iron Man (Robert Downey Jr.), Thor (Chris Hemsworth), Black Widow (Scarlett Johansson), Spider-Man (Tom Holland), Black Panther (T'Challa), Doctor Strange (Benedict Cumberbatch), Ant-Man (Paul Rudd), and the Guardians of the Galaxy.
The MCU's big stars have been building the hype for the team-up for a while now. Brolin has raved about what he describes as a "brilliant" story, while Holland has said that "no one is ready" for the incredible film, and Chris Pratt, who plays Star-Lord, has said that the movie is "exactly what the fans want." However, the movie won't be all fun and games–- Mark Ruffalo prompted some grim rumors by saying in an interview that "everyone dies" at the end of the movie. 
Black Panther, meanwhile, is set to play a big part in setting up the events of Infinity War, according to Marvel Studios head Kevin Feige. (via The Hollywood Reporter) The film will feature Boseman's T'Challa going back to his home of Wakanda to take his place as king. His mettle is tested when the dissident Erik Killmonger (Michael B. Jordan) begins to threaten his rule. He will also have to deal with Ulysses Klaue (Andy Serkis), who presents a threat to the Wakandan way of life, and Winston Duke's M'Baku, who is part of a mountain tribe that opposes T'Challa's power.
Black Panther will hit theaters on Feb. 16, 2018, while Avengers: Infinity War debuts on May 4, 2018. You can view Fandango's full list of most anticipated films of 2018 below.
Most Anticipated Movie
1. Avengers: Infinity War (May 4)
2. Black Panther (Feb. 16)
3. Jurassic World: Fallen Kingdom (June 22)
4. Untitled Deadpool sequel (June 1)
5. Solo: A Star Wars Story (May 25)
6. Incredibles 2 (June 15)
7. Fantastic Beasts: The Crimes of Grindelwald (Nov. 16)
8. A Wrinkle in Time (March 9)
9. X-Men: Dark Phoenix (Nov. 2)
10. Ocean's 8 (June 8)
Most Anticipated Horror Thriller
1. Untitled Cloverfield movie (Feb. 24)
2. Halloween (Oct. 19)
3. The Purge: The Island (July 4)
4. Insidious: The Last Key (Jan. 5)
5. A Quiet Place (April 6)
Most Anticipated Family Movie
1. Incredibles 2 (June 15)
2. A Wrinkle in Time (March 9)
3. Mary Poppins Returns (Dec. 25)
4. Ralph Breaks the Internet: Wreck-It Ralph 2 (March 9)
5. Hotel Transylvania 3: Summer Vacation (July 13)